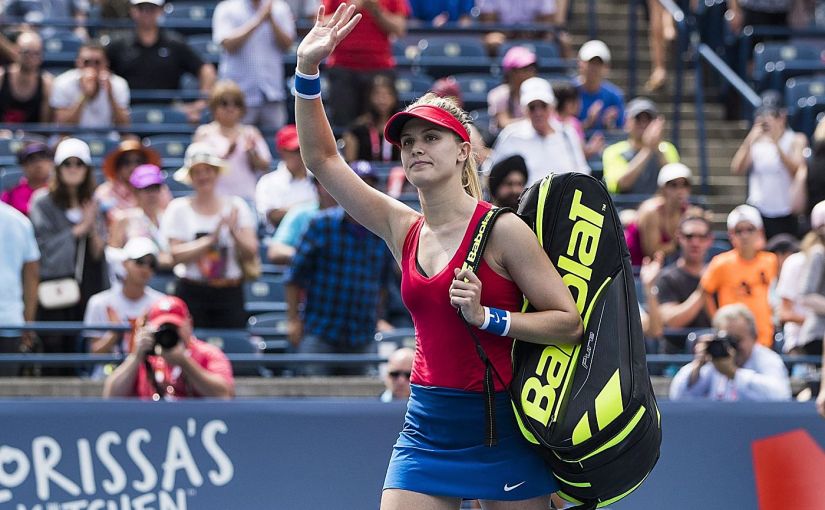 TORONTO – No one wants Eugenie Bouchard to play better at home than … Bouchard herself.
She has a big fan base here. She also has many sponsors, and few opportunities to showcase herself and their brand on home soil. Both her parents are in attendance in Toronto this week.
But home field advantage has proven to be a challenge for the 23-year-old, one of many challenges she has found herself dealing with over most of the last three seasons.
Tuesday's 6-3, 6-4 first-round loss to qualifier Donna Vekic of Croatia was just another tough day at the Canadian office.
Vekic, also tall and blonde and a player who has struggled with her own consistency before bouncing back this season, is more than two years Bouchard's junior and ranked higher at the moment, at No. 51.
Summer victories scarce
The defeat won't hurt Bouchard in the rankings. She will stay about where she is, at No. 70.
But it's another first-round loss.
And it means that in the last three months, since that tournament on clay in Madrid where she defeated Maria Sharapova and Angelique Kerber in back-to-back matches, Bouchard has just two victories.
That's thin soup on which to rebuild confidence. So it's not a shock that Bouchard's confidence is at a pretty low ebb at the moment.
But the Catch-22 is that she said she needs wins to get her confidence back. But it's hard to get wins at the top levels of the WTA Tour (even the lower levels) without being confident.
Downcast in press
Here's what Bouchard had to say after the match in her press conference (with subtitles for the French portion).
There were definitely some snippier moments.
But to Bouchard's credit, she has taken a ton of tough losses over the last few years. With perhaps one exception (in Quebec City last fall), she has always come out to do press – and answer the same questions about how people on social media say she spends too much time on social media.
There are some players who just skip out, and take the fine (which Bouchard can easily afford). Clearly this loss hurt, maybe even a little more than some of the other tough ones.
After the main press conference, she talked to TSN's Mark Masters about carrying that Canadian load.
"It's a blessing and a curse. I'm obviously so grateful for my life, and the fans, I can't complain and don't want to complain," she said. "It's a position I want to be in, but sometimes I have more time struggling with it than others."
Masters, who covers the Grand Slams for TSN (with Sportsnet having the rights to the Rogers Cup, TSN is a rather more discreet presence here), is a kind fellow who gets the questions asked that need to be asked. There's not even a hint of the malice that some of the male journalists gleefully exhibit towards Bouchard.
It's no wonder she likes him.
And it's no wonder he elicited some thoughtful answers from her in a one-on-one after the main conference (see link above). A familiar face is helpful in that regard, too, as tennis players see only a few of those at all the pit stops during a season.
On the plus side, even if it's cold comfort, Bouchard is still in the doubles draw.
She and world No. 1 singles player Karolina Pliskova defeated Kirsten Flipkens and Dominika Cibulkova 6-4, 6-2 later Tuesday afternoon, to advance to the second round.
Cincy a no-go?
At the end of the press conference, in answer to a question in French, Bouchard said her next scheduled tournament was the qualifying in Cincinnati.
But she sounded unconvinced that she would actually play it. So that leaves only the final leadup tournament in New Haven, the week before the US Open.
The old Billie Jean King saying that pressure is a privilege may be the truth, but clearly Bouchard would rather be a little less privileged at the moment.
She certainly hoped she had solve the Rogers Cup riddle a little bit a year ago in Montreal, when she defeated Lucie Safarova and then Cibulkova to reach the third round.
But that will have to be for another year.