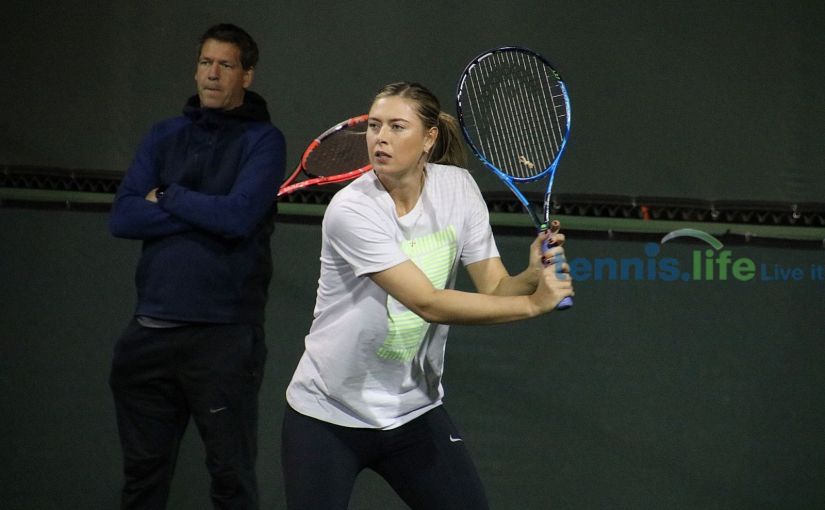 INDIAN WELLS, Calif. – Three years seem to have flown by in a flash.
But probably not for Maria Sharapova. Because it has been that long since she was at the BNP Paribas Open.
It's a tournament she has won twice, in 2006 and 2013. She reached the final in 2012. She was a semifinalist in 2005, 2006 and 2011.
It's a place she suffered her worst-ever beatdown – a 6-0, 6-0 loss to Lindsay Davenport in the 2005 semifinals.
Not incidentally, it is also the tournament that is now the closest to her Manhattan Beach, home.
Closes the place
Sharapova had an 11 a.m. practice court scheduled. And there were plenty of fans on hand waiting, and waiting, for her to show.
Instead, they got Irina-Camelia Begu – a lovely lady, but not who they came to see.
She was out during the day doing some promotional stuff for her racquet sponsor, Head, along with youngster Alexander Zverev.
But when 7 p.m. – the time of her second scheduled practice – came and went, those who were patiently waiting for her began to lose hope.
And then, suddenly, about 20 minutes later, there she was. Sharapova didn't even stop by the locker room. Team Maria basically hopped out of their vehicle, ready to go, and straight to the court.
She warmed up carefully, and hit for about an hour.
Here's what it looked like. It looked like (most of) the media had long left the building, as well.
By the time Sharapova was done, she was the last one woman standing on the practice courts. There also were a dozen fans who had waited all that time, and had to watch from a fair distance as she practiced.
She could have headed off the court, and down the back end of the complex, through the player's field and out. But Sharapova headed in the other direction.
She went over to those very patient fans and signed and posed, before taking off into the night.
A major pro move.
Slow start to 2018
Sharapova made the semifinals in her opening tournament of the year in Shenzhen, China. But she lost in desultory fashion to a resurgent Angelique Kerber in the third round at the Australian Open. And she lost in the first round in Doha to the tricky Monica Niculescu.
Sharapova and the Romanian are just a few months apart in age. But despite the big overlap in their careers, this was the first time they had ever met on court.
By the end, Sharapova's timing was completely shot. She began trading funky sliced forehands with Niculescu – who, at that point, given she's perfected that shot, probably figured she had it in the bag.
That was nearly a month ago.
Sharapova's won-loss record on the year is at 5-3. And that actually sounds better than it was.
There are three dangerous, unseeded floaters in this year's BNP Paribas Open. Sharapova is one; Serena Williams and Victoria Azarenka are the others.
The draw did Sharapova no favours. She drew the unpredictable but very dangerous Naomi Osaka in the first round.
Another player she is facing for the first time.
About Post Author