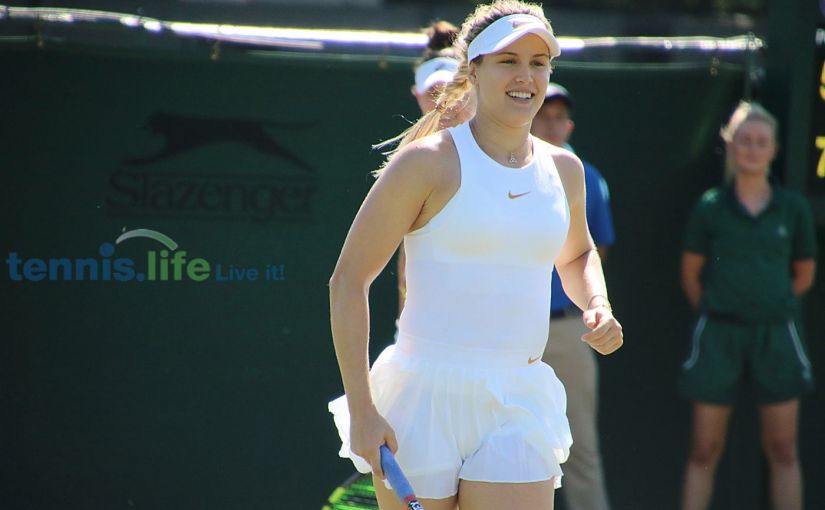 ROEHAMPTON – The confines of the Bank of England Sport Ground are unfamiliar territory to 2014 Wimbledon finalist Genie Bouchard.
But through two matches in the Wimbledon qualifying, she has gotten the job done.
And now, only Mariana Duque-Mariño of Colombia stands in the way of a sixth appearance in the main draw.
After rolling over China's Zhu Lin in the first round, Bouchard found more substantial opposition Wednesday in unheralded 21-year-old Karolina Muchova.
There were some frustrating moments, as the Czech's all-court game proved effective. And Bouchard had some issues with her own serve.
But in the end, she pulled through 6-2, 2-6, 6-3 to advance to the final round.
All of Bouchard's matches have been on the one streamed court at Roehampton, Court 11. And so her fans around the world have been able to watch.
That will once again be true on Thursday, as she faces a player she has beaten twice, on clay, but hasn't played in more than five years.
Lansdorp in the house
Bouchard has had legendary coach Robert Lansdorp with her during the grass-court season, even though she has not played many matches.
She made her debut in Birmingham about 10 days ago, and posted two solid victories before losing 6-4 in the third set to Jennifer Brady in the final round of qualifying there.
Now, two more wins in Roehampton. And you could hear Lansdorp constantly urging her on from his seat in the stands, calling out "You got this, baby".
Speaking to him briefly after the win over Muchova, Lansdorp said that at this stage of her career, it's not about making major changes in her game as it is about getting her back to doing what she does best. And that's what he's going to try to help her with.
Doubles qualifying one and done
After the singles, Bouchard returned to a smaller court with American Caroline Dolehide, to play their first match in the doubles qualifying.
The Can-American pair lost to Bibiane Schoofs of the Netherlands and Ysaline Bonaventure of Belgium, 7-5, 6-2. They had an early break in the first set, but in the end they had too much trouble winning points on their first serves (just 44 per cent).
Schoofs and Bonaventure went 6-for-8 on break points, while Bouchard and Dolehide could convert just 3-of-12.
On the plus side, there was a Genie Bouchard serve-and-volley sighting – although she didn't end up having to hit the volley in the end.
Woman of few words
Bouchard's brief post-match, on-court interview after the win over Zhu went around the interwebs fairly quickly, because of the brevity of the responses and the general demeanour.
(The Canadian did not want to do the interview; her first response when the Wimbledon official informed her that it was customary for the players on Court 11 to stop and answer a few questions from their own crew was: "Do I have to?")
After the second-round win (and perhaps after a word from the All-England Club), Bouchard was a little more expansive.
"I didn't feel like i was playing all that well, so I'm just glad I was able to keep myself collected in that third set, and find a way," Bouchard said. "(Muchova) played well, you know. She's young. I don't know if she's an up-and-comer or what. She was serve and volleying, she was slicing, she was mixing it up. But I was able to handle it in the third."