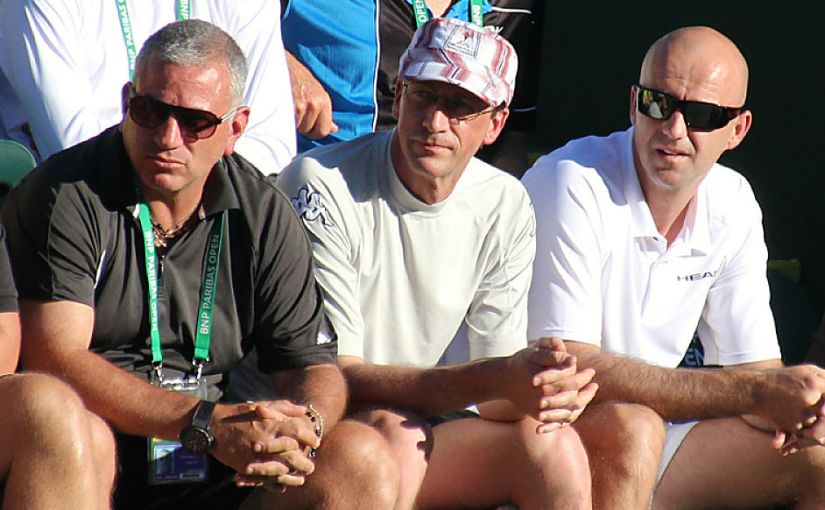 –
TORONTO – As Milos Raonic prepares for a challenging first-round match against David Goffin of Belgium Monday night at his hometown Rogers Cup, word is out that his longtime agent at CAA was terminated last fall.
But Amit Naor remains the 27-year-old Canadian's manager.
Rumours about this had been circulating for awhile. But Daniel Kaplan of Sports Business Journal, an excellent journalist, was able to nail it all down in a story published Monday.
Kaplan has broken the news that Naor was fired last Oct. 23, after a 2 1/2-month investigation into workplace harassment.
CAA made no official announcement of any kind about the matter.
Out of respect for the extensive work Kaplan did over a significant period of time in breaking this story, we won't cut and paste it here. Click here to read the piece.
Here is a brief summary.
"Verbal, emotional and sexual harassment"
According to Kaplan, tennis manager Stephanie Lopez, now 28, went to the head of CAA's tennis division, Steven Heumann last fall alleging that Naor, 51, subjected her to "verbal, emotional and sexual harassment".
She is currently on leave.
Kaplan also reports that Lopez filed a claim with the Equal Employment Opportunity Commission in the spring. Lopez said she "endured multiple incidents of retaliation" from Heumann after the firing.
A CAA spokesperson told Kaplan their investigation determined there was no retaliation.
Kaplan reports that even after he was fired, Naor remained a manager for three CAA clients. And, in that capacity has communication with the company's agents.
In addition to Raonic, those two other clients also are high profile: Dominic Thiem and Tomas Berdych.
As of last fall, on the official ATP list (likely not exhaustive or 100 per cent accurate), Thiem was listed officially as being represented by his coach, Gunther Bresnik although Kaplan reports that both Bresnik and Naor manage Thiem's affairs.
Fadi Shalabi of Sporting Advantage Monaco was listed for Berdych. Naor is listed for Raonic.
Also on Naor's client list as of last fall were Ernests Gulbis, Taylor Fritz, Bradley Klahn and Bernard Tomic.
Naor represented Jack Sock early in his career. He also handled Novak Djokovic's business affairs very early on – a decade ago – before Djokovic signed with CAA and Naor also joined the company. Djokovic left CAA in 2012.
He also coached Marat Safin.
The Israel-born Naor played professionally from 1985 to 1991. He reached a career high in singles of No. 245 in 1987 although he won just three matches at the ATP Tour level. Five of his six ATP Tournament appearances came at the now-defunct ATP event in Tel Aviv, Israel.
The CAA tennis division is small, and Naor's clients reportedly make up the bulk of its revenue.
Raonic's countrywoman, Genie Bouchard, also joined the CAA stable this spring, after stints with Lagardère, IMG and other agencies. She is represented by Matthew Fawcett.
About Post Author