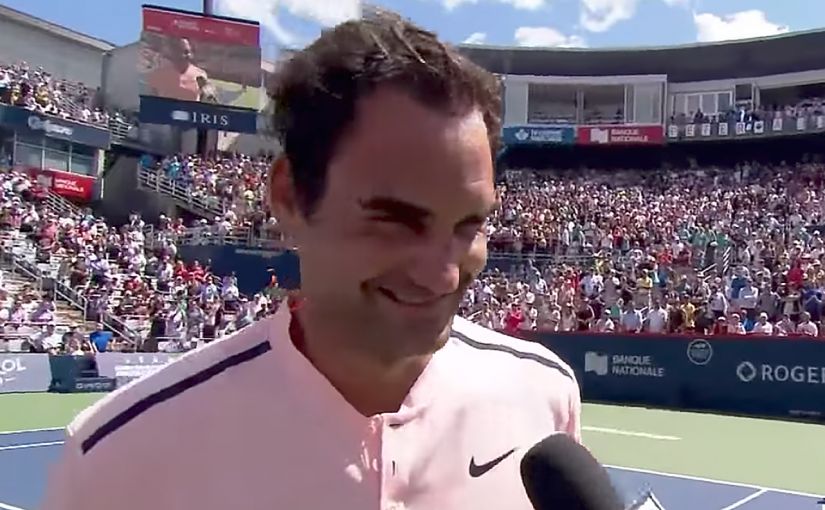 As Roger Federer returns to action at his home-town tournament in Basel, longtime Swiss tennis journalist Rene Stauffer of Tages Anzeiger got a (rare) extensive one-on-one interview with the Swiss star.
The occasion was the 20th anniversary of a 17-year-old Federer making his Basel (and ATP Tour) main draw debut.
It's the 18th actual tournament appearance, as he missed it in 2004, 2005 and 2016.
Federer did point out to Stauffer that it's actually the 21-year anniversary.
In 1997, he lost in the second round of singles qualifying to Frank Moser of Germany, and in the doubles qualifying (with pal Yves Allegro) to Wayne Arthurs and Sander Groen.
He managed to squeeze that in between Swiss Masters Satellite Tour No. 1, and Swiss Satellite Masters Tour No. 2. (You have to be a longtime tennis fan, or a player getting up there in years, to even remember the "satellite tour" concept).
Hand injury affects summer
There's plenty of interesting material in the interview (it's behind a paywall, but completely worth the $2 it costs to surf the site for 24 hours as Stauffer is probably Federer's most comprehensive career chronicler).
But the notable bit that has been out there already is that Federer reveals he suffered a hand injury at the beginning of he grass-court season.
"I feel that influenced me more than I thought. It went on for about three months. That shouldn't be an excuse; I don't want to shout it from the rooftops. But it affected my forehand. I just could not hit it properly, especially in the Halle final and later also at Wimbledon," he told Stauffer.
Federer said the hand has felt much better since Laver Cup, adding that every time he played, the first 10 minutes were painful.
The mono mystery of 2008
It's not out of character Federer to disclose an injury only later, when he's feeling fit again.
He did a similar thing in 2008, when he revealed he had contracted mononucleosis during the early part of the season, including the Australian Open.
It came out in May, during an interview with Paul Newman in the Independent.
"The first time I got sick (before Christmas) I didn't think it was anything out of the ordinary," Federer said. "The second time (before the Australian Open) I thought it was food poisoning. The third time I thought something was wrong. That was when the doctors told me I had mononucleosis, but they said that by then it was almost over," Federer said."
Last summer, even if his back issues were visible to anyone paying attention, Federer said this after losing to Alexander Zverev in the Rogers Cup final in Montreal.
"I had a bit of muscle pain, aches and pains here and there, just because it's back on the match courts, on the hard courts," he said after the match.
Instead, that day, he gave Zverev full credit for his play.
It was only the next day, announcing he was withdrawing from Cincinnati, Federer confirmed hat he had "tweaked his back" in Montreal.
About Post Author