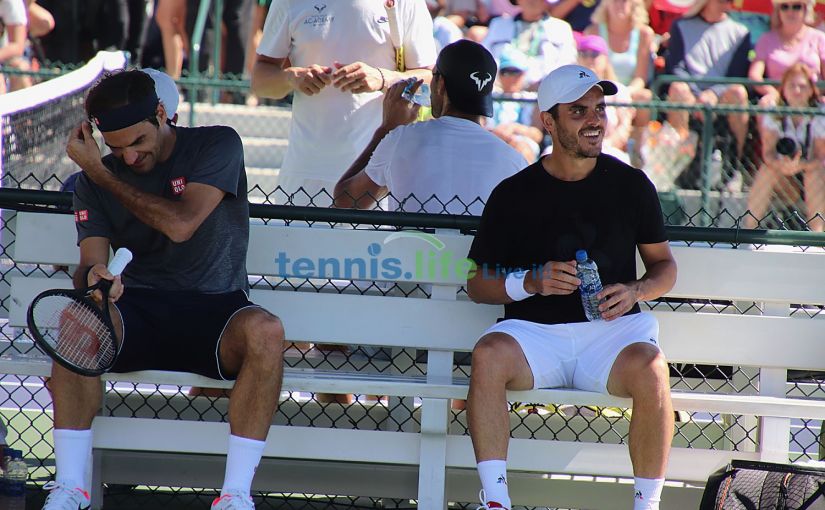 INDIAN WELLS, Calif. – Roger Federer is feeling so good, he scheduled a practice doubleheader Thursday at Indian Wells.
And the first leg, at 10 a.m., was a special treat for the fans – many of whom would rather watch the big guys practice than take in a terrific, actual match in one of the stadiums.
It doesn't happen that often that Rafael Nadal and Federer practice side by side. But it happened on Thursday.
It was unfortunate for Canadian Félix Auger-Aliassime, who was playing his first-round match at 11 a.m. inside the main stadium. Let's just say that the number of fans just outside around Practice Courts 1 and 2 was exponential compared to those who went inside to watch one of the game's rising stars.
Nadal was hitting with everyone's favorite practice partner, Diego Schwartzman of Argentina.
Federer was hitting with a player who took some time to place. It was the Italian Thomas Fabbiano, another undersized player who lost in the first round of qualifying.
Two Goliaths, and two Davids
Fabbiano, age 29 and listed at 5-foot-8, is currently ranked No. 83.
And no, while he and Federer seemed to know each other, we don't really know how that came about. They probably don't hang out at the same restaurants.
Like two ships passing in the night
The funniest thing about these meetups on the practice court is that for the most part, the players everyone would like to think are great buddies generally ignore each other.
That's true even when they are sitting back to back on the benches during the changeovers. It's not like they're gabbing like besties during water breaks.
That would be SO amazing, wouldn't it? But they're working. It wasn't the time for two of the game's giants to talk about the ousting of their CEO, Chris Kermode.
Even better? That some day, they'll actually practice together. Obviously their practice pace and methods couldn't be more opposed. But still, it would be a major occasion.
Or, barring that, play dubs together at Indian Wells or Madrid – or somewhere that's not an exhibition where the main purpose is drumming up ticket sales.
The "nightcap" with Monfils
At 2 p.m., Federer was back out on the practice court with another unusual practice partner.
It was Gaël Monfils, who is having a great 2018 so far.
Now these two go way back. But we don't recall ever seeing them practice together. Although surely it must have happened before.
On the next court were Kei Nishikori and Dominic Thiem.
So it was another nice meeting of top tennis talent in the same area code.
These are moments that happen regularly on the men's side at Indian Wells. For the most part, the boys don't seek refuge on some of the back practice courts (No. 8 and No. 9, notably), where the security cordons off the fans and they try not to let anyone in there.
Serena Williams, sister Venus and Maria Sharapova are fairly notorious for choosing to be back there.
It's just one reason the men have a higher profile than the women do at a joint event like this one.
But it's not as though anyone is going to go to the women and say, "Hey, it would be great for the WTA if you guys would practice right up there, front and centre."
The return to the locker room from those practice courts basically takes all the players right by the big bullpen, where fans wait for autographs. It's harder to walk right by them and not sign than it is when you leave the courts at the other end of the player's field and stay wide of the area.
Enjoy the photos and the videos.