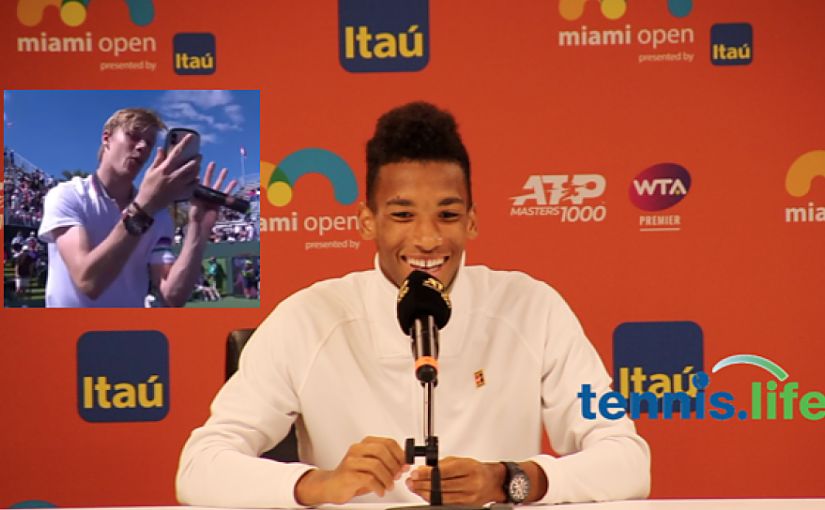 MIAMI GARDENS, Fla. – Félix Auger-Aliassime is happy his "big brother" Denis Shapovalov is expressing himself through his music.
But no, he has no plans to join him in a Canadian teen rap duet any time in the near future.
These two have a big 24 hours coming up, with Auger-Aliassime playing a late-night match against No. 11 seed Borna Coric Wednesday to reach the Miami Open semis.
Shapovalov has a doubles quarterfinal against the legendary Bryan brothers with partner Rohan Bopanna Wednesday afternoon.
And then, he will face another rising young star in Laver Cup teammate Frances Tiafoe in a quarterfinal on Thursday.
But for the moment, he is a solo act on the rapping.
Although you do hope – in the improbable scenario where the Miami Open final is an all-Canadian teen affair (the two are on opposite sides of the draw) – they might consider coming up with a little special edition.
Shapo getting some grief
It all started when Shapovalov made good on a promise in Indian Wells that if he won his next match, he'd come up with some rhymes on court.
He's a teen of his word.
(The expiration date on the word "teen", for Shapovalov, is April 15).
He got some social media expert musical criticism for it.
But he doesn't care.
Meanwhile, quarterfinal foe 'Foe chimed in on that as well.
Tiafoe could contribute the "Silencer" thing.
Anyone else looking forward to 'Po vs. 'Foe?