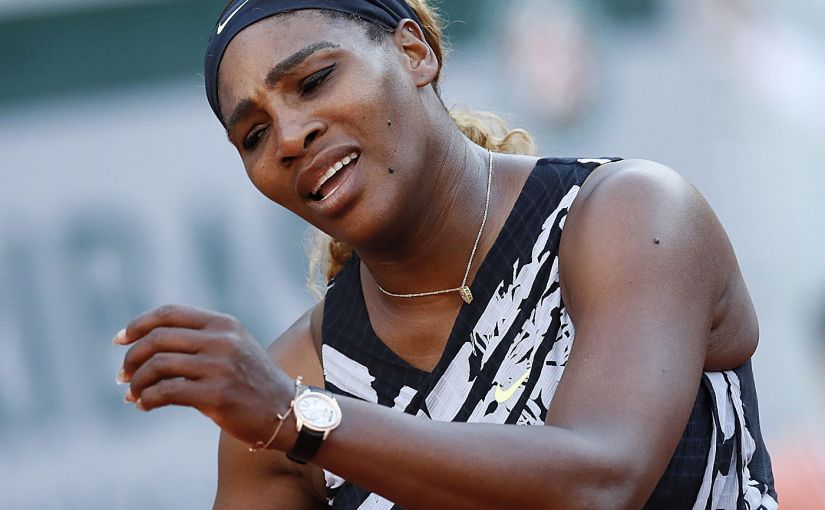 PARIS – You feel like Serena Williams still wants to play tennis.
No matter how much you've won, how much you've made, the competitive fire that helped get you there doesn't just disappear from one day to the next.
But if her body isn't up to it, she just shouldn't play until it is. Because this Serena is not the Serena anyone – including Serena, probably – wants to leave behind as a final act.
We know Williams is chasing some history, which seems to be running a little ahead of her at the moment, extending slightly more out of her grasp each day.
But one thing we know: Williams didn't come back to lose to Sofia Kenin in the third round of the French Open. Or to anyone else, for that matter.
She came back to pick up those two major titles she needs to get to 25, and put that all-time number – Open era record or Margaret Court record – out of reach. Also, because this is what she's done her whole life. And because she loves to compete and win. And, yes, of course, because she's brand building for her post-playing career.
The way the fairy tale was supposed to play out, Williams would have won last year's Wimbledon and US Open and hit "that" number. And then, she would have made whatever decision is right for herself and her family.
But it didn't happen. A veteran named Angelique Kerber and a newbie named Naomi Osaka thwarted that perfect ending.
And now, she finds herself with a conundrum on her hands.
Regression, not progression
If Williams she wasn't quite ready when she returned 15 months ago at Indian Wells, we thought surely she'd be back in the groove by now, right?
But she's not progressing. She's regressing.
Fellow American Kenin, Williams's opponent in their third-round match Saturday, didn't seem overawed or intimidated during her 6-2, 7-5 third-round victory, mind you.
The 20-year-old went after it. She played the ball, not the opponent. And she didn't give up a single point without a fight.
This is a reflection on where Williams sits. It's no knock at all on the young woman born in Moscow, who now lives a long Hail Mary pass away from the new home of the Miami Open.
She played the Serena she had in front of her, and she beat her fair and square.
After winning the match, Kenin could barely look up at the handshake. Playing the tennis to beat 2019 Serena was something she could do. Looking straight into her eyes of the legend at the net afterwards was actually a more daunting prospect. Even if Williams could not have been more gracious.
But this was not the old Serena. It wasn't even "old Serena". It was the Serena we have at the moment. And it's a bit of a painful version of Serena.
No Serena roar
Only for a few games later on in the second set against Kenin did Williams have that look on her face. You know the one. The "I'm gonna shove that ball down your effing throat" look. The one that's usually punctuated by a big increase in decibel level. The one that tells the opponent, "You're not going to beat me. You're going to have to kill me first."
It didn't last. Williams was most often limited to a couple of steps in each direction. She wasn't moving. She wasn't in control of her own destiny.
And that, after 20 years at the top of the game, is what stands out.
Until Williams went off on maternity leave, through her injuries and health issues and periodic breaks, you always felt that every match she played was on her racket.
If she wanted it to happen, it was going to happen. She would will it to happen. And most often her opponents bent to that superior will, because it was backed by superior talent.
In Williams's brief appearances on tour since her return, that hasn't been there often enough.
Wimbledon and the US Open
After three wins at the 2018 French Open, her first major after coming back, she won three rounds. But then she withdrew from a match against Maria Sharapova with a pectoral injury.
Williams regrouped quickly. Her next tournament was Wimbledon where, still unseeded, she reached the final. But lost in history is the the fact that she did not have to face a top-50 player until the semis
And when she did, it was Julia Goerges who, in 41 straight Grand Slam tournaments had not even made a major quarterfinal, let alone a semifinal.
But still, she made it.
Williams won only one match until she put together a fabulous US Open – until the final, of course. No need to rehash that one.
But then she didn't play for the rest of the season.
After only a few matches in the summer, Williams returned for real at the US Open. And she made the final again. Her run to that final, in terms of quality of opposition, was far more impressive than the run at Wimbledon.
But then she ran into Osaka. And then she didn't play the rest of the year.
Williams returned for the Australian Open in January and did … okay. She had won all her singles matches in the exhibition Hopman Cup event that led up to it.
She hurt her ankle in Australia. The knee is bothering her. She was sick at Indian Wells and retired in her second match, against Garbiñe Muguruza. She pulled out of Miami before her second match, against No. 18 Qiang Wang. And she pulled out of Rome before her second-round match against her sister.
It was within the realm of possibility that Williams would skip Paris entirely.
"I'm just pretty far away (from her best shape), but that's the optimistic part is I haven't been able to be on the court as much as I would have. That's okay. At least I can start trying to put the time in now," Williams said.
"I am glad I came. You know, I love the city, and I love the tournament. I really wanted to be here. So I'm glad I came, at the end of the day," she added.
More matches needed
It's not a state secret that Williams needs to play. Earlier in her career, when she played less than average, she was able to swoop in and pick up titles. There was that time in Australia in 2007 when she arrived rusty, heavy and out of shape. But she played her way into form and won the tournament. But she was only 25 then. A lifetime ago.
"I'm definitely feeling short on matches, and just getting in the swing of things. I don't really like playing out points when I practice," she said. "I have some time on my hands, so maybe I'll jump in and get a wildcard on one of these grass court events and see what happens."
Williams perhaps is realizing that it's going to be a more challenging task than she thought it would be to own her own piece of history.
The question is, is she ready to pay the price?
And, more crucially, will her body allow her to do what's necessary? If she tries to play more, will she get hurt more? These days, it seems like she's getting hurt when she plays at all.
She's Serena Williams. Never count her out. Ever. But she has to make a move. Because losing in the third round of a major to Sofia Kenin – or anyone – is not why she came back.
This is, in its own way, the biggest challenge of her career.