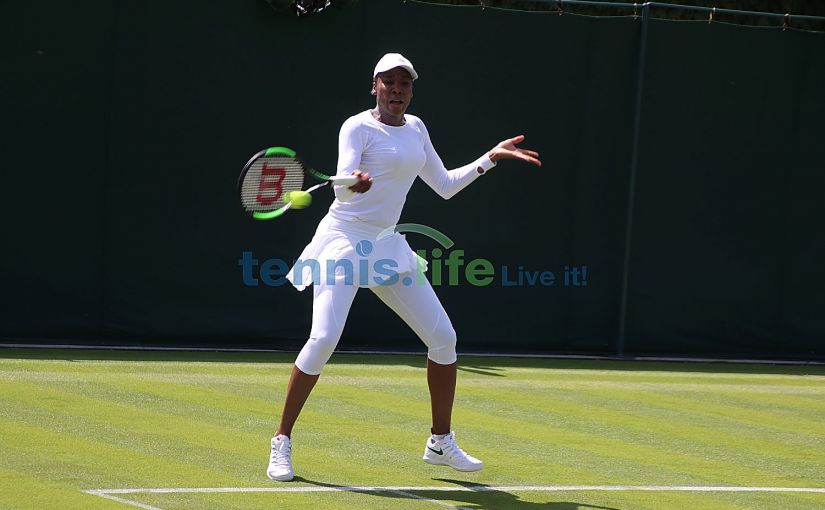 WIMBLEDON – Venus and Serena (no last names needed) don't practice together that often at tournaments.
Most of the time, they both get their business done early morning, often on adjacent courts, with their own teams.
And, let's be fair, there haven't been that many opportunities in the last year and a half because Serena hasn't even played very much.
But it seems to happen at Wimbledon.
And on Friday, it did. We're told they also plan to practice together on Saturday.
Here's what it looked like.
Here they were a year ago – almost to the day.
And here are a couple of photos from back in 2010, when your Tennis.Life correspondent got off the plane and went straight to the AELTC – and these were the first two players we saw.
Serena in the toughest of tough quarters
Serena was a finalist here a year ago in her first Wimbledon back after giving birth to daughter Olympia.
So she is defending a whole lot of points.
She also hasn't played since a rather desultory third-round loss to Sofia Kenin in the third round of the French Open.
Williams had murmured a little about maybe taking a wild card into a grass prep event. But in the end, she didn't do it.
The section of the draw has seven qualifiers, two lucky losers and one wild card. So you'd think – cake, right? Except for the rest of the quarter.
Barty, Vekic, former champs Muguruza and Kerber, Georges, Bencic, and even Sharapova are in this section, which begins play Tuesday.
So Williams' first-round opponent is good draw luck: qualifier Giulia Gatto-Monticone of Italy.
Gatto-Monticone is ranked No. 162. That's fine, except that it's close to her career-best ranking. And she'll be … 32 in November. Her career earnings of just over $300,000 are about $88.5 million less than Williams has earned.
It's the Italian's first Wimbledon main draw. And it's only her second career Grand Slam main draw after she qualified in Paris last month, and took Kenin to three sets in the first round.
(Two rounds later, Kenin beat Serena in straight sets. So that's about the only connection between them).
After that, it gets a little complicated. Maybe Julia Goerges in the third round. Perhaps Kerber – in a rematch of last year's final – in the round of 16. And all that with Barty, Muguruza or Bencic as a possible quarterfinal opponent.
Venus gets high-profile May-December opener
For her part, unseeded Venus is in the very bottom quarter of the draw, the one anchored by No. 2 seed Naomi Osaka.
But her opener is a fascinating one – technically, a March-June encounter.
She'll play countrywoman Coco Gauff, who qualified this week after receiving a wild card.
"Countrywoman" is a stretch, as Gauff is 15. Venus is 39.
Who's looking forward to that one?
There are some big hitters in this section (Tomljanovic, Azarenka, Sabalenka, Giorgi) but not many proven champions.
It's hard to know what kind of form Venus is in – she took a wild card into the Birmingham grass event, and lost in the quarters to Barty.
But if she gets past the first one, she could get the big-hitting Aryna Sabalenka next. And then, maybe, Madison Keys, with Simona Halep looming before reaching Osaka-Wozniacki territory.
It's tough. But it's not as tough a road as her sister has.
About Post Author