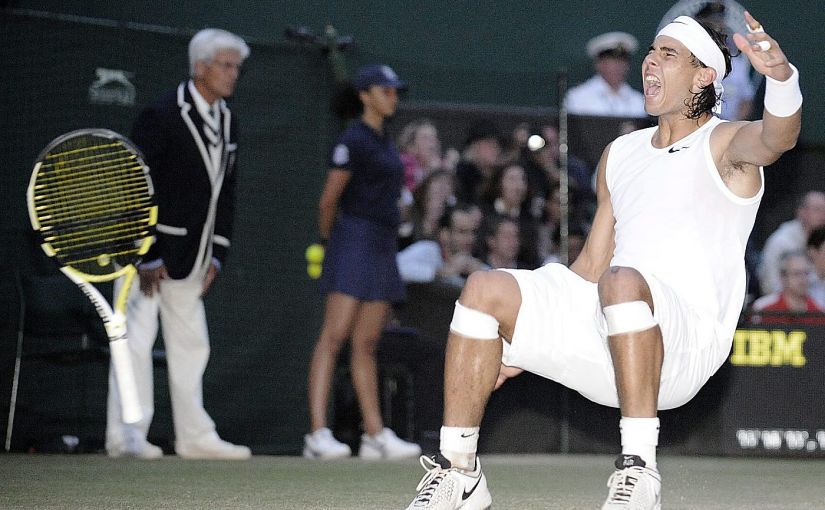 WIMBLEDON – It is a fact that the first of Friday's men's singles semifinals, between world No. 1 Novak Djokovic and world No. 22 Roberto Bautista Agut of Spain, is the forgotten story of the day.
Would it be different if, say, the defending champion were playing Juan Martin del Potro? Or if it were one of the young guns "finally breaking through?" Or even if anyone thought Bautista Agut had a shot?
Probably not materially.
It's not equitable. But the biggest reason it's relegated to the opening act is because of … the history.
Eleven years ago, Roger Federer and Rafael Nadal played a final on this same court – into the night, almost into the dark. A book and a film were done about it. And it remains among the most iconic matches in tennis history.
It was also an incredible tennis match – extending over the afternoon and into the evening because of several rain interruptions. Those only added to the drama.
And so, the very fact that Federer and Nadal have not played in this hallowed venue since then – crazy thing, that – means that the buildup has been 11 years in the making.
And, of course, it's Roger Federer at Wimbledon. He's practically more "British" than an actual British champion.
First Wimbledon coverage
That 2008 edition was my first Wimbledon working as a journalist. And hey, you think it's always going to be like that. Of course, it isn't.
Mostly, it was a crazy day. The first memory I have is of the two finalists out on the practice court – when the first downpour of the day came.
It's a funny memory, perhaps the opposite to what you'd expect of the two players. I remember both of them stopping the practice and hustling back to the locker room.
First came Nadal – annoyed with the rain, frantically draping a towel over his head to not get the hair too wet. Then, a few minutes later, came Federer. Despite the rain, Federer was just strolling down St. Mary's Walk, unconcerned about the coiffure.
If felt like an insight into their mindsets before the big final. But in the end, it was more just a reflection of their personalities more than anything.
The cardigan
My memory of the cardigan is that after one delay, Federer warmed up with it on as they resumed play. But when he removed it, he didn't unbutton it, as one would. He just pulled it over his head (not too gracefully, it should be said).
Last week, I spotted a fan walking around the grounds wearing "the" cardigan. The gold-trimmed piece of fashion that Federer sported.
I should have grabbed a photo of the fellow. But I confess it didn't click that the cardigan meant … 2008, and the last meeting between these two, in this place.
At that point, the semifinals still seemed a long way away. And I have a tendency – just like many players claim as well – to take it round by round and not look ahead too much.
But it's Friday, and here we are. They both made it.
Here are some of the photos I took back in 2008. They give you a better idea of how dark it really was, as compared to how it looked on television.
Federer made a few fashion statements at Wimbledon back in his Nike days. And seeing that big "RF" logo on the cardigan brings them back. There are still plenty of "RF"s on ballcaps when you walk around at tournaments. But these days no one talks much about what Federer is wearing. It's dull as dishwater, and it doesn't seem to matter.
In 2008, Nadal still wore the sleeveless tops, although the pirate pants had already gone in his gradual morphing into a model for Nike kits that people over 30 wouldn't look silly in. All part of growing up.
So much has changed
If you look at the replay of that match, it's amazing how much has changed.
The wear pattern on Centre Court back then still showed the efforts of players to transition to the net. That, sadly, has gone the way of the dodo bird.
But they both look so YOUNG.
That's probably because they were young.
Nadal was still a boy of 22, baby-faced and earnest. Federer was just 26, having been through a four-year period where he practically beat everyone with one arm tied behind his back.
They both had more hair, even if it's still basically the same color. For everyone around them, that has changed.
Nadal's father Sebastian had unnaturally jet-black hair then. We wondered who he was kidding. These days, Sebastian's hair is a beautiful snow-white. And he looks a whole lot better.
Federer coach Severin Luthi looked like a baby. Uncle Toni's hair, then also jet black then, is speckled through with gray now.
And Gavin and Gwen – BFFS of the Federers – looked like a loving couple. Gwen, then 38, was expecting their second child – REALLY expecting their child. Zuma Nesta Rock was born little more than a month later. They have since long split.
(Okay, we do wonder occasionally who got custody of the Federers).
Bjorn Borg? Dammit, he looks even better now.
Will the tennis live up to the history?
What we do know is that Friday's 40th meeting between Nadal and Federer won't have the same drama and stunning backdrop that the 2008 final had.
The addition of the Centre Court roof the following year means that matches no longer have to fight the battle for daylight.
I remember so vividly all the flashes going off in Centre Court, with all of the lights from the scoreboards standing out. If you were watching on television, as the cameras open their apertures to the max, you couldn't get a sense of how dark it really was.
And the last thing I remember was dashing over to No. 1 Court.
Because, believe it or not, as dark as it was on Centre Court – there was still a match going on over there.
The unheralded mixed doubles final, which pitted Bob Bryan (with Samantha Stosur) against Mike Bryan (with Katarina Srebotnik), finished much later than the singles final. Bob Bryan and Stosur won it, 7-5, 6-4.
It was so dark, you only hope that they handed the champions' trophy to the right twin.
About Post Author