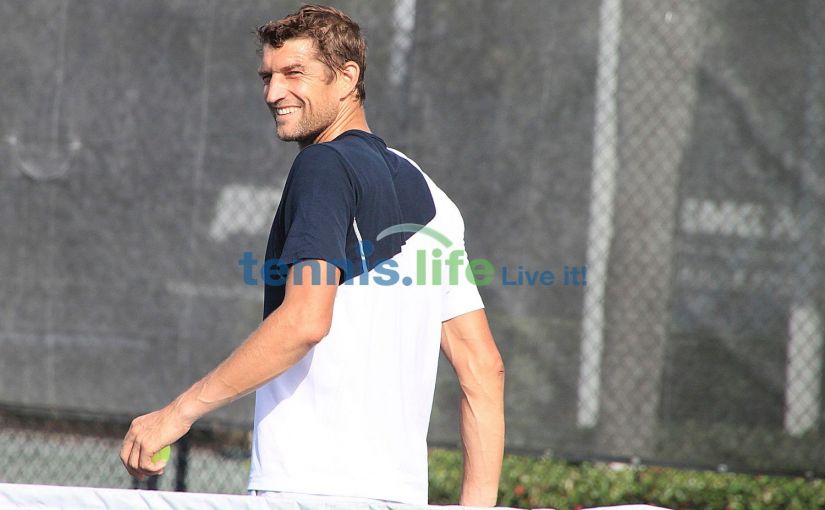 After an 11-year relationship with coach Dante Bottini ended this year, Kei Nishikori has turned to a very familiar face as he takes on the next phase of his career.
The Japanese star turns 30 just as the 2020 seasons begins.
And longtime Tour player – and fellow IMG Academy regular – Max Mirnyi will be his new coach.
Mirnyi, 42, retired as a player just over a year ago after a long career during which he reached No. 1 in doubles and earned 53 titles.
But earlier on, he also was a fine singles player. The Minsk, Belarus native reached No. 18 in the world back in 2003.
And he's someone Nishikori has practically grown up with at the IMG Academy.
A longtime Sarasota, Fla. native, Mirnyi also trained at the academy for years.
So it should be an easy transition.
And after a career during which Nishikori has been one of the rare players not to hop on the coaching carousel, that comfort level makes it easy for the two to begin work and settle in quickly.
Nishikori is recovering from a procedure to remove bone spurs from his elbow.
The injury made for a tough 2019 season, although he expects to be reach for the ATP Cup in a little over a month.
Mirnyi, nicknamed "The Beast" because of his huge stature (despite his bio on the ATP Tour site, above), has long been considered one of the brightest men in tennis, and a stand-up human being.
He has a degree in International Law from Belarus State University.
And he has served as a goodwill ambassador to the UN in Belarus, as well as being involved with UNICEF and children's rights.
According to the Kyodo News, longtime mentor Michael Chang will remain on board. Chang has never been a full-time coach, but has travelled to the bigger events to offer advice and support.
He and Bottini appeared to make the "coaching tandem" set up work like a charm.
Mirnyi one of many coaching changes
The cast of characters at the IMG Academy this off-season is going to have a significantly different look than it did a year ago when Tennis.Life stopped in.
Then, Brit Kyle Edmund was going through the paces with Fredrik Rosengren.
A year later, Rosengren is part of Team Karen Khachanov.
And instead of being in Florida, he's in Dubai.
Rosengren and Edmund parted ways shortly after that pre-season training block.
In February, Rosengren announced he was retiring from the tour to spend more time with his family.
The two had been together a year and a half.
Edmund reaching his career-high ranking during that period.
The 2019 season was a major struggle for the Brit after that, although he rallied to finish it well. But last month, Edmund had said he was "open to a reunion" with Rosengren.
That won't happen now. Khachanov's Instagram announcement mentioned that he will continue to work with his day-to-day coach, Vedran Martic.
So perhaps a more part-time arrangement is what convinced Rosengren to get back to the grind.
Mugu back with Conchi
On the women's side, Garbiñe Muguruza has gone back to a happy place, in the wake of her parting with longtime coach Sam Sumyk.
Muguruza, who like Nishikori is managed by IMG's Olivier Van Lindonk, will work with former Wimbledon champion Conchita Martinez in 2020.
Martinez was on board in 2017 when Muguruza won her second Grand Slam title at Wimbledon. But unlike Nishikori's situation with Bottini and Chang, the two-coach setup with Martinez and Sumyk didn't appear to flow quite as smoothly.
And by March 2018, Martinez was out of the picture. After that, she worked with Karolina Pliskova.
A walk on the ATP side for Pliskova
Meanwhile, Pliskova went over to the "other side" – i.e., the ATP Tour, to recruit her new coach.
She chose Dani Vallverdu, who began his coaching career as a hitting partner/coach with longtime friend Andy Murray.
Since then, Vallverdu has worked with Tomas Berdych, Grigor Dimitrov and Stan Wawrinka.
"Karolína is a great player and I'm looking forward to working with her to help her reach her goals. WTA is something new for me, but I like challenges," Vallverdu said in a statement on Pliskova's website.
Pliskova also has added Olga Savchuk, a 32-year-old former doubles player from Belarus who retired at the 2018 US Open.
Savchuk has also proved impressive in her first steps as a television commentator – in English, no less. She was with Pliskova in Zhengzhou this fall, where the Czech won the title.
More new-old faces for 2020
The coaching carousel always has been in constant motion during off-seasons.
But this year, it feels as though it has sort of started to spin all season long as players become increasingly impatient for quick results.
In other news, Russian Natalia Vikhlyantseva has hired former ATP Tour player (and current Russian Fed Cup captain) Igor Andreev as her personal coach.
Simona Halep will reunite with longtime coach Darren Cahill in 2020. But the two began the new season a little early, as the Aussie was back in the saddle at the WTA Tour Finals in Shenzhen.
Promising young American Amanda Anisimova got a jump on the competition for those same, few, familiar faces when she pulled off the biggest coup so far.
The 18-year-old is working with longtime Justin Henin and Li Na coach Carlos Rodriguez in the off-season and at least through the Australian summer. Unless they truly don't click, the association will become permanent.
The coaching flavour of the month, Sascha Bajin, went from Naomi Osaka to start the season, to Kristina Mladenovic – and now, to promising Ukraine teenager Dayana Yastremska.
Angelique Kerber, who's had quite the coaching carousel all on her own the last few years, split with Rainer Schuettler and announced last week that she had hired Dieter Kindlmann (who has worked with Maria Sharapova) as her new coach.
Marion Bartoli and Jelena Ostapenko, who had an energizing run through the final part of the WTA Tour season indoors in Europe, will extend their collaboration into 2020.
Some scheduling issues remain, as Bartoli has broadcasting commitments. But their association was a big hit.
Julia Goerges announced Jens Gerlach as her new coach last month.
More news to come on the coaching front
So things are falling into place, slowly but surely.
But there are several players out there who appear to be looking for coaches, but who still have not officially announced any moves.
(If we've missed any news – Tweet at us and we'll add it).
-Naomi Osaka
-Fabio Fognini
-Grigor Dimitrov
-Stan Wawrinka announced the end of his association with Yannick Fattebert, who was with him during the period when Magnus Norman was off the tour and remained a co-coach.
-Kyle Edmund had worked with fellow Brit Mark Hilton after Rosengren departed. But Hilton has joined Team Dan Evans. He looked to be set, on a planned trial run with experienced coach Franco Davin (Gaston Gaudio, Juan Martin del Potro, most recently Fabio Fognini). But Davin appears to be working with the relatively obscure Ecuadorian Emilio Gomez this off-season. So … to be determined.
-Kristina Mladenovic