.
The players and tours had more questions for the USTA about the US Open, after a conference call back on July 22 answered some of them.
And a confidential document obtained by Open Court endeavoured to answer them, as the "Cincinnati"-US Open bubble experiment is just three weeks away.
Travelling to NYC
*Players and support personnel have been granted 212(f) waivers to enter the U.S., with the people involved having to submit their names to the list. The USTA will send the list to all airline carriers throughout the world. And when they arrive, US Customs will be cross-referencing them with the list. It sounds fine – although you know there will be some issues. Everyone involved still has to have all the proper visas, etc.
*As of Aug. 15, players and staff will not have to quarantine for 14 days upon arrival. However, anyone arriving in the U.S. BEFORE Aug. 15 will have to follow all New York State guidelines.
*Players won't be allowed to share a room with another player.
Travelling back to Europe
At this point, there is nothing solid in terms of players being exempt from a 14-day quarantine when they return to Europe to rejoin the clay-court swing. The various stakeholders "are making positive progress with confirming the players' ability to travel to Europe from the U.S."
*The US Open will be using the swab test. They anticipate getting the results back within 24 hours. It's mandatory; the antibody test is recommended, but not mandatory. Players and support staff will be tested again 48 hours later, although in the interim they will have access to the site. Those who don't take the antibody test (or have negative antibodies) will be re-tested every four days; those with positive antibody results, every seven days.
Positive tests mean …
*If a player tests positive, he or she will be immediately isolated for 10 days. If they've already started their tournament, they will be automatically withdrawn. If a player is sharing a room with a guest, and that guest tests positive, the player will be required to self-isolate for 14 days. The USTA doesn't recommend the sharing of rooms and even if a player is allowed to bring up to three people (two per room, two rooms), they prefer that the player bring only one team member, each to his or her room.
*If a team or family member tests positive, but is staying in a separate room, the player "may not have to be withdrawn" if they're deemed to have followed social distancing guidelines and masked up.
*Anyone who has previous tested positive for the virus is required to bring the lab report of that positive test for examination by the USTA's medical team. They recommend taking the antibody test. But if all checks out they might not have to undergo any more testing for the duration.
How many is too many? Undetermined
*There are no standards or benchmarks in place to determine how many positive tests would result in the cancellation of the tournament. RFID technology added to tournament credentials will help in contact tracing efforts, in the case of a positive test.
*If a player "leaves the bubble" without written permission from the Chief Medical Officer or tournament director Stacey Allaster, the player will be removed from the tournament. They would get the ranking points from the last round they completed, and pay a financial penalty. If a coach or player guest leaves, the guest or coach's credential will be revoked and they must leave the hotel within 24 hours. There will also be a fine, and that guest will not be able to attend the 2021 US Open, either.
*If a player tests positive, the USTA will cover the cost of the hotel room during the required isolation period. But coaches and player guests will not benefit from the same privilege. That means that a lot of the lower-ranked players may choose not to bring anyone to support them, because of the potential cost.
Prize money and withdrawals
*The guidelines here are subject to approval by the Grand Slam Board and do not apply to the 'Cincy" event.*
*Players who withdraw on site after the draw will receive 50 per cent of their first-round prize money. That applies to singles only. That also applies if they are on site, test positive and withdraw after Aug. 24 at noon (a week before the start of the US Open).
*If a player tests positive, after winning their first-round match, it will be treated like a regular medical withdrawal.
*If a doubles player's partner tests positive, they can enter with a new partner "consistent with the existing rule and past practices". The "new" team would still have to be ranked high enough for direct acceptance.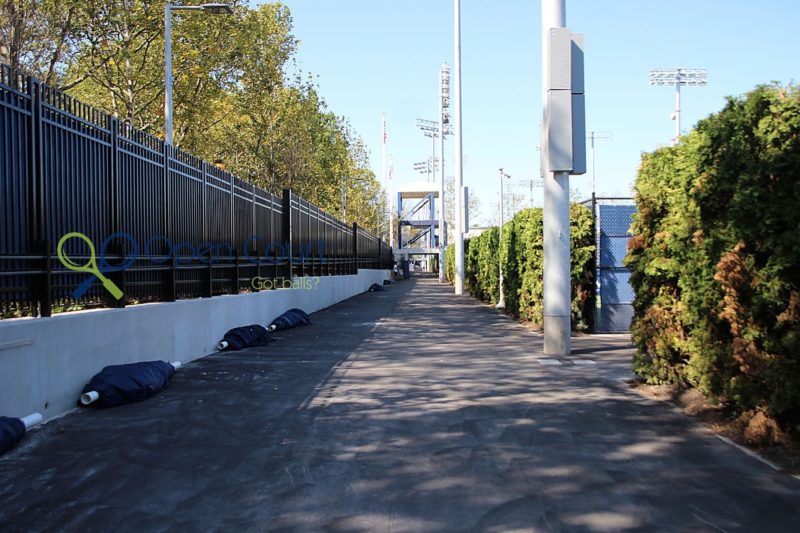 Staying off-site
*Players who want to stay in alternate off-site housing are required to have 24-hour security . That will be at their own expense. And those arrangements are subject to advance approval by the USTA. That security, from the sound of it, will report on the players' comings and goings. They will also have to provide their own transportation to and from the site.
*Players are not allowed to book through VRBO or Airbnb, or rent townhouses or condos. Or stay with friends. They're also not allowed to invite others who aren't "in the bubble" to stay at their private homes.
*Only one of the potentially three team/family members a player could invite will be allowed into the competition areas, locker rooms, player dining and lounges.
*Players who have been eliminated will still be allowed to practice on site, subject to court availability.
*Players will get a $100 food allowance on site at the tournament. Anything they eat or drink at the hotel will be on their own dime.
About Post Author