.
News about reigning US Open champion Bianca Andreescu's long-time knee injury, a more recent injury and a date for a return action has been harder to come by than next week's winning lottery numbers.
But her coach, Sylvain Bruneau, offered a not-too-subtle hint Monday that it won't be this year.
"I think the French Open will be tight. We have our fingers crossed, but I think it will be tight," Bruneau said in an interview on local Montreal television.
"We want her to be perfectly healthy. We want to take no risks. We don't want her to jump into a tournament and we hope for the best and everything will be fine So we want to make sure that when she starts a tournament we know for sure she's able to go from start to finish."
Bruneau dances a little bit
In an interview on TSN Wednesday, Bruneau sounded more definite about Andreescu's having to skip the clay-court season, including Roland Garros.
As of Wednesday, she remains on the entry lists for both Rome and Roland Garros – for that that's worth.
"She's doing better. It's a step-by-step approach. We're trying to be very smart and careful with it It's getting there," Bruneau told TSN. "I think it's going to be too tight for the clay-court season, although the decision has not been made."
But Bruneau danced around the nature of an additional injury that has popped up this summer – even while he said that she was only doing "light' hitting on the court, while they focused on physical fitness.
A reoccurring injury, unspecified
As to the nature of that injury, Bruneau's response to the report by a New York Times journalist that it was her foot, he hesitated and responded, "Foot issue … yeah…"
"It's sort of like along those lines. It's – we're trying to. … see what it is," he said.
If there anything clear, it's another situation where it has taken a long, long time to figure out the proper way to treat it – whatever it is. This is a recurring theme, it seems. Certainly the knee injury suffered last October, which was the reason she was off the courts for the first few months of the year before the shutdown, seems to validate that.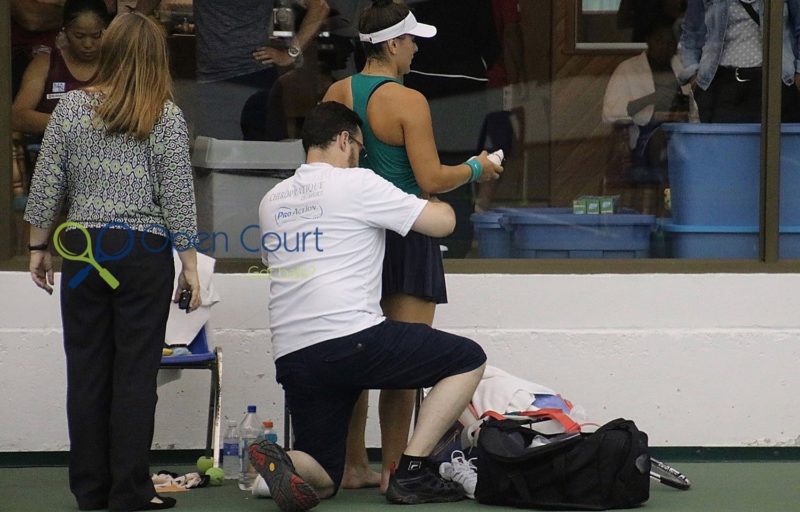 "It's something that has been reoccurring, and I think now we're dealing with it the right way. And hopefully it's not going to happen again," Bruneau told TSN. "Very frustrating, for sure."
If it is something similar to two stress fractures that sidelined Andreescu during the first half of her junior season in 2016, she missed six months because of that.
One year ago Monday
Monday was the one-year anniversary of the then 19-year-old Canadian's impressive run to the US Open title. She defeated Serena Williams in the final and denies the American legend a shot at tennis history.
It followed a season in which she won Indian Wells, ran into a wall (and a shoulder injury) in Miami, and returned for the French Open only to have to withdraw after one match against Marie Bouzkova.
Then, she was on the shelf again until she managed to return for the Rogers Cup – and won it. Then, the US Open title.
Since then, astoundingly, she has played just six matches. Four of them came at a big WTA tournament in Beijing, China about a month after her triumph in New York.
At the WTA Tour Finals in late October she lost her first match, then injured her knee and retired after losing the first set to Karolina Pliskova in her second round-robin match.
She hasn't played since. That was nearly nine months ago.
Information has been kept close to the vest since then.
A few comebacks, stalled
There was optimism – false, as it turned out – that she would return in February when Canada travelled to Switzerland for Fed Cup. Then, they thought perhaps she might at least play doubles. In the end, she was there as a special guest and without her, Canada went down to defeat despite teenager Leylah Annie Fernandez's upset of top-10 player Belinda Bencic.
The next bit of hope was that she might return to defend her title at Indian Wells.
(Bruneau said similar things at that time as he did Monday, that it "would be tight).
She did travel to the desert, but in the end it was mostly about photo shoots and sponsor obligations and a Tennis Canada fundraiser as she withdrew before it began. They were hoping for Miami but again, it was "going to be tight."
Of course, the Indian Wells tournament ended up not being held at all. And then everything shut down. The WTA Tour only resumed a month ago in Lexington, Kentucky.
No Charleston, no Cincy, no US Open
Andreescu had reportedly been training on a private court north of Toronto.
Along the way, there was another injury, apparently to her foot (per the New York Times).
She had signed on to play the all-women exhibition event on the site of the Volvo Open in Charleston, S.C. in mid-June.
But she pulled out of that.
She did not enter the US Open, but was automatically entered as that's how the rules work. And then she withdrew.
Andreescu – especially for a 20-year-old – has also been pretty mute on social media. A few Instagram posts here and there, a few sponsored posts. But that's about it – less than a dozen over the last three months. And nothing about the state of her health or a planned return.
No clay?
Andreescu did enter the Rome tournament, which begins in a week, and then the French Open.
From what Bruneau said Monday, that also seems to be more hope than anything.
"For Bianca, playing a tournament means going in there and trying to win it. She's not going to go and enter a tournament in the hope of maybe getting a match or two, so we think we might be a little tight," he said.
He only strengthened that in the TSN interview.
The thing is, getting a match or two is probably within reasonable expectations for someone who has been out nearly a year. And it's better than no matches at all.
At this point, Roland Garros is literally the last event on the schedule for 2020.
She would have at least dipped a toe back into the competetive realm – assuming she was healthy enough to do so, if not match fit to go the distance.
If she's not there, than it's clearly the only decision to make.
If and when Andreescu does come back in Australia in 2021, it will have been about 15 months since she played a competitive point.
A year ago, as Canadian tennis rejoiced in her triumph, that was unimaginable.
(If you want to take a happy look back on Andreescu's rise to the top and her victory in New York, well, have we got a book for you! Full of photos and previously unknown details about how she rose so quickly to stardom).
About Post Author