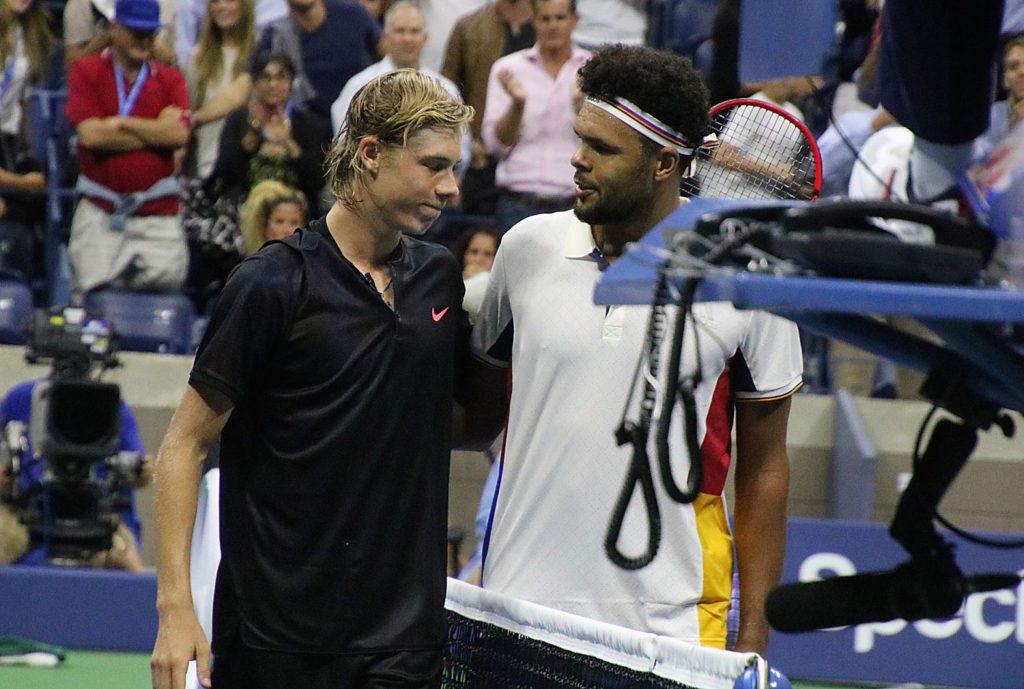 .
Three years after he made his US Open debut as an 18-year-old qualifier, Denis Shapovalov is into the quarterfinals.
And this year, as then, he's playing Pablo Carreño Busta of Spain.
Carreño Busta took him out in three very tight tiebreak sets three years ago.
This year, he took him out in five dramatic sets in the quarterfinals.
Rookie at the Open
Back in 2017, Shapovalov was coming off an impressive run at the Rogers Cup in Montreal.
Even with that, though, he was out on the Grandstand court in Montreal after it was over, doing some truly basic volley drills with then-coach Martin Laurendeau.
(Seriously, the kind you do at your club).
He arrived full of confidence and with a fair bit of media attention on him. He was an overnight sensation.
Here's his path through that 2017 tournament, in which his friend Félix Auger-Aliassime – with whom he won the junior doubles in 2015 – was also attempting to qualify for the first time.
Auger-Aliassime had just turned 17, and was the reigning US Open junior singles champion.
Qualifying, first round: Shapovalov def. Kudla 6-3, 6-4
Qualifying, second round: Shapovalov def. Gastao Elias 6-3, 7-5
As it happens, his friend Auger-Aliassime was also playing his second-round match at about the same time – on the next court. So the Court 11-12 court area was all Canadian for awhile.
Auger-Aliassime went down, though, to the veteran Sergiy Stakhovsky.
While Auger-Aliassime ran into a few autograph seekers on the walk of shame back to the locker room, Shapovalov was … absolutely mobbed.
After a second-round match.
It was a little scary.
Qualifying, final round: Shapovalov def. Jan Satral 6-7, 6-1, 6-3
After that, he talked to a fair few media
Main draw, first round: Shapovalov def. Daniil Medvedev 7-5, 6-1, 6-2.
Three years ago, Medvedev was a guy outside the top 50. I'd actually forgotten he'd played him; it was just not that memorable.
Main draw, second round: Shapovalov upsets Jo-Wilfried Tsonga 6-4, 6-4, 7-6
It was a debut on Arthur Ashe, and a successful one.
Main draw, third round: Shapovalov def. Kyle Edmund 3-6, 6-3, 6-3, 1-0 retd.
Again on Arthur Ashe, Shapovalov caught a break when Edmund had to retire because of a back injury.
Main draw, fourth round: Pablo Carreño Busta def. Shapovalov 7-6, 7-6, 7-6.
At that point, with all the enervation of the Rogers Cup, and six matches before he got to the round of 16, Shapovalov kind of ran out of gas a little.
Still – a fourth-round effort was impressive for a debut.
Three years later, the two met in the quarter-finals, with no Big 3 players in the draw and a chance to grab a Grand Slam title.
But Shapovalov couldn't quite get over the hump.
About Post Author