.
The first Grand Slam of the "new generation" era between Dominic Thiem and Alexander Zverev was not a classic, except perhaps for those who consider length of match a defining criteria.
But really, how could it be?
So much uncharted territory, so much at play. So much that was simply … different than it had ever been, beyond the hulking swaths of empty stands in cavernous Arthur Ashe Stadium.
For the first time in their tennis lives – their lives, not merely their professional careers – the Big 3 were nowhere in sight.
(This is not to imply that Djokovic, Nadal and Federer are over, merely that time waits for no one, and that Sunday's US Open final was a glimpse of the future).
It was easy to tell themselves, until Sunday in the US Open bubble, that it was perfectly fine not to have yet won a major title at age 27 for Dominic Thiem, and 23 for Alexander Zverev.
In the old days, 27 was turning the corner on the downside for a lot of players.
But during their young lives, the Big 3 had been greedily gobbling up every big trophy in sight. And if you cheekily had designs on some of that hardware, you had to get through at least two of them in best-of-five set matches.
But not Sunday at the US Open. On Sunday, one of them was going to win it.
Nerves, cramps, and a lot of heart
And in the end, through nerves and cramps and hiccups and opportunities lost, it was Thiem who lay on the court in triumph, appropriately far beyond the baseline.
It perhaps also was fitting that the player who is the oldest of the gentlemen in waiting, the one who already had three Grand Slam finals to his credit, should be the first over the finish line.
There is some symmetry to that. And if either of the two "needed" it more, in the clichéd parlance of television commentators and armchair quarterbacks, it was probably the Austrian.
Imagine that none of the Big 3 are there in the end. And then Imagine finally getting your best opportunity. Imagine you think you surely are next because you've been the closest. And, finally, imagine you have to beat a player you've had the better of seven of the nine times you've played.
If you see that player, younger, a good friend, hold up that major hardware before you do, how does that not sting as much as anything in your career to that point?
Honestly, I think (experience) didn't help me at all because I was so tight in the beginning. Maybe it was not even good that I played in previous major finals. I mean, I wanted this title so much," Thiem said after a five-set struggle that ultimately went his way.
"And of course there was also in my head that if I lose this one, it's 0-4. It's always in your head. Is this chance ever coming back again? This, that, all these thoughts, which are not great to play your best tennis, to play free."
Quick Zverev start, slow Thiem start
Zverev began this final as quickly as Thiem began it slowly; the Austrian was the tortoise to the German's hare.
He was bold, by his standards. His serve, the Achilles heel of his recent career track, was holding up.
But then Thiem's wheels finally began to turn after being down two sets and a break; Zverev deflated, just enough.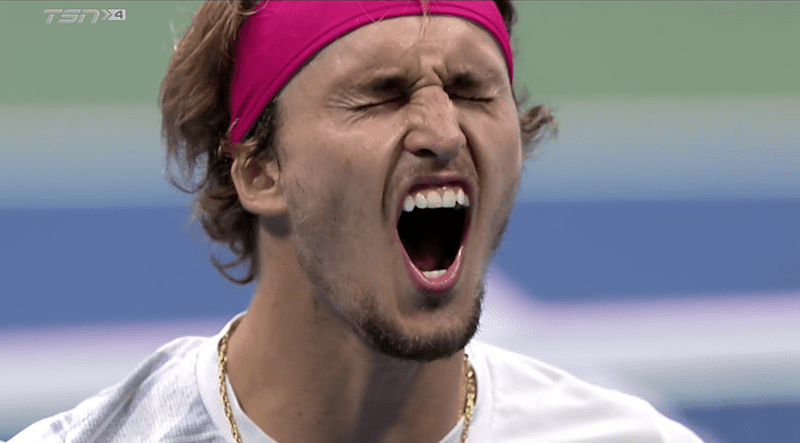 Sudden, they were in a fifth set. And while the tennis still wasn't classic, there was absolutely no question that both were hustling, running, trying to untangle the jangled nerves and giving it absolutely everything they had.
"The match was really tough, like a drama, like a movie right until the end," Thiem's coach Nicolas Massu said afterwards.
Zverev still looked he was a little shell-shocked at the developments. Thiem looked rejuvenated.
The German was broken. And then he broke right back.
The points would begin slowly, almost as though they were feeling each other out again and again. Then one of the two would pull the trigger on a big forehand. And then it was about power and defence.
There were too many double faults, from both.
Couldn't serve it out – either of them
Zverev was urging himself on, trying to do the right things, telling himself to fight.
They both looked weary – Thiem more than Zverev. But Zverev's on-court mien is more deceptive, more internalized than that of his Austrian friend.
The conditions were cool, so the weariness was a combination of mental and physical. Maybe both, somewhere in there, wanted to fast forward to the end just to know the outcome, to get it over with.
Zverev served for the match at 5-3 in the fifth set, but was broken on a failed serve-volley play that was a hope more than a plan.
Thiem was two points away from losing at 4-5, but held.
He was cramping at this point. It wasn't the acute kind, the full-body kind, where his leg would just buckle under him. We've seen that movie enough times late in long matches.
But he kept moving, to try to keep them at bay.
"It was the first time since years and years that I was cramping. But I guess it was not physical cramps; it was mentally. I was super, super tight the whole day, actually and then in the beginning of the match," Thiem said. "Somehow the belief today was stronger than the body, and I'm super happy about that."
At 5-5, Zverev was getting away with some snowball second serves. And then, on tired legs, he missed a backhand at 30-all, and a forehand at break point.
Serving it out – a challenging exercise
Before he attempted to serve for the match, Thiem had his thigh rubbed down.
But it wasn't much of a game. And Zverev broke him again, to force a tiebreak.
At least, they both knew, there was at most another 10 minutes to go.
At that point, Zverev was the one who was cramping – his left quad, the leg he needs to push off from to hit his serve.
Up a mini-break early, Zverev double faulted into the net.
He got it back. But at 3-4 and serving, he double-faulted again – over the baseline this time.
Match point forehands for naught
At 6-4 in the tiebreak, championship point, Thiem unleashed a 134-mph serve. He had an open court in which to hit a US Open-winning forehand.
And he missed. And then he limped back to the baseline.
At 5-6 on Zverev's serve, the German nearly double-faulted the title away. His second serve clocked in – a charitable term – at 68 mph. It barely cleared the net.
Thiem loaded up for another forehand that would have been routine in any other match, perhaps even in any other set of this match. And it went long.
Despite the serving woes, it was the most routine of backhands – Zverev's bread and butter – that finished him off. It sailed wide – and ended the suspense.
Contrasting emotions
The handshake between the two – normally a racquet tap, in this time of COVID-19 – was swapped for a secret handshake and a heartfelt hug initiated by Zverev.
After a month in the bubble, after 14 negative COVID-19 tests apiece, they figured it would be okay, just this once.
As they waited for the trophy ceremonies to be set up, Thiem was so far gone that as he sat in his chair, he kept dissolving into fits of laughter about everything and nothing.
At the other chair, at an acceptable social distance, Zverev stared into space, his head in his hands.
He had fought so very hard to get to his first major final, coming back from two sets to none down against Pablo Carreño Busta in the semifinal just two days before.
On this day, the 0-2 gods got him back.
Family absence has Zverev emo
It's hard for mere mortals to understand the lives of young tennis stars like these – so much the focal point of their families, the major breadwinners, the ones on whom all hopes are pinned.
But amidst all that pressure and, too often, dysfunction, tennis families are a special breed. They are thick as thieves.
And with the limitations placed the number of people the players could bring into the bubble, they were unable to have the people they love most in the world be there to enjoy the thrill of victory and the agony of defeat.
In Zverev's case, particularly, his parents would not have been able to travel to New York anyway. Both, he said, had tested positive for COVID-19 (they have since recovered).
As he spoke, the inner soul came out to trump the outer attitude.
"They're with me in every tournament I go to. … I miss them. And this is tough," he said, before pausing to collect himself. "Even though I lost, they're pretty proud. And I wish one day I can bring the trophy home."
Showing character in defeat
Zverev has always been a good trophy-ceremony speechmaker – willing to make jokes and handling them as if he were born to do it.
He's always been a decent runner-up as well, self-deprecating and sometimes philosophical.
But his public personality has always been tough for some to embrace. He is by turns snarky, a little disrespectful, diffident, and can come across as arrogant.
None of those qualities are so unusual for an entitled young man whose entire life was built around him being in these very situations. Although not every young tennis player in those situations ends up with that much attitude.
But on Sunday, the 23-year-old revealed the humanity underneath that sometimes brittle exterior. And it was as heartwarming as it was unexpected. Perhaps, if he came into this most gruelling US Open still a boy, he may leave it as a man.
Thiem looks back at journey
The two, bound by common language, began to get to know each other all the way back in 2014.
Through the years, they have had much more in common than that. A shared clothing sponsor. Fathers who were intimately involved in their careers. Struggles to escape the agent/gurus of their formative years, once they were old enough to stand on their own.
Zverev was the prodigy, on a path that would vault him into the top 20 by his 19th birthday.
That year, 16 going on 17 and outside the top 800 at the start of the year, he spent most of his time on the Challenger circuit, with a few wild cards at German-based ATP events.
Thiem, 22 that September, played 24 tournaments at the top level of the ATP Tour that year. He began the season at No. 139; he ended it at No. 37.
They never met on court, even if their paths crossed in places like Vienna and Hamburg and Basel.
"I think we were both ranked somewhere close to 100 or something, and we developed straight away a great friendship. In 2016, our great rivalry started. We made great things happen on court as well as off the court. It's amazing how far a way our journey brought us, to share this moment with you," Thiem said.
"I wish we could have two winners today. We both deserved it," he added.
Thiem remembered the last big final between the two, two years ago in Madrid. It was a rare straight-set victory in their head-to-head, and it went to Zverev.
"As I remember, you told me I'm going to make it, I'm going to win this title (some day). And now, I tell you the same," he said.
First 0-2 comeback in 70 years
Thiem is the first player in 70 years to come back from two sets to none down and win a US Open final.
If the process itself was agonizing for both at times, with all the extra baggage that came with it. Add to that the sheer physical demands of coming back to competitive play in best-of-five set matches so soon after the six-month shutdown of the sport because of the coronavirus.
Thiem played more exhibition matches (28, by his count) than anyone on the tour during the shutdown.
But it was just three weeks ago that Thiem went down to ignominious defeat in his first match at the "Cincinnati" event, played in the US Open bubble.
He was beaten 6-2, 6-1 by Filip Krajinovic in a match that took barely an hour. And most wouldn't have given much for his chances at the US Open.
But he got over the finish line, in the end.
What's next for the next wave?
Now that the "next wave" bubble has burst – pardon the pun – how many more are to come?
And who will win them?
It might not always produce the best tennis – in fact, it surely won't. Most of the younger generation aren't quite ready yet.
Their young rivals fell away in all sorts of different ways during this fortnight. For most of them, too, these were firsts and learning experiences.
It won't be as it's been the last 15 years. Because nothing could be.
But there will be new champions over the next decade. Perhaps many of them.
Thiem is the first.
(All screenshots from TSN/ESPN).