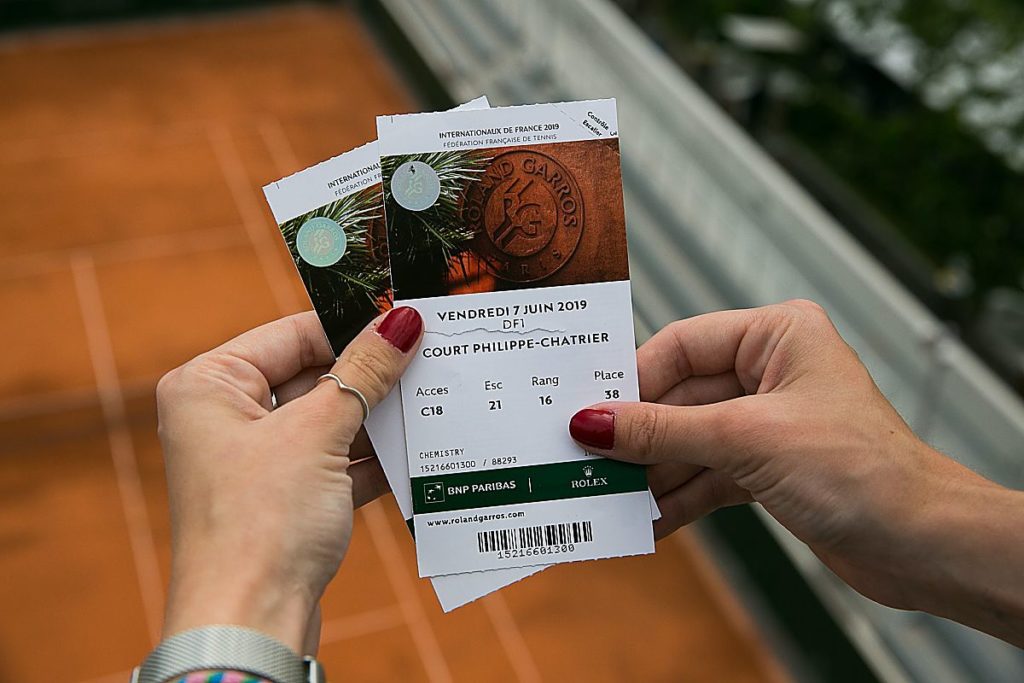 .
ROLAND GARROS – With the change in the French government limits on crowd gatherings and the public proclamation by the prime minster Thursday night that Roland Garros was not going to be exempt, tournament organizers had to scramble overnight to figure out a way to divide 5,000 into … 1,000.
At least the number isn't 1,000 – total. So there's that.
Those working and credentialed on the site (which could be up to 4,000) do not count towards that cap, contrary to what prime minister Jean Castex intimated Thursday night.
But the French Tennis Federation is … not happy.
"From the very outset of the public health crisis that our country is experiencing, the French Tennis Federation has consistently worked closely with government departments, to determine how to organize the tournament in the current situation. It deeply regrets these new restrictions," the federation said in a statement.
In a press availability Friday, federation president Bernard Giudicelli crunched some advanced math and determined that each of those 1,000 fans will have 120 square metres of space – 30 times what the standards authorize.
(That number is sort of a fictional one, though, as each of the fans will not be equidistant from one another. Rather, all will likely be sitting in Court Philippe-Chatrier when Rafael Nadal or Novak Djokovic or a French player is in action).
But the point remains – there likely was plenty of room on the 12-hectare site to have the 5,000 fans. That number was already a realistic reduction from the earlier more optimistic hopes.
Ticket lottery with a 20 per cent chance
From refunding the first ticket offering in the summer, to refunding all the tickets sold for courts other than Court Philippe-Chatrier last week – to now having to refund 80 per cent of those, it's been a problem-solving exercise of monumental proportions for the marketing and sales staff.
What the FFT has decided to do is to hold a draw – supervised by a bailiff – among the 5,000 Court Philippe-Chatrier tickets per day. The lucky 1,000 will get a chance to at least see live tennis in this most challenging year.
Actually – it won't exactly be 1,000. It'll be more like 750.
Sponsors, VIPs get relatively few tickets
While main sponsor BNP Paribas has returned its allotment of tickets to the tournament so tennis fans can have a shot at them, FFT marketing director Stéphane Morel said Friday that some 200 of that 1,000 cap will go to sponsors and partners.
Another 50 will be alloted for government officials or "other personalities" that must be in attendance.
In the grand scheme of things, the freebies are pretty restrained.
The entire "hospitality" operation for the muckety-mucks and fancy people – you know, the ones who don't use their courtside seats during lunch and dinner, leading fans at home to roar about the waste – has been completely cancelled.
The fans will be contacted by email Friday afternoon, and if they don't win the lottery, they will be fully reimbursed. (They are talking about some 140,000 reachouts; this is a major undertaking in a short span of time).
Those unlucky ones also will have priority access to tickets before they go on sale to the general public next year.
First-come, first-serve seating
Morel said that some of the lottery winners will have upper-deck seats, and some lower. But with so few fans, it doesn't make much sense to hold them to their assigned seats.
So they will organize somewhat of a free seating arrangement, not having any lead time to reorganize with assigned seating and proper social distancing. It's rather egalitarian, by the multi-layered social strata of high-level sporting events.
Fans lucky enough to be able to sit in the stadium will be able to sit wherever they want, subject to the ushers moving the pieces around a little bit to ensure social distancing.
For those lucky few, this is a major tennis buffet. They'll have the run of 16 match courts, all day and evening.
"The FFT shares in the disappointment felt by those who are now not going to be able to enter the grounds, due to the capped number of spectators," the statement added. "Roland-Garros is an extremely international tournament. It plays a key role in France's sporting heritage, as well as boosting France's international reputation."
(Yup, not pleased. And who could blame them?)
About Post Author