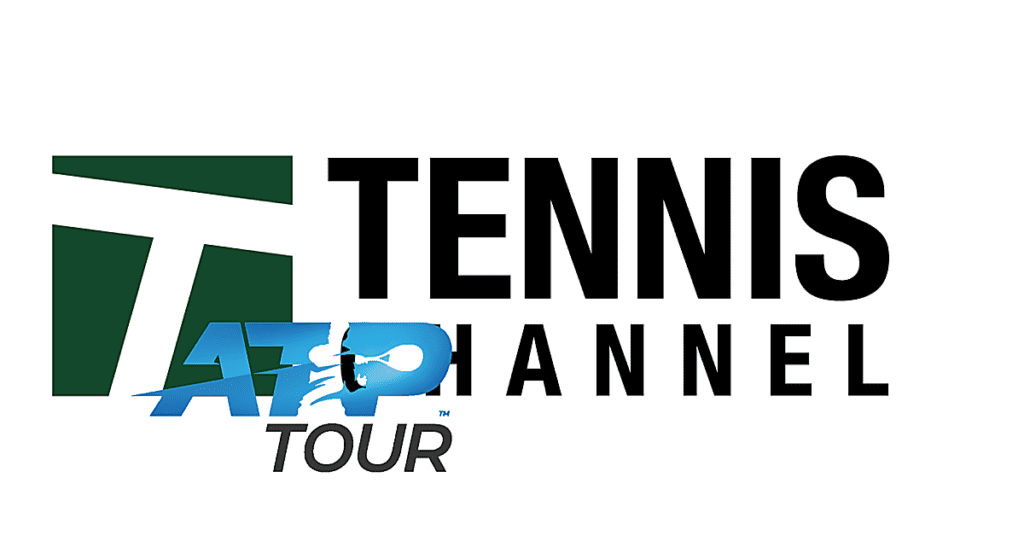 .
If you're an American tennis fan and don't have Tennis Channel, you'd probably better look into your options.
You'll also have to revisit your streaming subscriptions.
The Sinclair-owned network announced Tuesday that beginning in 2021, it will be the home for almost all of the ATP's events at all levels.
The new deal includes all Masters 1000 and ATP 500 tournaments. It also adds 16 of the 250s that it doesn't already have as well as the ATP Tour Finals.
The Tour Finals will move from London to Turin, Italy beginning next year.
Coverage now virtually complete
The network already broadcasts most of the other 250s, the Next Gen Finals and the ATP Cup.
The ESPN deal announced in 2013 that expanded coverage of Indian Wells, Miami and the ATP Tour Finals expires at the end of this year. That deal also included increased streaming hours on its own platform.
Tennis Channel will now have an "on-site tournament desk" at the Masters 1000 tournaments.
A deal signed in 2018 increased the visibility of the Masters 1000 tournaments, primarily on Tennis Channel's streaming service. But that coverage notably excluded its home-country Masters 1000s in Indian Wells and Miami and Cincinnati.
Now, the men's side of those events will be included and tennis watching will make a whole lot more sense to fans.
The downside is that Tennis Channel is a premium, extra-cost outlet on most cable systems, while ESPN and ESPN2 are far more basic services.
Will TennisTV now be blacked out?
When Tennis Channel took over the WTA rights, the WTA's streaming service in the U.S. then was blacked out in that country.
That hasn't happened as ESPN moved coverage to its own streaming service. But this may or may not be a completely different situation.
And it won't happen with this new deal. Per a spokesman, Tennis Channel has the exclusivity on broadcast rights, but not on the digital rights. So TennisTV will continue to stream ATP matches, in addition to Tennis Channel's TC Plus service.
Another question, in the wake of rumblings that ESPN is headed for a significant number of layoffs, is what will happen when ESPN no longer broadcasts the Masters 1000 tournaments.
There are a lot of good people involved in producing those broadcasts – as well as the on-air talent of course.
An amalgam of streaming, web, print and broadcast
With the print Tennis Magazine and its website (acquired in 2017), and the Tennis Channel Plus streaming service in addition to its cable network, the PR push for the men's events will be comprehensive.
And it may push the coverage of the WTA even further off the main network and onto the (extra cost) streaming service. (We don't know this for an inevitable fact. But we know anecdotally from how it's been going since the WTA returned to Tennis Channel in 2019)
Tennis Channel had acquired the rights to all overseas WTA events beginning in 2019 from beIN, the Qatar-based network. BeIN originally got the rights in 2016 when the WTA signed its reported 10-year, $500 million partnership with the Perform Group. Perform produces the tournaments for broadcast and streaming.
The theory was that it would expose tennis to a larger and different audience of international soccer and rugby fans. (This, um, was a misguided theory as the network consistently cut out of tennis when its more signature events came on air, and thus alienated its existing fan base).
Tennis Channel the place to be
So, to sum up, ESPN continues to hold the rights to the Australian Open, Wimbledon and the US Open. And that's it. (Even with those, it cooperates with Tennis Channel).
Tennis Channel has most of the rights to Roland Garros, with NBC holding some (mostly on weekends).
(Viewers will remember when the gripping Hugo Gaston vs. Dominic Thiem match was on last week. Tennis Channel did not have the rights to run it. And NBC pushed it to its own streaming service, Peacock).
Beginning in January, the American home of tennis will basically have everything else.
And, as a piece in the New York Times points out, it's clear that ESPN doesn't consider it a priority – that it would pre-empt the Little League World Series? Unthinkable!
And that the sport will now be hard to find for potential new fans, outside the Grand Slams, is definitely a statement.
On the plus side, as the Times points out, Sinclair (which owns Tennis Channel) also owns regional sports network it can use to promote its tennis coverage and, perhaps, broadcast some of the matches.

About Post Author