.
I write this as I sit at home, masked up even to talk to my husband, for 14 days upon returning from a Roland Garros that we'll likely not see again soon.
We've heard a lot of players say they appreciated the tournament's effort to keep them safe. And many of them said they did feel safe.
But was the 2020 edition of Roland Garros actually safe?
It's complicated. But given how it all shook out, I'd have to say that all of us who spent weeks on site and in the area can consider ourselves fortunate that we came out of it – as far as we know so far – unscathed.
Three players – David Goffin, Sam Querrey and Fabio Fognini – tested positive for COVID-19 after the tournament. But all lost early and, presumably, were gone when they contracted it.
It's hard to criticize the tournament for the leakiness of the bubble. The organizers started late to try to tighten it up.
And above all, a lot of it seemed … cultural.
The French Federation did what it could with the things in its control – on the sanitization side, mostly.
As far as human behaviour … that was a different challenge.
The "brigade sanitaire" out in force
There was a large crew of people out cleaning and wiping off surfaces between matches, as well as railings and other places people would be touching around the grounds.
As the official scorers changed shifts on courts, they would wipe everything down.
Even in the press centre, there was a crew of people going around all the time, making sure everything was wiped and the bathrooms were extra sanitary. (Given this was a brand-new facility, it was already spotless to start with).
There were dispensers for hand sanitizer all around the grounds.
Parisians: they like to cozy up
Around the grounds, the notion of social distancing was … mostly an imaginary concept.
The official acceptable social distance in Paris – unlike here at home, where it's two metres – is … one metre.
But the actual distance seemed to be … a foot. Sometimes.
People gathered in groups. They walked together – and made you squeeze by them on narrow walkways, so as not to interrupt their chats.

And they conversed face to face – often. They lunched together, masks off. They lined up one behind the other to get into places.
Even the media dining room – which I never ventured into – was packed full of people around tables. Obviously, they were eating. So masks off.
Outside the gates, everyone is social
Just days after my departure, a curfew is being set in Paris – citizens have to clear out the streets at 9 p.m.
Even while we were there, the bars were closed and the restaurants had to shut at 10 p.m. if they observed upgraded sanitary measures.
It's hard to know how things will go in the City of Lights when it gets too chilly to sit outside – it was already getting there during the tournament.
In the meantime, everybody was out.
Paris is a shop town. So every store with a good clientele – especially at peak times – had lineups out the doors and onto the sidewalk. Some people gave each other space. Other didn't.
But those lineups ran into all of the people actually walking on the sidewalks. So at times, it was like an obstacle course to get where you wanted to go.
Often, I walked on the street to avoid the crowds.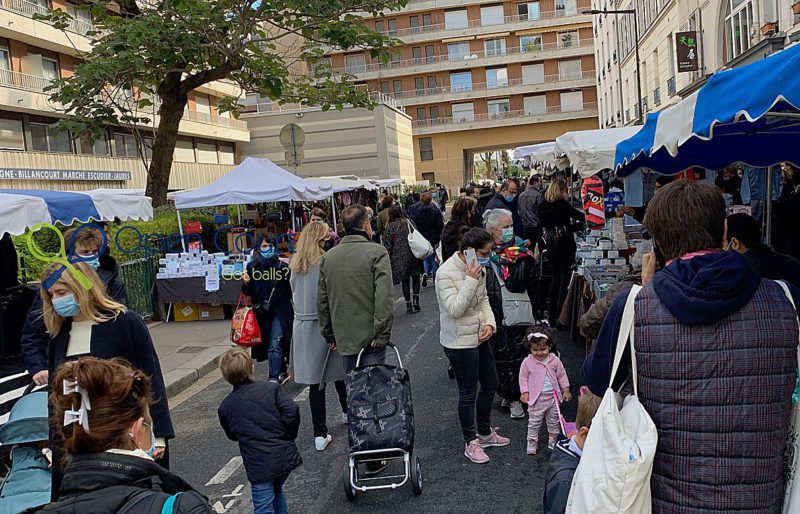 A rather leaky bubble
The difference between the planning between the US Open and Roland Garros was a significant one.
When the US Open was trying to get its event the green light, the situation in the New York City area was pretty dire. The organizers almost had no choice but to invest heavily in trying to make the bubble as airtight as possible.
On the whole, they did a remarkable job.
In Paris this summer, the curve was being flattened and early plans had capacity in the stands as high as 50 per cent of the normal crowds.
As the situation deteriorated, and those ambitions had to be tempered, the French Tennis Federation had to try to create a bubble backwards.
It was an impossible job.
Hotels full of non-tournament guests
The FFT mandated the top 60 player bunk at the luxurious Pullman Hotel. Even the French players who lived in apartments within walking distance of the Roland Garros site had to pull up stakes and sleep there.
But they didn't buy out the whole establishment. If you wanted to pay the rate, anyone could book a room there.
Karen Crouse of the New York Times stayed there overnight, and wrote this about it.
The second hotel, which housed lower-ranked players, doubles players and qualifiers, was even more of a free-for-all.
One player told me they and the team just walked in – and went straight up to their rooms. And stayed there. Every time.
There were anecdotal stories (most of them probably true) of players who disregarded the "stay-at-home" orders and went out to enjoy Paris.
On site, the notion that everyone around had tested negative multiple times definitely led to a sense of security that led to players letting their guard down.
But the worst offenders were the locals.
On the evening French player Pauline Parmentier said farewell after a long career, a lot of French Federation types, coaches, fellow players and friends went to Court 14 to support.
They were … very cozy.
By the final weekend …
The crowds inside Court Philippe-Chatrier increased over the fortnight. And by the time the men's singles final between Novak Djokovic and Rafael Nadal rolled around, any notion of spacing out the fans around huge Court Philippe-Chatrier had basically gone out the window.
The FFT tried to make it look good. They made a show of ballkids bringing hand sanitizer out for those on court presenting the trophies.
The masks were worn for the majority of the photos.
On Friday, they invited ballkids into the Tribune Présidentielle, with rows between them. But they put them one behind the other – breathing on each other's backs, basically.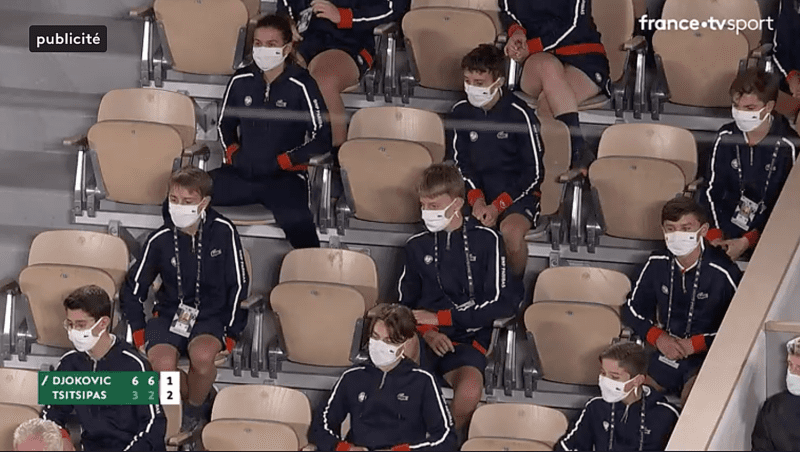 By Sunday, they had gotten the geometry right.
Cozying up for Nadal-Djokovic
But all you have to do is look at all those swaths of empty seats – and the tightly-packed clusters of fans – to see that the crowd during the men's final was … not exactly social distancing and not exactly taking maximum precautions.
Even with everyone masked up (except when eating and drinking, of course).
Some media "safer" than others
On the media side, the relatively small number of written press on site were not allowed to interview the players face to face.
It was a rather surreal scene.
You could see the player through the frosted glass in one of the two beautiful new press conference rooms.
But you spoke to them sitting at your nearby desk, on a video conference.
Except, if you were a broadcast rights holder on site, you could interview them face to face – at least, with a reasonable distance in between. So it was ultimately about the size of the cheque; the TV people weren't getting tested any more often than the written press.
TV people, up close and social
I'm one of the rare ones who worked both sides of the aisle. So when I was working for TV, I could get that personal interaction.
When I wasn't, I had to fight to get questions in as a phalanx of people sitting at home put their (virtual) hand up at every single videoconference.
At the very least, those on site should have gotten preference. There were not that many of us. They also could easily have let some people sit in the last two rows of the main press conference room – more than adequate social distance away from the players.
It might even have made the players feel more at ease – add at least a tinge of normalcy to the process.
It made writing original, well-reported stories a challenge, which didn't help the overall coverage of the event.
Lessons to take from NY and Paris
It will be very interesting to see how the events going forward are going to handle the restrictions.
The French Federation has announced that the Paris Masters will go ahead the first week of November. It, too, plans a cap of 1,000 fans per day.
But 1,000 fans in one indoor arena looks very different than 1,000 fans spread out over a 12-hectare site.
Other events are being held behind closed doors.
And what will the Australian Open do?
The next Grand Slam on the schedule isn't just that one major event. The Australian summer features the ATP Cup (planned for three different cities) as well as a number of WTA Tour events.
Already, the men's and women's events in Auckland, NZ have been called off, along with the Kooyong exhibition tournament the week before the Australian Open. As well, three major golf events organizers hoped could be held in the first few months of 2021 have been cancelled.
Tennis Australia is already dealing with a mandatory 14-day quarantine for visitors to Australia. Mere mortals have to bunk down in a designated hotel (not of their choosing) at a high cost. They are hoping to arrange for the players who arrive in mid-December to stay in resorts and be able to train while they "quarantine". But that doesn't seem to be a done deal.
With the coronavirus situation worsening in the U.S., Canada and all across Europe, it feels as though we were lucky Roland Garros came off as well as it did.