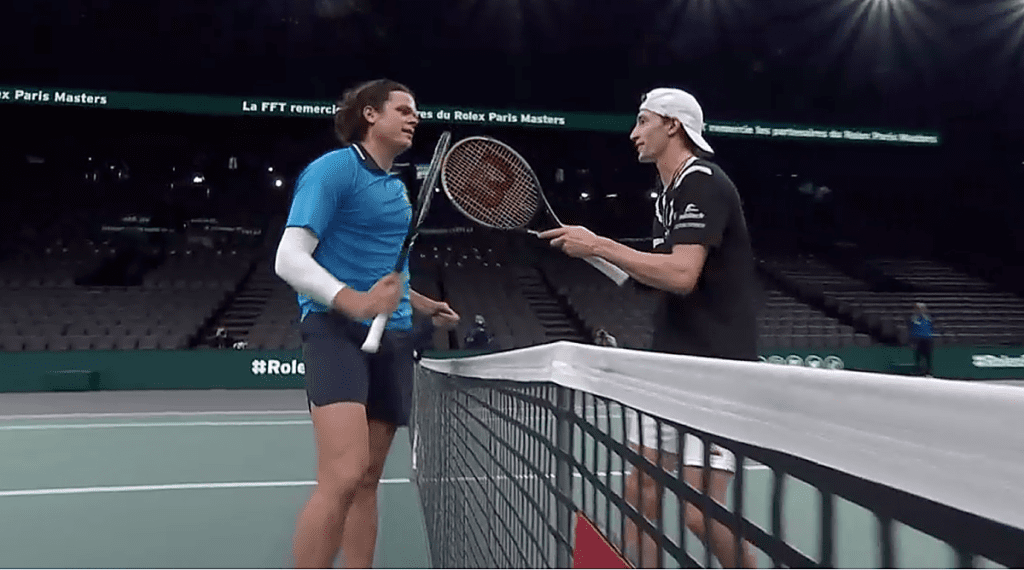 .
Canadian Milos Raonic returned for one final tournament this year at the Paris Masters.
And on Friday against the highly in-form Ugo Humbert, he left it all on the table.
Down 1-5 in the third-set tiebreak, and facing a pair of match points at 4-6, Raonic came back to take the match 6-3, 3-6, 7-6 (6).
He will face No. 3 seed Daniil Medvedev in the first semifinal on Saturday.
The first match point, at 4-6 on Humbert's serve, was a … 30-shot rally during which Raonic used his slice extensively. He also was within a hair's breadth of hitting the ball long on a couple of occasions.
On the second, he hit an unreturnable serve. That, along with 25 aces, was the big difference in a match during which both players were ineffective on their break-point chances. Raonic went 1-for-10; Humbert went 1-for-6.
And if you take away the first-serve points won with aces on both sides, Humbert won nearly 60 per cent of the remaining points. For Raonic, it was below 40 percent.
But Raonic fought. Hard.
Finding a way through
"I wouldn't necessarily say that that match point is necessarily the way I want to be playing too many points that I saved in that long rally, but I just tried to stick with it as much as possible, tried to find a way through and got a bit fortunate, hit a few balls close to the line," Raonic said.
He came into his Zoom conference virtually right off the court. And you could feel – even from the other end of cyberspace – that he was still buzzing with the adrenaline of the match.
"You know, today it turned my way, but I've just got to keep plugging away. Doesn't necessarily mean it always will but at least give it a chance for it to turn around," he added.
Experience wins out against rising Humbert
After the match, which ends a late-season surge that should have him seeded at the Australian Open, Humbert said that in a match that hinges on so little, he has to be more aggressive in the key moments.
"I have to go to the net more. (Raonic) saw that, at 5-1 (in the tiebreak), I didn't go. I finished on a drop shot, like I was sort of getting rid of the ball. He was very good. He's been No. 3, so he feels those things on court," Humbert said.
Doing his homework
It was the first meeting between Raonic and the 22-year-old Frenchman. So Raonic prepared as best he could.
"I watched most of his match yesterday (a 6-3, 6-7, 6-3 win over Marin Cilic). And I watched him play, I believe, two of his matches in Antwerp as well, and I believe the one against Rublev in St. Petersburg," Raonic said. "He has a very good especially first serve, and I knew that was going to be tricky. "
"He just kept being aggressive. You know, takes the racquet out of your hand, stays low, hits hard through the court. So even when he's sort of letting up a bit, it's still a quick ball that's not necessarily always easy and a gimme to be aggressive," Raonic said of Humbert.
Raonic also said that there isn't the same access to hitting partners and practice as there might be in normal times, at an outdoor event. So he had to guard against getting off to a slow start.
Accelerated rehab for Raonic
The 29-year-old had been out for three weeks, since an abdominal strain suffered in his first-round match led to his withdrawal before a quarterfinal clash with Grigor Dimitrov in Antwerp.
Raonic and his team decided to try an accelerated recovery plan to get to Paris.
He told Open Court his decision to withdraw from the final tournament in Sofia, Bulgaria next week was made Friday morning.
So, knowing this was the end of the season, he threw it all out there.
"I was told about three weeks to recover. And I think we just went a little bit proactively – obviously very cautiously – but we tried, 'Okay, let's see if we can make something happen in 10 days in a very conservative way without putting anything at risk,' " he said.
"I know my plan was to play Sofia. I think that decision was made this morning. I'm happy that I can play. I'm happy that I have been healthy – minus a minor slip-up relative to the ones I have had before. And I'm just trying to make the most of each week, trying to find a way to win as much as possible."
Auger-Aliassime also in the semis – in doubles
Despite his disappointment after losing to Marin Cilic in the first round, Raonic's countryman Félix Auger-Aliassime has recovered well and remains alive in Paris.
He and partner Hubert Hurkacz have taken out the No. 1 and No. 7 seeds, and will face No. 4 Lukasz Kubot and Marcelo Melo in the doubles semifinals on Saturday.
About Post Author