.
At the end of the Sofia Open singles final, one player was going to hold up his first ATP Tour champion's trophy.
Would it be 30-year-old Canadian Vasek Pospisil, who has persevered through multiple injury issues and is playing the best tennis of his career?
Or would it be 19-year-old neophyte Jannik Sinner, whose career is just beginning and whom everyone expects will be a huge star?
In the end, it turned on a couple of second-serve returns in the third-set tiebreaker. And youth prevailed as Sinner won it 6-4, 3-6, 7-6 (3).
Sinner became the youngest player to win an ATP Tour title since Kei Nishikori won Delray Beach in 2008, at age 18.
"Big congrats to Jannik for your first title today You played unbelievable, playing so well," Pospisil said during the trophy ceremony. "Huge game, huge future. Good job, man."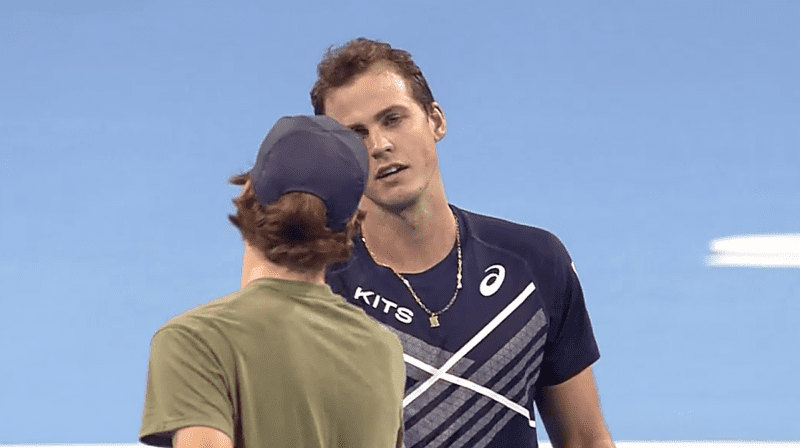 Tough one for Pospisil
With Sinner, you can be fairly confident this is just the first of many.
For Pospisil, who had reached just one other singles final in his career, the opportunities have been fewer and thus, far more precious.
But he has nothing to regret. He played lights-out tennis for most of the match – bold, all-court tennis combined with premium serving.
Pospisil was down a set and an opening break in the second set when a chink in the Sinner armour appeared.
When Sinner's forehand went AWOL on him, Pospisil stood firm and steady. He took full advantage of the situation, pressing ever forward. And if that trend had continued, he would have been the one holding up the larger trophy.
Turning a bad situation around
But Sinner, for whom tennis looks like such an easy sport and whose opaque Edbergian expression on court makes him look as though he is rarely bothered, showed champion's mettle.
He turned it around – after a racquet throw in the second betrayed a rare crack in composure.
The young Italian was down 15-40 in the opening game of the third set on his serve. It was a big-league hold. And from then on, Pospisil was always serving second and always under the gun to keep up.
He did, bringing that deciding set to a tiebreak.
At 2-3, on serve, Sinner got the first look at a second serve from either player in the tiebreak. He didn't go for a winner; rather, he went for a ball down the centre of the court, but within a foot of the line. Pospisil couldn't handle the shot on his forehand, Mini break.
At 4-3, Sinner missed his first serve, for the first time. But Pospisil couldn't get the second-serve return to his backhand into the court.
That, in a nutshell, was the difference in the match. It turned on so little. In the most meaningless statistic in tennis, Pospisil won four more points than Sinner did overall – 97 to 93.
But most of that came from the second set, in which Pospisil won 27 points to Sinner's 15.
A rise in the rankings for both
Sinner should move to a career-high ranking of No. 37 with the title. It won't be enough to get him seeded at the Australian Open unless there's a way to leap several spots in the early part of the Australian summer. Or if some of the top players decide not to make the trip Down Under.
But one thing's for sure: he instantly leaps to the top of the list of "unseeded players no top player wants to meet in the first round".
It's crazy, if you look at it. When he arrives in Australia in January as a dangerous floater, it will have been just two years since he was losing in the second round of entry-level Futures events in the free-for-all that is Monastir, Tunisia.
Game-changer for the Masters 1000s
Sinner has played just three Masters 1000 tournaments in his career. Two of them came in Rome the last two years, thanks to wild cards.
At the Cincinnati tournament, inside the US Open bubble in August, he had to play qualifying and lost in the first round.
With a top-40 ranking, that will no longer be an issue. If the Masters 1000 tournaments are able to be played in 2021, his qualifying days will be behind him.
That change in status will enable him to make further inroads in the rankings – and quickly. The precociously even competitive temperament he has displayed ever since he burst on the scene will only serve him well.
Pospisil ends the season in style
Pospisil ends the season ranked No. 61.
A year ago at this time, he was at No. 150 and working his way back up the rankings after back surgery.
For five years, persistent back issues not only short-circuited any extended run – they also had him wondering if his career would be cut short.
It's his highest ranking since the week of June 27, 2016. That week was the final week that his quarter-final points from 2015 Wimbledon were on the chart. He dropped to No. 99 the following week. And the last four-plus years have been a study in determination and persistence.
During the trophy presentation, Pospisil gave a shutout to coach Frank Dancevic (who was not there), a fellow Canadian who also is the Davis Cup captain.
The influence of Dancevic, as laid back as Pospisil is intense, has been evident – especially on the backhand side.
Always a relative weakness, that side has been solidified on the two-hander. The slice has more bite, and is being used more judiciously.
But most of all, Pospisil has, for the most part, been playing healthy. And now, at 30, he's finally able to show what he can do.
It will be a satisfying off-season for both. With great promise for 2021.
(All screenshots from TennisTV)
About Post Author