.
Now that the ATP Four Finals are in the books, the rankings made official Monday will be the year-end rankings for the season.
And if there weren't a lot of changes after last week's action, and all the points at stake, there's a reason for that.
The pandemic rankings modifications have meant some players' numbers remain artificially high. They can keep the better of their points from 2019 or 2020 from every tournament since March in the calculation.
The biggest beneficiary of this is 2019 ATP Finals champion Stefanos Tsitsipas. Tsitsipas won one round-robin match in London this year – 200 points.
But he gets to keep his 1300 points from 2019 until Nov. 2021.
If those points had dropped (as they seemed to be set to do this fall), Zverev would finish the year at No. 6, and Tsitsipas No. 7.
Matteo Berrettini, who didn't qualify for London this year (but was there as an alternate) gets to keep his 200 points earned in 2019. That is the difference between him finishing in the top 10 – at No. 10 – and finishing the year at No. 11. Which is probably worth some bonus money to him, and will cost Gaël Monfils in the process.
Three Canadians in year-end top 20 – almost
If Félix Auger-Aliassime had managed to earn just 30 more ranking points, Canada would have had three men ranked in the year-end top 20.
The difference is as little as two wins in Sofia in his final tournament of the season. Or a first-round win over Marin Cilic at the Paris Masters.
Still, only Russia (Medvedev, Rublev and Khachanov) and Spain (Nadal, Bautista Agut, Carreño Busta) have three players in the top 20
A year ago, there was one – Shapovalov at No. 12. Auger-Aliassime was at No. 21 (exactly where he is now). Milos Raonic was at No. 31.
And Vasek Pospisil finishing the season at No. 61, from where he started, is nothing less than a triumph.
The battle for the AO main draw
For argument's sake, even if it's very much up in the air, we'll assume the 2021 Australian Open will go ahead as scheduled.
This time of year is when players just outside the top 100 scramble at Challengers late in the season, to try to get themselves at or inside the top 100 and get straight into the Australian Open main draw.
It is a crucial guaranteed payday to start the season off on a good note. Winning three matches in qualifying is always a crapshoot.
Remember last year, when players who had to slog through the bushfire air at Melbourne Park that day? Anything can happen.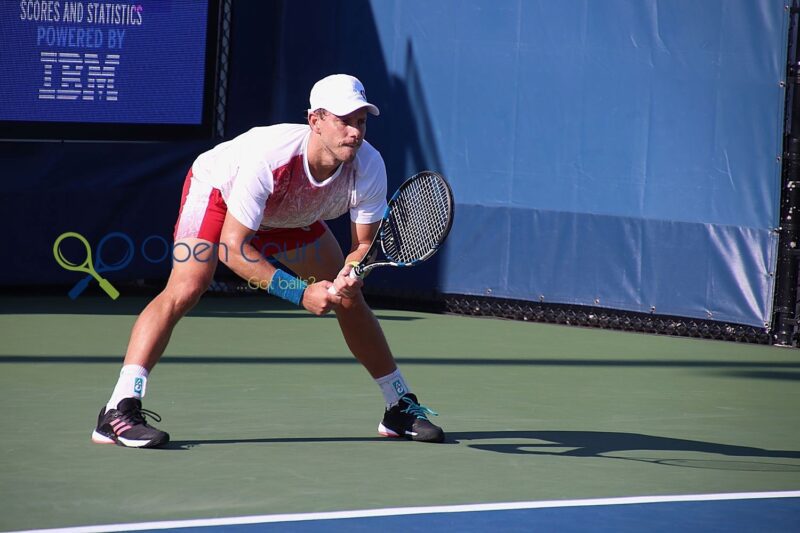 The problem this year is that players can hold on to their points. So it's been been really hard for anyone to make major inroads.
A year ago, Aussie James Duckworth jumped up 11 spots this week, to No. 100. And American Marcos Giron leaped up 21 spots to No. 102. That sealed their deal for Melbourne.
Conversely, India's Prajnesh Gunneswaran tumbled 20 spots down to No. 115 from inside the top 100. That meant he had to qualify.
He lost in the final round, to Ernests Gulbis (Luckily, he made it in as a lucky loser).
This year (allowing for some injury protected rankings), here are the players on the bubble.
In Duckworth's case, the plus was that he didn't drop or have to defend the points he earned a year ago. He must be relieved.
The Aussie's leap last year came from winning a Challenger in Pune, India this week. It was … somewhat in the same part of the planet, after Duckworth had played some Challengers at home in Australia. He then went to Japan and finished his season off in Pune.
This year that tournament is not being held (neither were the Challengers in Australia, for that matter). The options were going to Italy, all the way back to the U.S. – or to Ecuador, on clay.
The rest of the Challenger Tour season is taking place mostly in South America on the dirt.
Doubles year-end rankings
After Wesley Koolhof and Nikola Mektic won the ATP doubles final, they both leaped into the year-end top 10.
In Koolhof's case, to the top five.
By reaching in the final in one of the last tournaments of his career, 39-year-old Jürgen Melzer finishes the year at No. 21, up seven spots.
Here again, though, players who did not make the cut in 2020 get a huge break from the "pandemic rankings".
Cabal/Farah still No. 1
Notably on the doubles side, that means Colombia's Juan Sebastian Cabal and Robert Farah, currently the No. 11 team in the rankings. Although in their case, the 200 points they get to roll over from the 2019 ATP Finals don't do much to widen an already impressive lead.
Their total includes 4,000 points from the 2019 Wimbledon and US Open titles that rolled over. It also includes 1,000 points from winning Rome in 2019 and 600 from reaching the Cincinnati final in 2019. Those tournaments were all played in 2020, but they were able to keep their previous results.
It's completely nuts. Farah has 8,530 points in his rankings tabulation. Only the Acapulco final (300), Vienna semi (180) and Sardinia final (150) are from 2020. That's about seven per cent of his total. Cabal and Farah reached the 2020 French Open semifinal, matching their total from 2019. Add those 720 points into that calculation, that's still only 16 per cent of the total.
And yet, other than missing the Australia swing because of a positive doping test from Farah when they were already Down Under – later overturned – they played a full schedule. Farah went a rather pedestrian 14-10 on the season; Cabal 13-9.
In comparison, Koolhof's Grand Slam points are all from 2020, with the exception of the cancelled Wimbledon. He posted a 28-13 record for 2020, with two titles.
More of the same in '21
At least until Indian Wells rolls around again, there is going to be more of the same.
The first half of the U.S. "Sunshine Double" was the first tournament to be cancelled because of the pandemic.
That means players get to keep their ATP Cup points, any points from 2019 Australian Open tuneups, the Australian Open itself, and the indoor European swing that includes Rotterdam. Dubai. Acapulco.
It's going to continue to help Federer a whole lot, assuming he returns in Australia as planned. His last event was the 2020 Australian Open, where he lost to Novak Djokovic in the semifinals.
Even if he struggles there in January – or even postpones his return a little longer – those 720 points will stay on his record until 2022.
It's going to be awhile until we really know what the rankings really mean.
About Post Author