.
For the third time in three years, a former top player-turned coach brought in to help Alexander Zverev take that last, biggest step to the very top of the game has stepped away.
Spain's David Ferrer, who worked with Zverev for the best part of four months in 2020, will not return.
So as the 23-year-old German prepares to take on a 2021 season that may focus as much on his off-court life – accusations of alleged domestic violence from one ex-girlfriend, and a new baby on the way with another – he'll be tightly cocooned within his family once again.
Ferrer retired in the spring of 2019 after a distinguished career spanning two decades. The work with Zverev was, in effect, his first official coaching job on the ATP Tour.
There had been no official commitment beyond this year. But Ferrer told Punto de Break he won't be back.
"At the end of the year, a decision had to be made. I spoke with Sascha and told him that I preferred not to continue, that we were not going to continue next season. Not (because of) anything in particular; I just didn't think the time was right," Ferrer told Punto de Break exclusively. "Absolutely nothing happened between us. Everything is still fine. In fact I am very grateful to him for the opportunity he gave me to travel with him during that stretch of the season."
No doubt the additional challenges posed by the pandemic – quarantine periods, longer trips away – didn't jibe with Ferrer's other responsibilities, which include a young family and a job as tournament director for the ATP Tour stop in Barcelona.
Results don't lie for Zverev and Ferrer
Ferrer and Zverev worked together in Monte Carlo before the season resumed in August. But the Spaniard did not travel to New York for the US Open. Their first tournament together was Roland Garros.
But that work paid dividends from the jump as Zverev reached the US Open final.
Zverev passed on Rome in the immediate aftermath of the big effort in New York. But despite the lack of preparation, he put forth a credible performance in Paris in reaching the fourth round.
Then, the 23-year-old won 12 matches in a row as he took back-to-back tournaments in Cologne, Germany before reaching the Paris Masters final. He went 1-2 at the ATP Finals, losing to Novak Djokovic and eventual champion Daniil Medvedev.
In discussing his new job with Punto de Break last summer, Ferrer said that while he didn't go into the job thinking it would be short term, it was an alliance that would be re-evaluated on both sides at the end of the season.
In talking about his decision not to continue, Ferrer invoked his responsabilities at home. "We thought the moment was right, but in the end it wasn't," Ferrer said, while adding he expected to coach again eventually.
First came Juan Carlos Ferrero
The first of the trio of accomplished players to join Team Zverev was Ferrer's good friend Juan Carlos Ferrero.
The former No. 1 and French Open champion came on in the summer of 2017. But he lasted only about five months, through the 2018 Australian Open.
Zverev said an argument led to the split.
"We had a kind of a fight in Australia after the Australian Open, which is fine when it involves me and him. I have those kind of arguments and we are still working fine," Zverev said at the time. "That argument there involved my whole team and there was a moment where he was very disrespectful towards everybody in my team and that's why I had to stop the relationship."
Work ethic and distractions
Ferrero didn't say much at the time. But after those comments he set the record straight from his end on an Argentine podcast.
He said that the new generation had a lot of distractions that had nothing to do with their tennis – the phone, social media, fairweather friends attracted to the star power. Ferrero also said that life that can be dizzying if a player starts winning and making a lot of money at a young age.
Ferrero added that there was a lot of complaining, and temper flareups. And that he was upset at Zverev's lack of punctuality and lack of respect towards the members of his team. And he added that his charge might spend three hours on the court in practice, but that not even half that time was quality practice.
Then, the Ivan Lendl era
The Ivan Lendl era lasted from the summer of 2018 through to the end of July, 2019.
That one seemed promising. Lendl is a contemporary of Zverev's father and lifelong coach Alexander Zverev Sr. And he already a convivial relationship with trainer Jez Green from his years with Andy Murray.
But it only lasted about a year.
Zverev's official comments were more gracious after that one ended.
"I have nothing but respect for him. We worked well for ten months and it's been very nice having him by my side, winning London. Obviously, I have great respect for him but you guys probably know as well, we both felt like we were going different directions," Zverev said. "I wish him nothing but the best. I think he will find a player very soon. And it's also about personalities and maybe we didn't fit yet. Maybe it will change but for now it's over."
In a statement to AFP, Lendl echoed some of what Ferrero said after his own split.
"I have a lot of belief in Sascha, who is still very young. I think that one day he may become a great player, but currently he has some off-court issues that make it difficult to work in a way that is consistent with my philosophy."
Those issues, which were finally resolved just recently, involved a protracted court battle with former longtime manager Patricio Apey.
Zverev was somewhat less gracious shortly afterwards, when he spoke about it at a press conference in Hamburg, Germany.
"Sometimes I go on the court to practice for two hours but for half an hour, he will tell me how he played golf yesterday," Zverev said in Hamburg. "In addition to that, Lendl has a new dog with whom he spends a lot of time."
He probably thought he was being clever. Although Lendl DOES play a lot of golf. But Lendl didn't appreciate it.
Good reference from Ferrero to Ferrer
Before taking him on, Ferrer spoke to his good friend Ferrero.
But unlike after the split, Ferrer said Ferrero had nothing negative to say.
Ferrer chose to put the dynamic of the relationship with Ferrero on Zverev's immaturity at the time.
"Perhaps Sascha at that time did not have the same capabilities or the maturity that he has now. Even so they did a great job together. When you are young and 18 years old (Zverev was actually 20 when he worked with Ferrero), everything is more complicated. These days, Sascha is a very mature player, Ferrer told Punto de Break. "It is clear that tennis is his priority, at least that is what I was able to take from my experience with him on and off the court."
Tough to carve space in the family
There is probably one line to be drawn through all the experiences. And that is that when the family comes first, it's extremely difficult for anyone – no matter how accomplished – to break in and carve out their own space.
Zverev is a 23-year-old man. But he's also the family breadwinner whose parents travel with him just about everywhere. And his father is his main coach.
That is a very tricky dynamic to navigate. There are a lot of toes you have to avoid stepping on. And you always, as a coach, know that the security blanket is still there. And that trying to effect changes can meet with resistance knowing there's a backup. Bringing a new strategy, a new mindset or new tactics is a tricky thing.
Add that to the kid's sometimes-diffident personality and the sense of entitlement that he has displayed on more than one occasion recently, he has to be a significant coaching challenge for anyone. And add to that the two off-court situations he handled this fall with an appalling lack of self-awareness. It's a lot.
The Wozniacki comparable
The best comparable example in recent tennis story is probably Caroline Wozniacki – without the concerning off-court stories, of course.
Now retired, Wozniacki's father Piotr was always her coach. And even when they attempted to bring in new voices, he remained so. Even when another coach was around, Piotr was most often the one who came out for the on-court coaching consults (remember those?)
And in the end, every time, those experiments did not last long.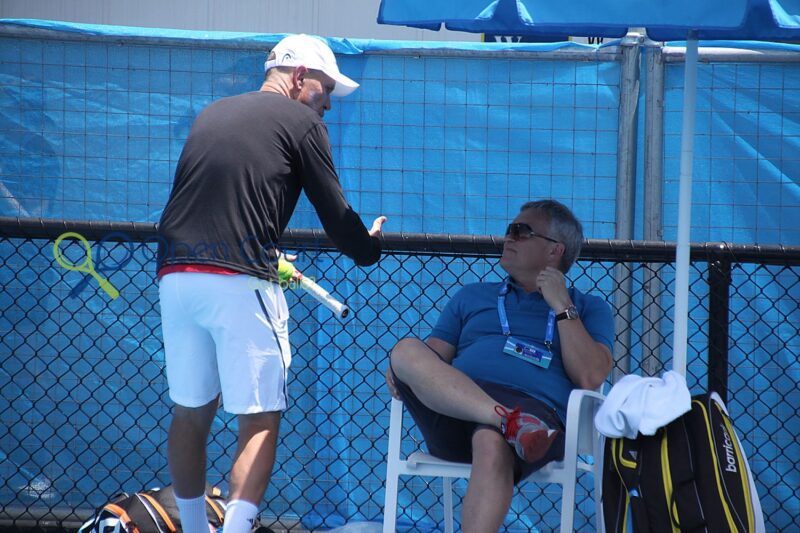 Francesca Schiavone was there for a little while in 2017. Thomas Hogstedt lasted … two tournaments. Michael Mortensen, a fellow Dane who had worked with her as a young girl, was gone in 2014 when it was clear she had no interest in making changes to improve. Ricardo Sanchez lasted two months in 2011. Sven Groeneveld, then still with the adidas program, was around in 2012.
Thomas Johansson lasted five months in 2012, and learned he was gone through the media. Arantxa Sanchez Vicario was around for the 2015 clay season. Sascha Bajin, who went on to coach Naomi Osaka and others, was there for 10 months in 2017 as what Wozniacki referred to as a "hitter-plus/assistant coach. David Kotyza was there for four months in 2016, a period during which Wozniacki mostly was injured.
But in the end, with Wozniacki as with Zverev, the bond of family may perhaps always be too strong.
About Post Author