.
No one thought, at the time, that a year on from the cancellation of Indian Wells, tennis (and the world) would still be grappling with the effects of the coronavirus.
In many ways, it's not better. Yes, they're playing. But the restrictions are becoming heavier on the psyche and more onerous. The travel – always a challenge – has never been more complicated.
And so many decisions are made for reasons other than health. The concern about getting the virus rules the schedule of some players.
The need to quarantine for extended periods when some players return home means that players are often away from home for even longer periods than before.
But on the one-year anniversay night, so much has changed for so many people.
Here's a gallery of a number of players who were practicing on the grounds of the tournament on that final day – just hours before it was cancelled.
So much has happened.
We go through some of those changes below, in order of how they appear in the slide show.
Rankings have not changed that much, for most players. The "freeze" that came into effect the week after the cancellation of Indian Wells has meant that points have not needed to be defended.
But a lot else has changed.
Coaching changes and momentum killers
Timea Babos and Michael Joyce: The two have parted ways. Babos is working with Thomas Drouet. Michael Joyce is now working with top prospects at the USTA.
Elena Rybakina: Rybakina was at a career-best No. 17 that day. She reached the finals in Shenzhen and Hobart to start the season. Then she reached the finals in St. Petersburg and Dubai before pulling the plug the next week in Doha. She was on a roll.
Since then, there have been only brief highlights. She won just one match in the New York bubble. Then made the final at the small tournament in Strasbourg just before the fall edition of Roland Garros. She started well in Abu Dhabi – but won just one match during the Melbourne summer. And she lost in the first round in Doha last week.
It was, for this now 21-year-old, a momentum killer.
Dan Evans: The veteran Brit, who has had a renaissance after a doping suspension, was ranked No. 28 exactly a year ago. Today, he's still ranked No. 28. But in the interim, he finally won the first ATP Tour title of his career, the Murray River Open in Melbourne.
Greet Minnen: Now 23, the Belgian is now a regular competitor in the main draws of Grand Slams.
But far more signfiicant than that, she and her love Alison Van Uytvanck got engaged Christmas Eve.
View this post on Instagram
Jessica Pegula: The American was ranked No. 80 that day in the desert.
A year later, she's at a career-best No. 36 as she is proving to be a fierce opponent. She has gone 20-8 since the restart. And her quarter-final effort at the Australian Open, followed by a run from the qualifying to the semis in Doha last week, have her playing the best tennis of her career.
(Editors' note: Clicking on a couple of ads whenever you read a post will help increase Open Court's revenue – and thus move it up on the work priority chain in future events and help cover travel expenses – whenever we can start travelling again. More clicks = more of the news and features you enjoy. Thank you for reading – and clicking!)
Coronavirus – and retirement
Madison Keys: Keys was looking to make a move in the desert a year ago. Having lost her opener in 2019, she had no points to defend.
The return has been rocky. Keys hadn't played since Roland Garros when she prepared to leave for Australia.
Then, she got the coronavirus.
Keys returned just last week in Doha. It had been five months since her last match. A surge of energy and adrenaline had her sailing through her first round against Belinda Bencic, she fell, 6-2, 6-2, to Maria Sakkary in the first round.
Nicole Gibbs: The American, who lost in the first round of the Challenger in Indian Wells that week to Shelby Rogers, had a lot to think about after the long tennis break led to a decision to return to school to finish her degree.
In the end, that match against Rogers was her final one. Gibbs announced her retirement three weeks ago.
With love, ❤️ Gibbsy pic.twitter.com/V4js01lxQJ— Nicole Gibbs (@Gibbsyyyy) February 15, 2021
Dmitry Tursunov and Aryna Sabalenka: This coach-player duo were on round two of their association at Indian Wells, where Sabalenka put in three practice sessions one day.
After splitting in Aug. 2019, they had reunited just the previous week. But it wasn't to last.
Looking for inspiration
Nick Kyrgios: Kyrgios was dealing with an injury to his hand as he lightly practiced at Indian Wells that day. So there was no guarantee he would even have played. He had retired after the first set of his first-round match in Acapulco the previous week.
It turned out that retirement was his last match of 2020, as he (and countrywoman Ashleigh Barty), did not leave Australia for the rest of the season.
Sloane Stephens: The former US Open champion lost five of her six matches as she arrived at Indian Wells – the last match being a loss to Canadian Leylah Fernandez.
The break didn't refresh her at all. She returned in Kentucky and … was beaten by Fernandez in the first round. Other than a third-round journey at the US Open, things haven't been better.
She has won just one match in six tournaments since. Stephens' first match since Australia was due to be in Guadalajara this week. Slated to be the top seed, she pulled out before the start of the event.
Doubles partners take different paths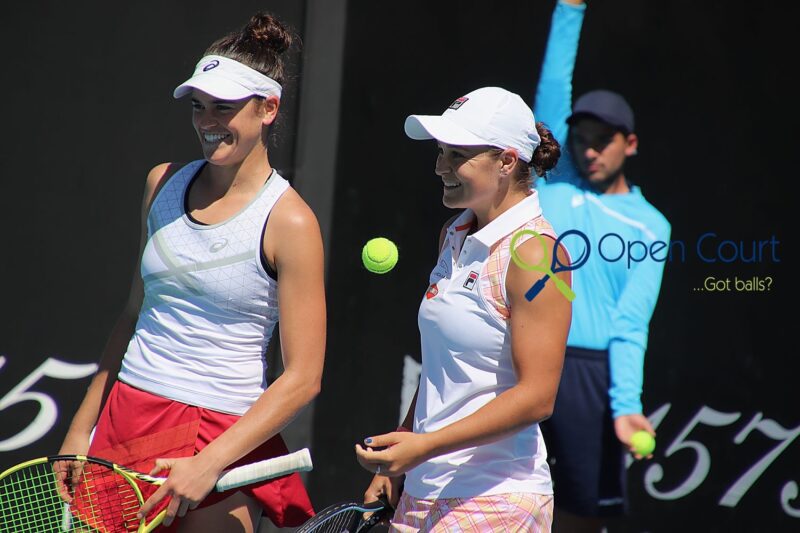 Jennifer Brady: Brady arrived in Brisbane to start the 2020 season in the best shape of her career. She went from the qualifying to the quarters there, beating Sharapova and Barty before losing to Petra Kvitova.
She went from the qualifying to the semis in Dubai. But then, no tennis for five months. But Brady's progression was barely slowed. She won her first WTA title in Kentucky in her first tournament back. And then, she made the US Open semifinals.
This year, she made the Australian Open final. And she sits at a career-best No. 13.
Ashleigh Barty: The world No. 1 is still world No. 1. But it's not because she's been earning it.
Barty won Adelaide, then made the semis in Melbourne and the semis in Doha. So she came into Indian Wells on a roll. But it never happened.
We didn't see Barty for the rest of the year. She returned looking good, winning her first nine matches in Melbourne before falling to Karolina Muchova in the Australian Open quarterfinals. A leg wrap was probably evidence of a niggle a little more serious than she let on.
She played Adelaide, losing in the first round. And she's taking a pass on the Middle East swing. We might not see her until Miami. If she plays.
Filip Krajinovic and Janko Tipsarevic: The Serbian team were working together at Indian Wells.
But that relationship ended last October.
Veteran Frenchmen struggle in 2021
Nicolas Mahut: at 39, the Frenchman maintains a top-10 ranking. But he hasn't played since he and Pierre-Hugues Herbert made the quarterfinals at the Australian Open.
He is busy getting a new tournament going in France – a 125K that will take place in December. And, we learned exactly a year after he shot him on the practice court in the desert, that he's contracted COVID-19. He expects to be back in Acapulco in two weeks.
Gilles Simon: The 36-year-old has won just one of four matches played so far in 2021. And , he announced that the pandemic struggle was just a little too real, and he was going to take a break until the fire was lit again.
He's not alone. But he's one of the few to both admit it, and take action.
Le cœur n'y étant plus du tout pour voyager et jouer dans ces conditions, je suis malheureusement obligé de faire une pause afin de me préserver mentalement. En espérant que le moral revienne le plus rapidement possible.
Merci à tous les fidèles pour votre soutien. À bientôt — Gilles SIMON (@GillesSimon84) February 26, 2021
Clijsters comeback put off
Kim Clijsters had just returned to play, in the third act of her career.
She had a wild card into the tournament. But in the end, never got to play.
Clijsters played World Team Tennis. But she got hurt. She ended up playing just one match inside the US Open bubble. But she hasn't played since.
The Belgian, who will be 38 in June, got a wild card into the Australian Open but opted against making the trip. She is scheduled to try again at the Miami Open and in Charleston.
Meanwhile, she's a year older.
Pouille and Mauresmo split
Pouille had been out more than four months when he arrived in the desert, planning to return at Indian Wells and entered in the Challenger the week before.
He lost his opening match to Noah Rubin.
And that was it for the year.
Pouille had elbow surgery in July. He officially announced his split from coach Amélie Mauresmo in October. But given they'd only seen each other a week over those previous 12 months, that point was largely moot.
These pics of them practicing the day Indian Wells was cancelled might have been the last photos of them as a duo.
Pouille skipped the Australian trip, knowing he just wasn't ready for that level of play. He competed in two Challengers in France and then Montpellier two weeks ago. 
He only won one match, but he's been competitive. He'll try again this week in Marseille, having lost basically a year and a half of his career.
Lost opportunity for Alcaraz in Indian Wells
A year ago today, 16-year-old Carlos Alcaraz arrived at Indian Wells with coach Juan Carlos Ferrero to take advantage of a main draw wild card offered by the tournament.
He was ranked No. 318, which was nearly 100 spots higher than he was when he went to Rio de Janeiro on a wild card to make his ATP main draw debut. He upset countryman Albert Ramos-Viñolas in the first round.
Unfortunately, he didn't get the opportunity in the desert.
But when tennis returned, Alcaraz ran a hot streak through the Challenger circuit going 14-3 and bringing hope into his first effort at qualifying at a Grand Slam, on clay at Roland Garros.
He was bounced in the first round by Aussie Aleksandar Vukic. But then he went right back to the Challenger circuit and won back-to-back events.
Alcaraz qualified for the Australian Open in Doha – his first major – and reached the second round. He also beat David Goffin in the tuneup for the big event down in Melbourne, in only his second ATP main draw.
He'll turn 18 in May, and he's on his way.
Coco Vandeweghe is back
A little over three years ago, the American was No. 9 in the world.
But then a foot/ankle injury cost her nearly a year. She was making her way back, gradually, grinding it out in the ITFs.
She was back in the desert – almost her home tournament – for the first time in two years, to play the Challenger and then the main event.
The aftermath of the news that day has been more struggles for the 29-year-old. Vandeweghe played World Team Tennis, hitting the winning shot in her team's title match.
But then, a freak accident a few days later involving a microwave container that exploded in her hand resulted in the severing of two ligaments and a nerve.
She finally returned on Monday – a year after she played in the desert.
Vandeweghe faced Mihaela Buzarnescu of Romania in the first round of the Guadalajara tournament. She bowed out 7-6 (4), 6-7 (5), 6-2. But she'll still have doubles with Genie Bouchard.
The main thing is that she's finally back.