.
This is the day that Daniil Medvedev jumps into the No. 2 spot in the ATP Tour rankings, displacing Rafael Nadal even as he reaches a career high.
There's only one step left to climb. But to say the least, it is the steepest one as Novak Djokovic begins his 312th career week at No. 1.
Mededev is the first player not named Djokovic, Federer, Nadal or Murray to be in the top two in the rankings since … July 2005. Crazy.
Meanwhile, he also is piling up the titles. His win in Marseille Sunday was the 10th of his career.
It's also the first week in eons that there are actually points dropping from the ATP rankings. (The WTA seems status quo, at this point).
If it's not back to normal – at most, 50 per cent of a previous good result will drop – at least it allows for a few more swings in the rankings, and a slightly more realistic picture of what's going on).
ON THE UPSWING
Daniil Medvedev (RUS):


No. 3 ============> No. 2
(Medvedev moves 270 points ahead of Nadal as he adds 205 points and Nadal drops 180).
Roberto Bautista Agut (ESP):


No. 13 ============> No. 11

(The Doha finalist is still more than 500 points away from the top 10, with players like Shapovalov and Goffin right behind him).
Cristian Garin (CHI):


No. 22 ============> No. 20

(The Chilean wins an ATP Tour event at home – a big deal, as he gets back into the top 20).
Ugo Humbert (FRA):


No. 31 ============> No. 29

(A new career high for the Marseille semifinalist)
Taylor Fritz (USA):


No. 33 ============> No. 30
Basilashvili was the king of sunscreen at the Australian Open last month. Who could imagine he'd win Doha a few weeks later?
Nikoloz Basilashvili (GEO):


No. 42 ============> No. 36

(It's been a rough 12 months for Basilashvili, who was ranked No. 16 in May 2019 but has been affected by a nasty court case filed by his ex-wife involving domestic violence in front of a minor. But he wins in Doha).
Aslan Karatsev (RUS):


No. 45 ============> No. 42

(Wins a round in Doha, and a first-round win in Dubai Sunday and an opportunity for more mean he's still on the rise after his Australian Open breakthrough. A year ago this week he was at No. 253).
Pierre-Hugues Herbert (FRA):


No. 93 ============> No. 73

(Back on the upswing after making the Marseille final in singles, and taking Medvedev to three sets).
Andreas Seppi (ITA):


No. 107 ============> No. 96

(Back in the top 100 for the 37-year-old, who won the Challenger in Biella and is among the most "senior" to do so, along with Tommy Robredo).
Facundo Bagnis (ARG):


No. 118 ============> No. 105
(The finalist in Santiago makes a nice jump).
Juan Manuel Cerúndolo (ARG):


No. 182 ============> No. 175

(Another career high for the surprise Cordoba winner, who won a round in Santiago).
Matthew Ebden (AUS):


No. 287 ============> No. 221

(He retired in the Marseille semis, but a run from the qualifying jumped him bigly in the rankings)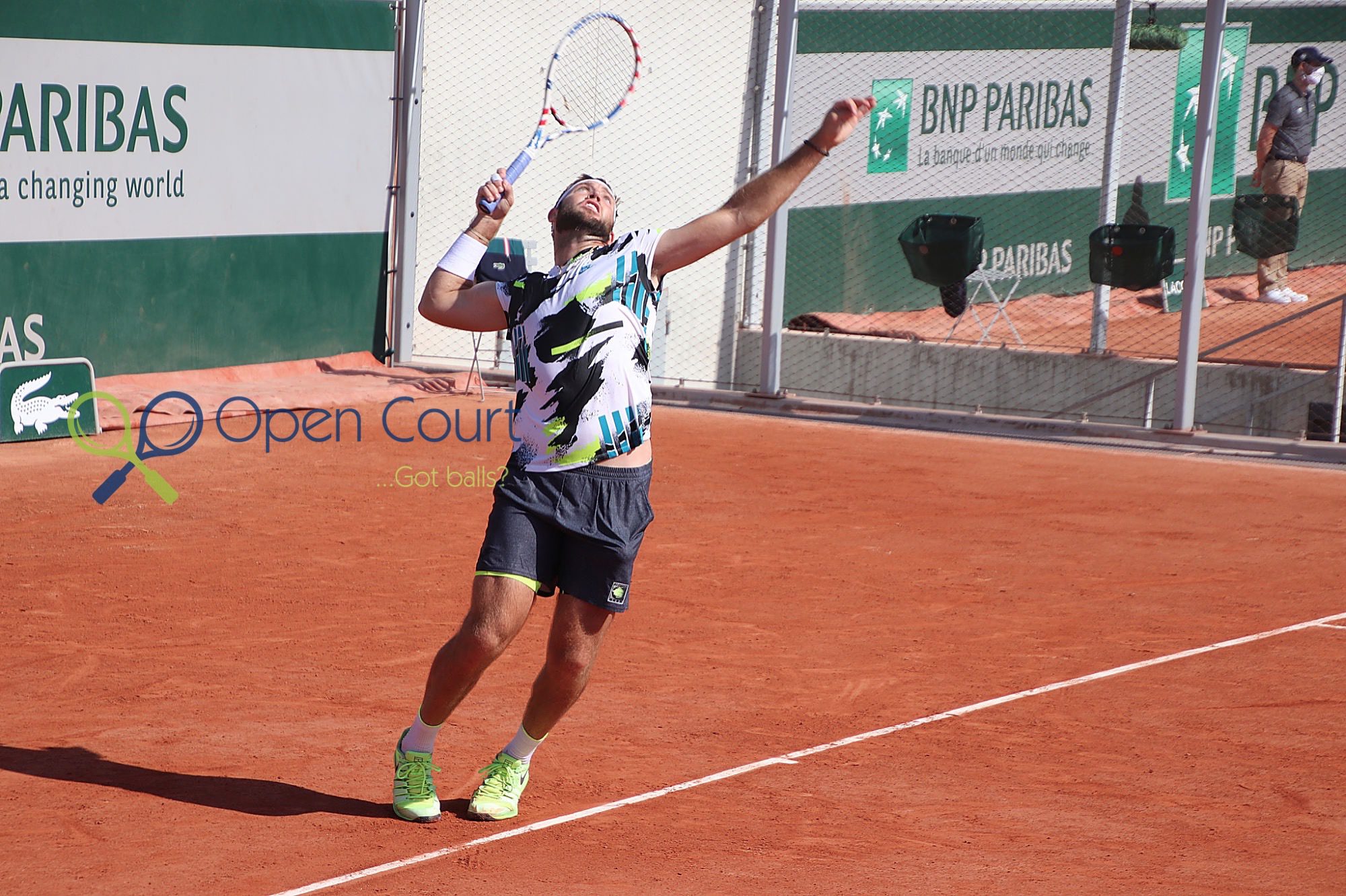 Sock at the 2020 French Open qualifying. He's back on the Challenger circuit as of last week, trying to rebuild his ranking.
Jack Sock (USA):


No. 273============> No. 256

(The newlywed American finally started his season last week in St. Petersburg, where he made the quarters, he is in the qualies in Biella Italy this week. This week he's in the qualifying at another Challenger in Biella, Italy).
Holger Vitus Nodskov Rune (DEN):


No. 410 ============> No. 317
(His first ATP Tour win after coming out of the qualifying jumps the 17-year-old nearly 100 spots in the rankings. He's at it again this week at a Challenger in the same city).
Nicolas Kicker (ARG):


No. 1171 ============> No. 972

(The six points earned by getting to the final round of qualifying in Santiago jumped him … 200 spots in the rankings. Kicker is coming back from a match-fixing suspension and fell off the charts in May 2019. He was back on for the first time – at 1,171 – after earning another six points by getting to the final round of qualifying in Buenos Aires.

Kicker's last tournament before this South American swing was in Lyon in May, 2018. It was at the French Open the following week that hammer came down; he was ranked inside the top 100 at the time).
ON THE DOWNSWING
Rafael Nadal (ESP):


No. 2 ============> No. 3

(Nadal drops 180 points – half of the total from 2019 Indian Wells, as those ancient points begin to fall off. He will not be in Acapulco this week. He has been either No. 1 or No. 2 every week since just before the 2017 French Open).
Milos Raonic (CAN):

No. 15 ============> No. 19
(Raonic drops 180 points – half his total from reaching the 2019 Indian Wells semis, and falls 66 points behind Félix Auger-Aliassime. He and FAA team up for doubles this week in Acapulco).
Hubert Hurkacz (POL):


No. 30 ============> No. 35

(Half of the 180 points Hurkacz earned from the 2019 edition of Indian Wells have dropped off, costing him five spots in the rankings).
Miomir Kecmanovic (SRB):


No. 38 ============> No. 46
(Kecmanovic drops half his points from his run from lucky loser to the quarters at Indian Wells in 2019 – 94 points in all).
Kyle Edmund (GBR):


No. 56 ============> No. 63

(The Brit, whose career feels like it's on hold at the moment because of a persistent knee issue, loses half of the 90 points he earned by making the fourth round of Indian Wells in 2019).
Ricardas Berankis (LTU):


No. 78 ============> No. 88

(The Lithuanian drops 49 points – half what he earned for qualifying at Indian Wells in 2019 and for winning the Drummondville Challenger the second week of the big tourney).
Mikhail Kukushkin (KAZ):


No. 96 ============> No. 104

(Now that points are dripping, the 33-year-old will need to do some work to ensure he's straight into the French Open)
Jared Donaldson at the 2018 French Open.
Jared Donaldson (USA):


No. 758 ============> No. 941

(The 24 year-old American nearly two hundred spots when 13 points fell off his ranking. His right knee has not been right for nearly three years. Donaldson's career high of No. 48 was almost exactly three years ago, when he was 21. But it's been a rough ride since. This Miami Open will mark the two-year anniversary of the last time he played a match).
Race to Torino
Canadian rankings
For the complete ATP rankings picture, click here.