–
Bianca Andreescu is back in Miami, after a first return to the WTA waters after 15 months away at the Australian Open last month.
She will take on qualifier Tereza Martincova Friday, in the second round of the Miami Open.
Two years ago, it was the place where she first felt the crush of instant fame. The Canadian arrived there just a few days after shocking the tennis world and winning at Indian Wells.
But it also was the place where the injury bug first really hit. A shoulder injury that involved a lot of strapping during her run to the title in the California desert did not get better in Miami.
There was plenty of criticism after the fact (as those things go). But of course, she wanted to play, to ride the wave.
And she did – until she reached the fourth round and had to retire against Anett Kontaveit.
Since then – can it really be two years ago? – the 20-year-old Canadian's career has been a see-saw battle between injury absences and surreal career moments.
The search for answers
Open Court caught up with Andreescu exclusively in Melbourne, shortly before she finally returned to play after a 15-month absence due to a knee injury.
She answered, straight-up, many of the questions fans had while she basically fell off the radar.
Andreescu outlined the journey to battle the meniscus injury. And she also discussed all of the moments where everyone thought she might be back in 2020 and early 2021, but opted to wait.
We asked her what was the easiest part of coming back. Which was a question that surprised her.
"I've always been asked what the hardest part was," she said.
"I think just being here. I've been playing tennis my whole. And I've been coming to these big tournaments for so long. I think it's that. Now, considering that I'm kind of up there with the 'big stars', I feel like I belong," she said. "I've dreamed about this for a really long time, since I was seven. And it's come so quickly that it's still shocking to me, but I feel comfortable."
Dealing with sudden fame
"I felt very overwhelmed with everything when it started. It was a lot. It just happened all of a sudden. I believed I could win, but it's one thing imagining it and another actually doing it. So when it all happened, it was like, 'Whoa'. I didn't have a lot of time to myself because I jumped into Beijing, and Shenzhen and I got injured," Andreescu said.
Surgery, or no surgery?
As we suspected, those months off the radar at the end of 2019 and the beginning of 2020 were spent trying to find a way to avoid surgery on the knee. Even though, as it turned out, 2020 would have been a pretty good year to be off recuperating from surgery.
"At the time, I didn't feel like I had a good person to go to for an injury. So I kind of went to different people to test the waters, to get different opinions. Which can also be something that's frustrating, because you're always getting something different. Some said surgery, some said 'No, don't do it'. So we went the non-surgical route, which I think was such a good decision," Andreescu said.
"It was the same thing with my shoulder. Some people said surgery, some people, just PRP or whatever. So that (PRP – Platelet-Rich Plasma therapy) is what I did on my knee as well. It worked, and I'm super grateful for that."
No Indian Wells 2020 for Andreescu
Even before Indian Wells was cancelled last year, Andreescu still wasn't ready to go.
"I had commitments there as well, so I went. I did feel ready to play, but I wasn't 100 per cent. So I wanted to test the waters a little bit more in training. I felt like having an extra week and a half, two weeks, and just play Miami, since I'm already in the U.S. We did't think there would be a rush (to return), Andreescu said. "I honestly could have played Indian Wells if I really wanted to. But we saw no rush. And then the pandemic hit."
On missing the Charleston exhibition
Andreescu was on the list for the women's exhibition in Charleston, S.C. last June – a well-run event with a very good cast.
But she withdrew.
"Obviously (the COVID situation in the U.S.) was a part of it. There are little things that happened, including COVID. But that was the main factor, because there were a lot of people around me affected by it. A lot of it was that," Andreescu said.
"It was not an easy decision at all. So to me, watching all those people play, sitting on my butt. It wasn't easy. But deep in my heart I knew that was the best decision for many reasons."
Andreescu was miffed at all the speculation. It was still her knee. It was a setback with her foot. Although she gets that it's part of the job. She made a conscious decision to stay off social media while she was away – probably hard for someone in her demographic to do. But she just wanted no part of it. So there were no updates from her. And it was all very mysterious.
(Editor's note: We reached out on numerous occasions to get the facts surrounding Andreescu's injury, her anticipated return date, and to get the facts about all the rumours. If she and her camp don't respond, as we told Andreescu, there's a vacuum that will inevitably be filled, because she's a person of interest).
French Open a matter of changing surfaces for Andreescu
The rescheduled French Open last October was yet another opportunity to come back in 2020.
But Andreescu was hesitant.
"That was basically the same thing (as Charleston and the US Open). Also the fact it was clay then hard. In the past, I didn't have good experiences with that, injury-wise, in changing surfaces," Andreescu said. "It could have been a different story now. I'm stronger, I'm more prepared."
Coming in cold to the Australian Open
Andreescu was in Abu Dhabi for the better part of a week, before taking the flight to Melbourne from there.
As it happened, there was a WTA500 tournament taking place right there.
A great opportunity to get her feet wet competitively before the major, right? Even in doubles? At this point, it had been 15 months since she last competed.
But Andreescu said she just wasn't ready.
"I know I was there. But we thought that it was just better to train – especially me. Because I would have rather start fresh in Australia. I really didn't want to play it. And another reason was I didn't feel 200 per cent ready-tennis wise," Andreescu said. "And when I go into a tournament I want to go in 200 per cent prepared."
Is that level ever realistic, though – for anyone, not just one who has had her share of injuries throughout her career going all the way back to juniors.
"Definitely not. There is always going to be something. But there's a different definition for everything For me, feeling 200 per cent is as much mental as physical" she said.
Andreescu drama in Australia
Andreescu withdrew from the WTA event the week before the Australian Open in Melbourne, after her coach Sylvain Bruneau contracted COVID-19 and the entire flight from Abu Dhabi had to go into hard quarantine.
After all that time away, to try to compete after sitting in a hotel room for two weeks was, understandably, a risky thing to consider.
So Andreescu definitely went into the Australian Open "fresh".
The first match back, against the tricki Mihaela Buzarnescu, wasn't an oil painting. But Andreescu got through it only to be bamboozled by the wizard that is Hsieh Su-Wei.
It was not, to say the least, a draw that was made to allow a player returning from injury to get into any kind of rhythm.
But Andreescu got plenty of match play in, under difficult conditions, in the WTA 250 held at Melbourne Park during the second week of the Australian Open.
The first match against another annoyingly tricky customer in Madison Brengle, was the Hitchcockian bit of surreality that involved being invaded by seagulls and huge insects.
Also – cramping.
We caught up with Andreescu after the Hitchcock experience.
(You can see it here, after the "summary preamble". LOL)
The second one went quickly. The third one was yet another dramatic battle against Romanian Irina-Camelia Begu, which she pulled out.
The final match in Melbourne was a marathon against Marie Bouzkova, which she had an opportunity to win but in the end, she perhaps had reached her limit.
Home for some family time
Andreescu opted not to play another tournament in Australia, withdrawing from the final 500 in Adelaide.
If she hadn't done what she wanted to do in the big event, she at least had gotten plenty of tennis in – plenty of long matches. And she had a better gauge of where she was, tennis-wise.
More crucially, Andreescu had been away from home since September. Her parents weren't able to travel much to see her, and the nesting time was needed.
In the end, it feels as though this comeback is going to be more about the mental than the physical.
In a (very good) interview on Tennis Majors.com, Andreescu referred to "some personal things here and there" during her time away. And an Instagram post – now in the archives of the web somewhere – also alluded to having a lot to deal with off the court.
Andreescu knows she can come back and shine after injury time off. She proved this in 2019, in spades.
But this was a much longer break. And with the pandemic, a lot more time alone, when self-doubt can creep into even the most confident mind.
Early arrival in Florida for the Miami Open
Andreescu arrived early to prepare for the Miami Open.
And she arrived with a new team member – news broken here at Open Court.
Well-respected trainer (and top-class motivator) Abdul Sillah, who has worked with Serena, Sloane and Naomi (let's go first names only), has joined the team.
(We wanted to ask Andreescu about this during her pre-tournament Zoom conference. But our audio wasn't working, and no one else asked. There was no response from the WTA for a request to get her on the phone for a few minutes to discuss it).
Andreescu's parents made the trip, as well as Coco the dog.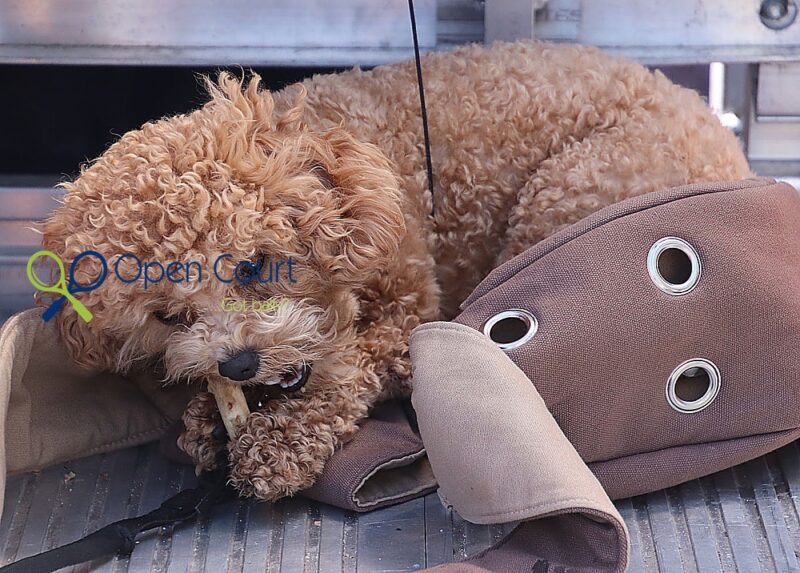 Canadian guidelines still discourage all non-essential travel, especially to places where COVID is a problem. And some of Andreescu's choices last year to not travel and return to action were made because of the virus even though her parents did travel to Monaco to see her last fall.
But it definitely feels as though Andreescu needs all the support and family around her that she can get, as she heads into another big tournament with not the preparation she'd ideally like to have. So it may well turn out to be worth the risks.
Another six-week break
It's been six weeks since the Canadian last played a competitive match.
And for Andreescu, preparation equals confidence.
We're told that Andreescu did not play many practice sets with the other women training at the academy. And also didn't go full out on the movement. But that might have been more a case of easing back into it gradually; she gave herself plenty of time.
But the main thing is that she's in Miami, she back, and she's going to play.
The challenges remain: being on Tour is going to prove a rather different experience than was the case in 2019. The COVID-19 restrictions remain significant at all the tournaments.
Andreescu certainly got a taste of it in hard quarantine before the Australian Open. But once that was over, the tournament experience in Melbourne – and outside the court, around town – was as close to normal as anything has been in over a year.
Miami – and beyond – means the kind of constant bubble that the other players have been managing for a year. But it's new territory for the Canadian.
In the end, again, it's all about patience – for Andreescu, for her fans, and for all those looking for her to stake her claim again at the top of the game with her championship qualities, variety and talent.