–
The strict confines of the ATP's various COVID-19 bubbles and protocols are wearing on everyone involved at this point.
But there's a wide gap between grumbling and breaking those protocols.
Open Court was reliably told Thursday that Stefanos Tsitsipas and his father Apostolos broke the bubble during the Miami Open, and were fined.
We reached out to the ATP and to Tsitsipas's agent for comment on this.
An ATP spokesperson got back to us Friday:
"Following a breach of COVID-19 protocols in Miami, ATP can confirm that Stefanos Tsitsipas has incurred a fine of $7,500."
We've also heard chatter that a separate group of players was busted breaking the bubble to … make a trip to Whole Foods. There may well be more.
Sanctions fairly clear for violations
As at most tournaments, the players in Miami are restricted to the site and one of the official player hotels.
Failure to comply, per the ATP's protocols, is to result in both a fine and withdrawal from the tournament.
Tsitsipas, who was the No. 2 seed, continued on.
He was eliminated in the quarterfinals by No. 26 seed Hubert Hurkacz Thursday.
Meanwhile, if he'd been told to keep his distance from other players, just in case, it might help explain why this occurred.
But there's no way to know if that's the case.
In the third COVID wave, governments are watching
As the third wave sweeps Europe, with so many big events coming up that are trying to figure out how they can be held safely, these types of breaches can have wide-ranging consequences.
Just as the ATP is looking at loosening some of the restrictions, it becomes even more important that everyone comply.
Madrid, Rome and Roland Garros in Paris are coming up – all in countries struggling with the virus.
And in France, the government has just instituted a month-long lockdown, scheduled to end just a few weeks before Roland Garros is set to begin.
Mask wearing optional for Team Tsitsipas
Team Tsitsipas has been pretty comprehensive in flouting the mask rules as well, during this swing through Acapulco and Miami.
At times, they didn't even bother even trying to use the masks as chin straps.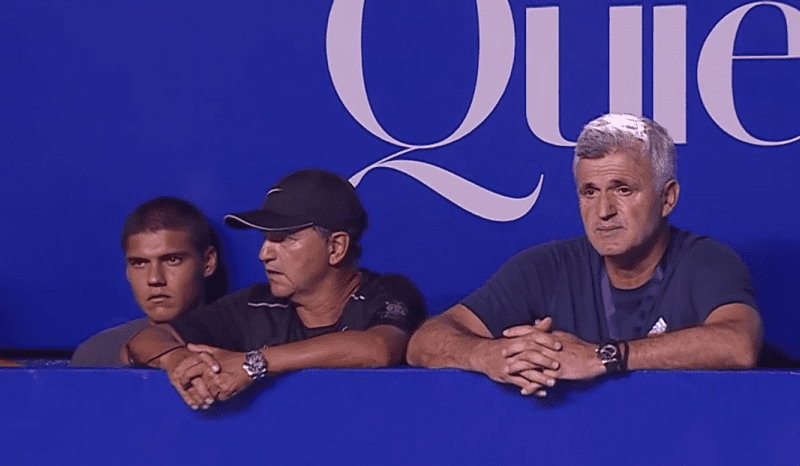 Not to single them out, because the coaches in general basically ignored it in Acapulco and – until the last few days – in Miami.
Perhaps the memo went through; most began doing a much better job later in the tournament.
Narrow Tsitsipas escape in Melbourne
Prior to that, the entire Tsitsipas team narrowly escaped quarantine in Australia.
Greek ATP Cup teammate Michail Pervolarakis, upon arrival at a Challenger in South Africa late in the first week of the Australian Open, tested positive. He had to quarantine for 14 days at his own expense.
It's perhaps a bit unfair to pick on Tsitsipas in particular – although he has been in the centre of a few situations that have coloured outside the lines.
But it feels as though while the protocols, consequences and sanctions are clearly laid out, it might very well depend on what your ranking is.
And it's also clear that a $7,500 fine will not deter a higher-earner from taking the fine if they really need to get some air.
While the prize money is way down in Miami this year, Tsitsipas's quarterfinal effort earned him $61,000 US. And he's about to break the $1 million barrier for the 2021 season.
About Post Author