–
The Canadian Billie Jean King Cup squad faces another major challenge as it vies to stay out of the zonal competitions.
No Bianca Andreescu.
No Genie Bouchard.
And No Gaby Dabrowski as the team heads to Kraljevo, Serbia April 16 and 17 for a playoff tie against Serbia.
It's far from optimal. And it certainly feels as though Canada, despite Bouchard's rise a few years ago and Andreescu's success, has been a bit star-crossed in the international team competition.
But when players are fighting for their country's honour, the unexpected can often become the expected.
The team for Serbia will be made up of Leylah Fernandez, Rebecca Marino, Sharon Fichman and Carol Zhao.
The Serbs have a five-woman squad: Nina Stojanovic, Olga Danilovic, Aleksandra Krunic, Ivana Jorovic and Lola Radivojevic.
The winners of the tie won't qualify for the big finals in Budapest, which were cancelled last year because of COVID-19 and were to have been played next week – only to be postponed.
Instead, the winner will be promoted to the 2022 qualifiers, for an opportunity to play in the 2022 finals.
The losing team will drop down to the regional competition.
Injury takes out Andreescu
For Andreescu, a foot injury suffered late last week during the Miami Open scuttled her participation.
Bouchard told Tennis Canada weeks ago she was not going to take part.
And Dabrowski, the top-10 doubles player who reached the semifinals in Miami last week, has fulfilled her Olympic commitment and was never planning to play.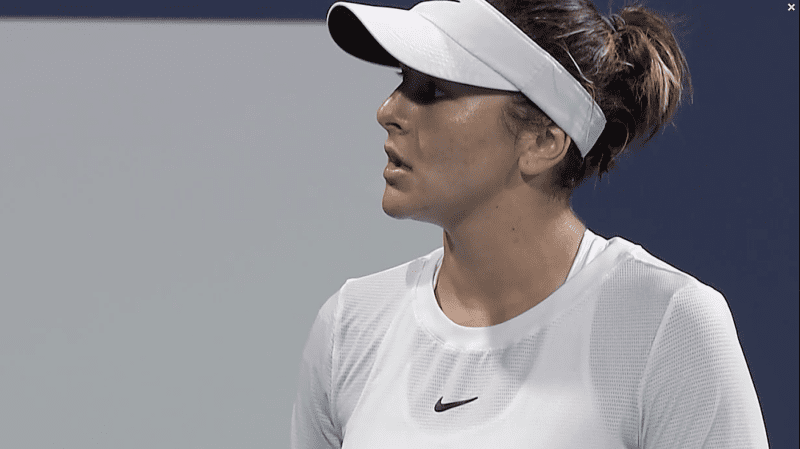 One bright moment in recent Billie Jean King Cup history
The Canadians haven't played at home since April 2018.
In April 2019, with Fernandez (then 16) and Marino playing singles against Karolina Muchova and Marketa Vondrousova on indoor clay, Canada was swept 4-0 by the Czech Republic. That bumped them down to the playoff round.
In Feb. 2020, Canada travelled to Biel, Switzerland with a team that included both Andreescu and Bouchard.
But Andreescu, who had injured her meniscus just three months before during the WTA Finals, was highly unlikely to play all along and seemed basically there for the official photos – and, of course, to fulfill Olympic eligibility requirements.
And then, Bouchard injured her wrist during the final practice before the tie. She was to play Belinda Bencic.
Instead, Fernandez stepped up to play Bencic, and defeated her. But it was a moot point as the squad lost 3-1 overall.
Doubles specialist Dabrowski was co-opted into singles action, with the lack of a fifth player named to the squad. It was a tough position to put her in, as she had barely even practiced singles during the offseason. She's lucky not to have been injured.
New and old faces
Fichman is an experienced Fed Cup (the former name of the Billie Jean King Cup) competitor. But she hasn't played at all since a quarterfinal effort in doubles at the Australian Open. She has been dealing with a shoulder injury.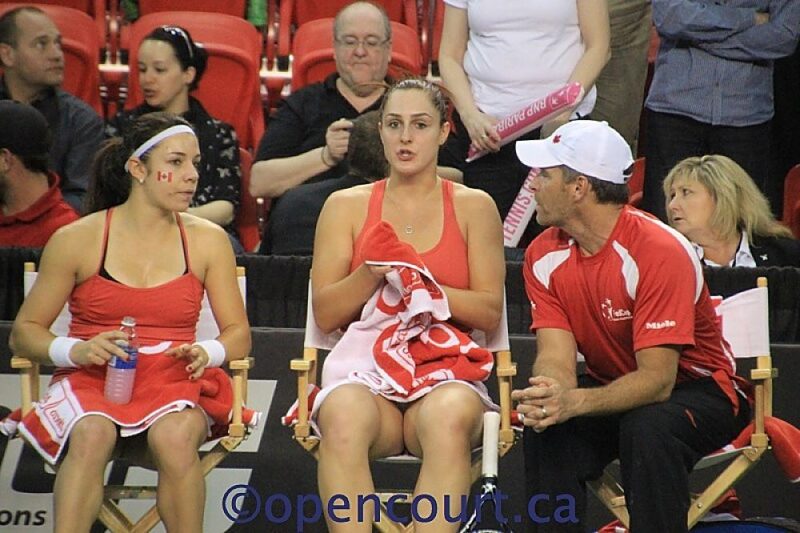 Zhao, 25, has missed much of the last two years with an elbow injury and was slowed in her return by the pandemic.
Because of her ranking (No. 480 in singles and No. 295 as a protected ranking), she has not been able to find many playing opportunities.
The Canadian travelled to Bogotá this week to play the qualifying in the WTA event there, but was rolled 6-0, 6-0 in the first round by Lara Arruabarrena.
She has played Fed Cup twice, in doubles, in 2016 and 2018.
Zhao also has to get from Bogotá to Serbia over the next week – a long trip in ideal conditions, never mind during a pandemic.
With Françoise Abanda (who has competed hard for Canada when she has played) seemingly … not in the picture at all and some uncertainty with a number of the players, Canada is taking a risk again in only bringing four players.
Canada 16th in the Billie Jean King Cup rankings
On paper, Canada is higher in the Billie Jean King Cup rankings, No. 16 to Serbia's No. 19.
The last tie between the two nations took place in Feb. 2014 in Montreal, where Bouchard and Aleksandra Wozniak led Canada to a 3-1 win.
Stojanovic (who was just 17 at the time) and Aleksandra Krunic, who are expected to be part of the Serbian squad this year, were on that team in the notable absence of stars Ana Ivanovic and Jelena Jankovic.
But, of course, the Serbs are playing at home this time.
The Serbs won all three of their ties in the zonal competition in 2020 for the right to compete in this playoff tie.
It's a long way from the days of Ivanovic and Jankovic, but Serbia has some solid players to bring to the court.
Stojanovic the top-ranked Serb
The 24-year-old is a late bloomer who is closer to career high at No. 85 and just reached the third round at the Miami Open out of the qualifying.
She defeated Heather Watson and Yulia Putintseva before withdrawing prior to a match against Naomi Osaka with a right thigh injury.
Danilovic, currently No. 158 but was inside the top 100 three years ago at age 17 (when she won her first WTA Tour title). She is a 20-year-old lefty who teamed up with Bouchard to reach the doubles final in Lyon in February.
She, too, qualified in Miami and lost in a third-set tiebreak to Anastasija Sevastova in the first round.
Stojanovic, along with Krunic, are both ranked in the top 60 in doubles.
Fernandez on Har-Tru in Charleston
Neither of the top Serbs is playing this week, while Fernandez and Marino are playing on completely different surfaces.
Fernandez was outdoors on hard courts – first at altitude in Guadalajara and Monterrey, where she won her first career WTA title. Then she briefly moved onto the heat and humidity in Miami, where she had to quickly (too quickly) turn it around and lost in the first round of qualifying to Mihaela Buzarnescu.
This week, she is in Charleston, S.C. playing on Har-Tru. And would have been practicing on it over the last few weeks.
She will then have to quickly turn it around again and make the adjustment to an indoor hard court.
Marino returns after two-month absence
As for Marino, she is seeing her first action in nearly two months this week.
Her last tournament was the WTA event during the second week of the Australian Open in Melbourne.
She is on red clay, at slight altitude, in the mountains of Switzerland in a $60,000 ITF tournament.
With all these unknowns and uncertainties, it's going to be a fascinating encounter.
Here's the official press-release quote from Canadian captain Heidi el Tabakh (who writes this stuff?)
"We are all looking forward to this tie in Kraljevo. In particular, we are excited to represent Canada in our first tie in the newly-named Billie Jean King Cup. It is an honor to represent our country in a competition named after a true pioneer not just for women's tennis, but women in general. Serbia has a very tough team and it will not be an easy task for us, but we are ready and will do our very best to get the victory and book our place in next year's Qualifiers."