–
A 500-level tournament in Charleston with some surprise weekend participants, and a wild card winning her first career WTA Tour title in her home country are some of the unexpected events of the past week.
And as the WTA Tour now heads to Europe and the clay – once this week's 250 in Charleston and the Fed Cup ties are done this week – we're off to a new phase of the season.
With Roland Garros having been pushed back a week, the deadline for entry has also been pushed back a week.
That would give a few players a last opportunity to get into the top 100 or so and guarantee themselves a spot in the main draw.
Liudmila Samsonova and Caty McNally, both of whom are playing the Charleston event this week, have a shot. But they'd have to bank about 50 points to do it.
Roughly, that's a quarter-final or better finish. But McNally would have to upset No. 3 Shelby Rogers in the first round to have a shot.
Tournaments whose points are dropping this wee: 2019 Bogotá and 2019 Lugano.
Iga Swiatek drops 162 points as she didn't defend her finals run in Lugano two years ago. But she remains in the No. 16 spot in the rankings after Elise Mertens's early loss in Charleston.
ON THE UPSWING
Petra Kvitova (CZE): No. 11 ==========> No. 10 (Despite a loss in the third round, Kvitova is back in the top 10 with some help from Kiki Bertens' late withdrawal).
Ons Jabeur (TUN): No. 28 ==========> No. 27 (Jabeur missed quite an opportunity in Charleston this week, but still rises a spot to a new career high. She has another opportunity this week in the 250 event).
Veronika Kudermetova (RUS): No. 38 ==========> No. 29 (The 23-year-old Russian won her first career WTA Tour title without dropping a set this week in Charleston. She's in the top 30 for the first time).
Shelby Rogers (USA): No. 52 ==========> No. 46 (A new high for Rogers, who made the third round in her "hometown" tournament. She is the No. 3 seed this week in the follow-up 250 event).
Sloane Stephens (USA): No. 57 ==========> No. 53
Paula Badosa (ESP): No. 71 ==========> No. 62 (The semifinal effort in Charleston puts her at a new career high).
Danka Kovinic (MNE): No. 91 ==========> No. 65 (Kovinic is still a ways away from her career best of No. 46. But her effort to get to the Charleston final and her win over Petra Kvitova should stand her in good stead as she hits her favorite part of the season. She is playing in Charleston again this week).
Tamara Zidansek (SLO): No. 93 ==========> No. 80 (The Slovenian made the Bogotá final).
Caty McNally (USA): No. 118 ==========> No. 110 (The 19-year-old has a shot at making the Roland Garros main draw if she can put up a quarter-final result in Charleston this week. But she gets No. 3 seed Rogers in the first round).
Viktoriya Tomova (BUL): No. 146 ==========> No. 125 (A new career high for the 26-year-old after making the Bogota quarterfinals. She made the quick turnaround from red clay at altitude to Har-Tru at sea level and will be in Charleston this week).
Maria Camila Osorio Serrano (COL): No. 180 ==========> No. 135 (The Colombian was already at a career high when she won Bogotá this week, as a wild card. She, too, will rush to Charleston).
Harmony Tan (FRA): No. 190 ==========> No. 158 (The little-known French player, 23, reaches a career high after going from the qualifying to the semis in Bogotá).
Nuria Parrizas Diaz (ESP): No. 171 ==========> No. 159 (After grinding it out mostly at the lower ITF levels for 15 years, the 29-year-old Spaniard qualifies and makes the Bogotá quarterfinals, reaching another career high).
Storm Sanders (AUS): No. 187 ==========> No. 170 (The American swing has been good for Sanders, who reaches another career high).
Julia Grabher (GER): No. 248 ==========> No. 196 (The 24-year-old won the ITF 60K in Bellinzona, Switzerland this week and books herself a guaranteed spot in the Roland Garros qualifying).
Emma Navarro (USA): No. 481 ==========> No. 404 (The wild card won her first WTA level main-draw match in Charleston, and leaps up the charts. She'll try to build on that this week in the 250).
ON THE DOWNSWING
Amanda Anisimova (USA): No. 33 ==========> No. 39 (Anisimova's points from her 2019 title in Bogotá fall off, as a leg injury cut short her efforts in Charleston last week. She also withdrew from this week's tournament).
Polona Hercog (SLO): No. 60 ==========> No. 76 (Hercog won the tournament in Lugano in 2019. She is playing in a 60K ITF in Oeiras, Portugal this week, despite her very high ranking. Obviously, she's the No. 1 seed).
Kristyna Pliskova (CZE): No. 76 ==========> No. 86 (Pliskova made the semifinals at the 2019 Lugano event, losing to Iga Swiatek).
Astra Sharma (AUS): No. 134 ==========> No. 165 (The Aussie lost in the first round of Bogotá (there was drama), after making the final in 2019).
Lara Arruabarrena (ESP): No. 167 ==========> No. 180 (The 29-year-old qualified and made the Bogotá quarterfinals – but dropped 13 spots in the rankings because she made the semifinals in 2019).
Timea Bacsinszky (SUI): No. 313 ==========> No. 337 (She hasn't played since Sept. 2019, But the frozen rankings have meant she hasn't moved much. Bacsinszky drops points she earned by making the second round of the Lugano event in 2019).
Desirae Krawczyk (USA): No. 9999 ==========> No. 833 (The 27-year-old American doubles specialist goes from … infinity to non-infinity with her surprise run in the Charleston qualifying this week).
Canadian Rankings
The Road to Shenzhen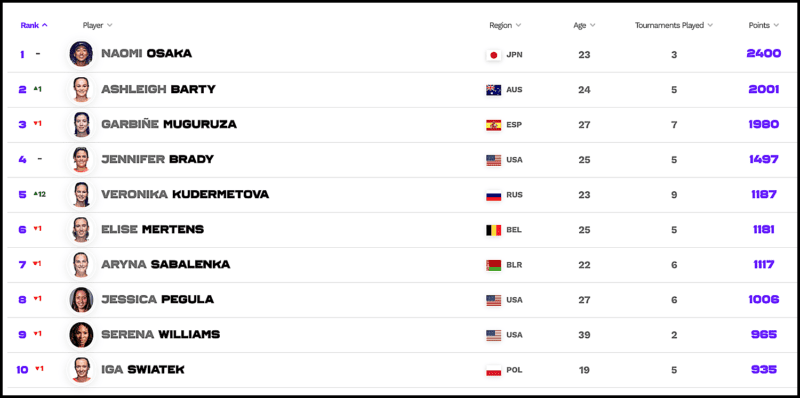 (For the complete WTA Tour rankings picture, click here)
About Post Author