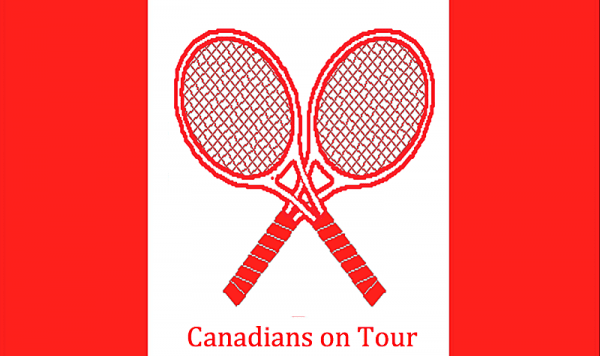 .
The big crew of Canadian girls at an ITF J3 junior event in Costa Rica came home with all the hardware this week.
Unseeded Mia Kupres won the singles title over fellow Canadian Victoria Mboko.
In the doubles, Mboko and Kayla Cross, seeded No. 3, took the title over No. 2 seeds Kupres and Annabelle Xu.
Barcelona Open Banca Sabadell


Barcelona, Spain (ATP Tour 500)
Singles
[7] Denis Shapovalov
1st rd: Bye
2nd rd: def. Jérémy Chardy (FRA) 63 75
3rd rd: lost to[1] Félix Auger-Aliassime (CAN) 62 63
[10] Félix Auger-Aliassime
1st rd: Bye
2nd rd: def [WC] Lorenzo Musetti (ITA) 46 63 60
3rd rd: def. [7] Denis Shapovalov (CAN) 62 63
QF: lost to [2] Stefanos Tsitsipas (GRE) 63 63
sXXXssss
Porsche Tennis Grand Prix


Stuttgart, Germany (WTA Tour 500)
Doubles
Sharon Fichman / Giuliana Olmos (MEX)
1st rd: def Belinda Bencic (SUI) / Sofia Kenin (USA) 46 64 [10-4]
QF: lost to [1] Bethanie Mattek-Sands / Desirae Krawczyk (USA) 62 62
sXXXssss
Rome I


Rome, Italy (ATP Tour Challenger 80)
Singles
[8] Steven Diez
1st rd: lost to [WC] Andrea Pellegrino (ITA) 16 62 63
sXXXssss
Tallahassee Challenger


Tallahassee, Florida (ATP Challenger Tour 80)
Singles
Brayden Schnur
1st rd: def [6] Juan Manuel Cerundolo (ARG) 63 36 64
2nd rd: lost to Facundo Mena (ARG) 46 63 64
Peter Polansky
1st rd: lost to [8] Michael Mmoh (USA) 75 76 (5)
Doubles
Brayden Schnur / Peter Polansky
1st rd: vs. [3] Matthew Ebden (AUS) / Denis Novikov (USA) 63 63
sXXXssss
Challenger de Salinas


Salinas, Ecuador (ATP Tour Challenger 80)
Singles
[2] Alejandro Tabilo (CHI)
1st rd: lost to Kevin King (USA) 36 64 61
sXXXssss
Oeiras Ladies Open 25
Oeiras, Portugal (ITF $25K)
Singles
[15] Rebecca Marino
1st rd: Bye
2nd rd: def. [Q] Sina Herrmann (GER) 63 62
3rd rd: lost to Jang Su Jeong (KOR) 57 62 62
Doubles
Rebecca Marino / Isabelle Shinikova (BUL)
1st rd: def Francisca Jorge (POR) / Olga Parres Azcoitia (ESP) 62 61
QF: def. [3] Choi Ji-Hee / Han Na-Lae (KOR) 64 62
SF: lost to [2] Natela Dzalamidze / Sofya Lansere (RUS) 63 61
Carol Zhao / Gabriela Ce (BRA)
1st rd: lost to Matilde Jorge (POL) / Sashi Kempster (BRA) WALKOVER
sXXXssss
W15 Magic Tours
Monastir, Tunisia (ITF $15K women's event)
Singles
[LL] Stacey Fung
1st rd: def [Q] Barakat Oyinlomo Quadre (NGR) 62 61
2nd rd: lost to Linda Noskova (CZE) 63 63
Doubles
Stacey Fung / Emma Davis (USA)
1st rd: def [WC] Liz Badde (LUX) / Zoe Bourbotte (FRA) 62 61
QF: vs. [1] Paige Hourigan (AUS) / Erika Sema (JPN) 62 60
Singles qualifying
[4] Stacey Fung
1st rd: def Maria Toma (ROU) 60 60
2nd rd: def Tea Lukic (ITA) 26 60 [10-8]
FInal rd: lost to [10] Barakat Oyinlomo Quadre (NGR) 64 64
sXXXssss
Haskovo Cup
Haskovo, Bulgaria (ITF Junior Grade 2)
Singles
[2] Mélodie Collard
1st rd: def Alina Granwehr (SUI) 64 76 (4)
2nd rd: def Alessandra Simone (ITA) 64 62
QF: def. [8] Lucie Nguyen Tan (FRA) 61 62
SF: lost to [5] Hanne Vandewinkel (BEL) 62 76 (4)
Doubles
[3] Mélodie Collard / Fatima Ingrid Amartha Keita (ROU)
1st rd: vs Kylie Bilchev (GBR) / Sofia Costoulas (BEL)
QF: lost to Lisa Pigato / Arianna Zucchini (ITA) 57 75 [10-7]
sXXXssss
1 edición Sabana Bowl
San Jose, Costa Rica (ITF Junior Grade 3)
Girls' singles
[1] Annabelle Xu
1st rd: def Ana Carmen Zamburek (DOM) 76 (3) 75
2nd rd: def. [Q] Maya Dutta (USA) 75 64
QF: def. [7] Nevena Carton (USA) 63 63
SF: lost to Mia Kupres (CAN) 64 75
[2] Kayla Cross
1st rd: def Soleny Gonzalez Merida (GUA) 60 62
2nd rd: lost to Aubrey Nisbet (USA) 57 61 62
Mia Kupres
1st rd: def Baylen Brown (USA) 62 61
2nd rd: def [5] Mariana Manyoma Velasquez (COL) 61 64
QF: def. [4] Maria Olivia Castedo (BOL) 60 61
SF: def. [1] Annabelle Xu (CAN) 64 75
F: def. Victoria Mboko (CAN) 63 76 (2)
Victoria Mboko


1st rd: def Brooklyn Olson (USA) 64 61
2nd rd: def. [6] Leylah Britez Risso (PAR) 62 61
QF: def. Aubrey Nisbet (USA) 62 62
SF: vs. [8] Mao Mushika (JPN) 63 64
F: lost to Mia Kupres (CAN) 63 76 (2)
Ana Grubor
1st rd: lost to Athena Rosas (USA) 76 (5) 64
Boys' singles
[6] Jayden Templeman
1st rd: def Williams Yovanny Ribeiro Duarte (COL) 64 36 63
2nd rd: lost to Ekansh Kumar (USA) 64 64
Girls' doubles
[3] Kayla Cross / Victoria Mboko
1st rd: def Shasling Fonseca / Maria José Rodriguez Chanto (CRC) 61 61
QF: def. Karsyn Evans / Sophie Williams (USA) 62 64
SF: vs. Gracie Epps / Aubrey Nisbet (USA) 76 (5) 60
F: def. [2] Annabelle Xu / Mia Kupres (CAN) 75 663
[2] Annabelle Xu / Mia Kupres


1st rd: def Leylah Britez Risso / Pauline Martinessi (PAR) 63 63
QF: def Maya Dutta / Olivia Smith (USA) 62 61
SF: vs. Mio Mushika / Mao Mushika (JPN) 76 (5) 75
F: lost to [3] Kayla Cross / Victoria Mboko (CAN) 75 63
Ana Grubor / Jasmin Makela (USA)
1st rd: lost to Gracie Epps / Aubrey Nisbet (USA) 62 61
Boys' doubles
Jayden Templeman / Cooper Williams (USA)
1st rd: def Leanid Boika (USA) / Oscar Rozados (CRC) 75 63
QF: lost to [3] Ignacio Buse (PER) / Ekansh Kumar (USA) 63 76 (1)
About Post Author