–
Félix Auger-Aliassime's first two young-gun opponents in Barcelona might not have been 100 per cent physically.
But the 20-year-old Canadian has been pretty serene throughout.
And the result is that Auger-Aliassime is into the quarterfinals of the Barcelona Open Banc Sabadell.
In his opener, Auger-Aliassime outlasted 19-year-old Lorenzo Musetti 4-6, 6-3, 6-0.
And on Thursday, in his second meeting with friend and countryman Denis Shapovalov in 2021, he won 6-3, 6-2 in an hour and 19 minutes.
It was an impeccable performance in the face of a sub-par Shapovalov, who once again was dealing with a shoulder issue.
"I was happy with my level technically. Of course, whenever somebody loses he could have played better. I hope that today I did a good job to find solutions and cause him trouble," Auger-Aliassime said during a post-match Zoom conference.
"In the end it's never easy to step out there against him. I'm glad I was able to play a good level of tennis and win in straight sets," he added.
Ongoing shoulder issue for Shapovalov
Shapovalov played an impeccable match in his 2021 clay-court debut in Barcelona against Jérémy Chardy.
But against Auger-Aliassime, who defeated him in straight sets at the Australian Open in February, the shoulder tightness resulted in some disastrous statistics on serve – especially in the first set.
The 22-year-old's first-serve percentage in the first set was 39 per cent. And he won just 29 per cent of his second serve points. He caught his toss (which went too far behind him) four or five times during the set. He double-faulted to give up the first of three service breaks in the set. And then he double-faulted again to give Auger-Aliassime a 5-1 lead in the set.
And then, serving at 2-5, having already called the trainer, Shapovalov tried the underarm serve on set point against him. It was in vain – the third time in the set he broke himself.
Melbourne, Dubai, Barcelona – MTO time for Shapo
The trainer has been a semi-regular sighting for Shapovalov this season, going all the way back to the ATP Cup during the opening week in Australia.
He was fairly calm in the first set in Barcelona Thursday – far less tetchy than he had been when the two met in Melbourne. There were a few more visible signs of frustration in the second set. But Auger-Aliassime never took his foot off the gas, never gave him even a peek into the valley of hope.
"I'm just getting tight in my shoulder. I have some pain when I'm serving.  I don't know if I want to give more detail than that. Now and again it comes back, so just something we're kind of dealing with. But nothing too serious," Shapovalov said.
"It's mainly on the serve. It depends how much it's hurting, whether I take anti-inflammatories or not. I've definitely taken them for it before, but not today," he added. "I think it is progressively getting better. But it is taking time, to kind of strengthen my body and strengthen that area."
Familiarity breeds serenity for FAA
For Auger-Aliassime, who knows Shapovalov's game better than any player on tour, this marks the second time this season he has beaten him in straight sets. And it's the second time in two career outings that he has beaten him in straight sets on clay, after Madrid in 2019.
Their two US Open meetings – back-to-back years in the first round – were fraught with some drama. And Shapovalov took both of those.
But the 7-5, 7-5, 6-3 win in the third round in Melbourne, and the victory Thursday, were both emphatic.
"Nothing's guaranteed. But I think the patterns of play, the tactical choices are made almost automatically when you play someone you know so well. We don't watch too much video before the match, don't talk too much. The choices are made naturally," Auger-Aliassime said. "But once again I was able to execute what I had to do, serve well, be serene and calm on the serve, take my time."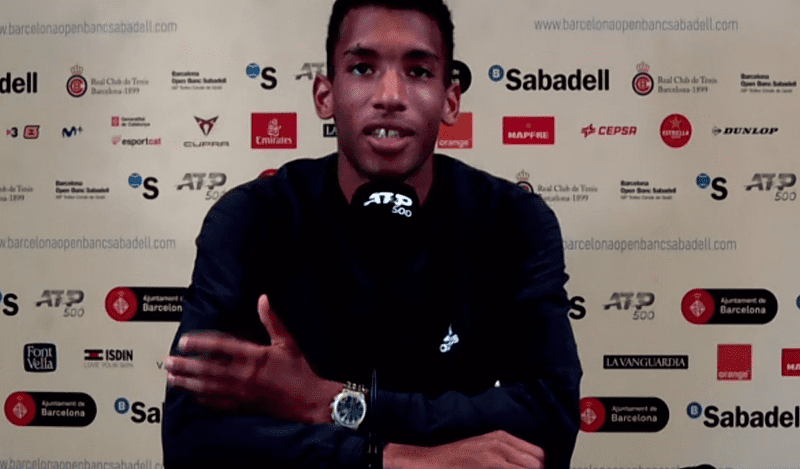 "I can be happy with what I did, even though he made some mistakes in important moments in the match. But I was able to cause him problems as I did in Australia," Auger-Aliassime added. "True, I think his first serve percentage was low today. So it gave me the opportunity to start each point with a rally. There were not too many service winners."
None of the other questions in the Zoom conference mentioned Shapovalov's shoulder or serving issues. Still, he was going for broke on a lot of points. Some went in; more missed the mark.
Shapovalov said Auger-Aliassime simply had to play his game.
"I just think he played his game. I didn't show up today. He didn't have to do anything special, really. It was more me missing today," Shapovalov said. "
"Obviously I didn't really show up today, didn't play well," Shapovalov added. "Today was just one of the matches. Felix played well, I wasn't able to match that. And that's it, you just try to wipe it off and just go forward."
Auger-Aliassime noticed – obviously – that his countryman called the trainer after the first set and took a medical timeout. But he said he didn't think much more of it beyond the fact that he thought there might be a bit of tightness in Shapovalov's shoulder.
"Against Denis, a player who serves so well, (the lack of first serves) helps.But I didn't notice a loss of level, of velocity on his serve, I thought his serve was going well in the end," Auger-Aliassime said.
He did pick it up in the second set. Shapovalov stood at 39 per cent first serves (and 29 per cent of second serves won) after the first set. He ended at 48 per cent (and 38 per cent of second-serves won) for the match.
Tsitsipas next in the quarterfinals
On Friday, Auger-Aliassime will meet yet another young gun.
After 19-year-old Musetti and 22-year-old Shapovalov, here comes 22-year-old Stefanos Tsitsipas – a man on a roll after winning his first Masters 1000 tournament in Monte-Carlo last Sunday.
"We're seeing draws with a lot more younger players. They are not easy matches. "I'll be playing these guys for the next years to come, and every time is a tough challenge," Auger-Aliassime said, prior to the outcome of the Tsitsipas match against Alex de Minaur.
"I know Stefanos quite well. Of course, if I have to face him, he's on a streak. He's playing well. And he beat me last time, so I'd like to have a shot to take my revenge."
Red clay debut for Stefanix in Barcelona
The two will meet for the first time on clay in the pros – the first time on red clay, ever.
In the middle of Auger-Aliassime's dominance of the two-years-older Tsitsipas in the juniors, there was one victory by the Canadian on the Har-Tru at the Eddie Herr in Florida.
They last met last month on a hard court in Acapulco. That was a match that looked to be going Auger-Aliassime's way – until it didn't.
About Post Author