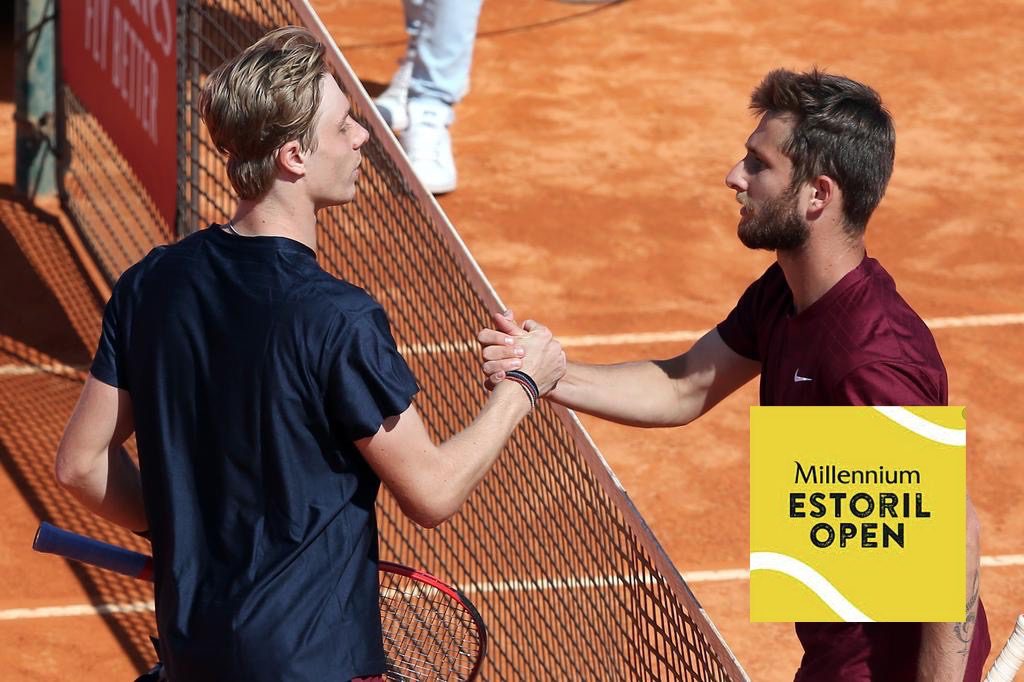 –
Denis Shapovalov was planning to train for a few days in Barcelona with coach Mikhail Youzhny, after he was eliminated in the tournament there last week by countryman Félix Auger-Aliassime.
After that, he was going to head to his place in Greece to chill out for a few days, before the Masters 1000 in Madrid.
But then, the Millennium Estoril Open came calling for the 22-year-old Canadian last Friday afternoon.
And a day or two later, Shapovalov was already in Portugal, as a wild card and the No. 1 seed in the 250-level clay-court tournament.
Given the shoulder issues he dealt with in Barcelona – a recurring theme this season – it was an interesting decision.
Shapovalov already has Madrid, the second Masters 1000 in Rome and then Lyon on his schedule before Roland Garros.
But he wanted, and needed, more matches.
"Just getting at least one match, maybe more matches, to get my feel a bit more used to the surface, and play a few more points," he said before the tournament began.
It ended up being just one match.
Shapovalov was eliminated in his opening match Thursday by his friend and rapping partner Corentin Moutet of France on a windy, difficult day.
The 6-4, 2-6, 6-4 loss came after a number of days on site, practicing with occasional doubles partner Rohan Bopanna.
With the first-round bye, Shapovalov didn't take to the match court until Thursday.
Aggressive play on a very windy day
Shapovalov's game style on the day was fast and furious. He was hitting out on most balls, and looking for quick opportunities to come to the net and finish off points.
For periods of time, it worked to brilliant effect. He was hitting hard enough to hit through the gusty wind. But there was also a fairly high risk level attached.
Moutet, who's known Shapovalov since they were both 11 years old (they're only four days apart in age, and have recorded a rap song together) had never played him before or even practiced with him.
He was getting flustered at times (okay – not a hugely unusual state of affairs for him).
But Moutet, a fellow lefty, pulled out the first set after Shapovalov failed to capitalize on multiple break points. And then, Shapovalov reset and ran through the second set with brilliant, aggressive aplomb.
Third set fizzle for Shapovalov
Moutet broke to open the third set.
Then Shapovalov broke back twice to lead 3-1.
And then, it all sort of went sideways for the Canadian, even if his opponent was hardly the picture of serenity.
Moutet won five of the next six games, and the match.
"Obviously I've seen him play many times, but it's different being against him, feeling what's going on the court. I knew he'd play fast; he's a very offensive player," Moutet said. "I had to try to counter that, and be offensive before him – which wasn't easy today.
He serves hard, tries to make the point pretty quickly in the rally. So I had to adapt, and play with what he was offering."
"Not aggressive enough" – Shapovalov
Afterwards, Shapovalov said he felt he'd not been aggressive enough.
"I was just doubting myself a lot on those shots, and that's why I'm missing them. Half-committing to coming in, half-committing to staying back. So I'm a little bit confused out there, so that's just why there's so many mistakes," he said. "Again, it's more of a mental thing. If I fully commit, I'm going to make those shots. But something is holding me back during those moments."
Shapovalov missed a number of swing volleys – a shot that few players on the men's side actually practice, and that can be an inconsistent shot during matches for most except perhaps Roger Federer and, more recently, Aslan Karatsev.
Many of the women regularly practice at least a dozen, both forehand and backhand, to wrap up their practices and warmups. But you don't often see the men doing the same.
But Shapovalov feels that when he's fully committed, set, it's a good weapon for him.
"All those swing volleys. I'm not completely set, because I'm not fully committed to it, really. I want to play aggressive, I want to play my game, I feel like when I do, I feel like I can beat anyone. So it's just about that clicking, and not being afraid of missing one or two. That's more the issue right now."
Who plays "less worse" will win – Moutet
Moutet said he felt lucky to win.
"They were tough conditions to play. It was more who will play less worse today," he said. "I don't think he played his best level. He's such a great player."
Playing that hyper-aggressive style on the clay is an ambitious game plan, but Shapovalov believes he can do it. The only adjustment from executing it on faster surfaces is being a little more patient, to get himself in position to attack.
"It's more of a confidence thing, I'm not doubting myself, and I'm able to go. But I haven't had so many matches, so it's a bit rusty on whether I come in, or when I stay back," he said. "I don't think it makes a difference on the clay or not. You get one, two extra balls back, but if I'm hitting those clean I'm in good position."
Confidence is a fragile thing, and if Shapovalov was searching for it in Estoril, he'll have to leave town not having gotten what he came for.
Next top is Madrid, where he lost to Auger-Aliassime two years ago (the last time it was played).
They won't run into each other early this time, as both should be seeded.
In Shapovalov's Madrid debut in 2018, he made the semifinals.
Hardcore clay devotees (like Rafael Nadal) aren't huge fans of Madrid. With the altitude, the bounce is different, and it's quicker. Those are conditions that should, in theory, suit Shapovalov.
And then, the road leads to Rome
After losing to Rafael Nadal and Novak Djokovic in his first two trips to Rome, Shapovalov reached the semifinals when the tournament was rescheduled last year, to the fall – right before Roland Garros.
He was close to making the final, too; Diego Schwartzman beat him in a third-set tiebreak.
For Shapovalov, that result was purely a matter of the confidence he's currently searching for.
"I feel like Rome was a followup from a really good tourney in New York. I was playing with a lot of confidence and was able to kind of roll through that tourney, even though I was going through jet lag and my body didn't feel good," Shapovalov told Andrew Eichenholz of the ATP Tour website.
"But game-wise, I was really confident."
In Madrid, Shapovalov plans to play doubles with Bopanna, who lost his first-round match in Estoril but stuck around to offer some much-appreciated support, in the absence of coach Youzhny.