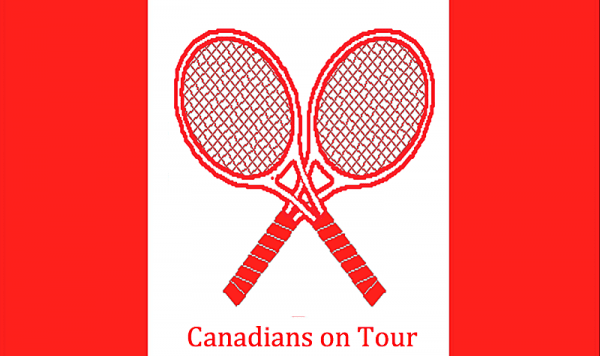 –
Carrying over the early results from Madrid to the second week, and taking a look at what else is happening in pro tennis – mostly in Europe these days.
Carol Zhao commuted from Oeiras, Portugal to Salinas, Ecuador and made the final at an ITF down there.
Here's the list for the week of May 10.
Mutua Madrid Open


Madrid, Spain (WTA 1000 / ATP Masters 1000)
Men's singles
[11] Denis Shapovalov
1st rd: def Dusan Lajovic (SRB) 61 63
2nd rd: lost to Alexander Bublik (KAZ) 64 57 64
[15] Félix Auger-Aliassime
1st rd: lost to Casper Ruud (NOR) 61 64
Women's singles
[8] Bianca Andreescu
Withdrawn because of a positive COVID-19 test
Men's doubles
Denis Shapovalov / Rohan Bopanna (IND)
1st rd: def [WC] Marc Lopez / Jaume Munar (ESP) 76 (4) 64
2nd rd: def. [1] Juan Sebastian Cabal / Robert Farah (COL) 63 64
QF: lost to Alexander Zverev / Tim Puetz (GER) 64 36 [10-5]
Félix Auger-Aliassime / Hubert Hurkacz (POL)
1st rd: lost to Alexander Zverev / Tim Puetz (GER) 62 64
Women's doubles
[3] Gabriela Dabrowski

/ Demi Schuurs (NED)
1st rd: def. [PR] Oksana Kalashnikova (GEO) / Alla Kudryavtseva (RUS) 76 (2) 75
2nd rd: def Veronika Kudermetova / Anastasia Potapova (RUS) 46 62 [10-7]
QF: def. Ellen Perez (AUS) / Zheng Saisai (CHN) 62 64
SF: def. Jelena Ostapenko (LAT) / Anastasia Pavlyuchenkova (RUS) 57 64 [10-6]
F: lost to [2] Barbora Krecjikova / Katerina Siniakova (CZE) 63 64
Sharon Fichman / Giuliana Olmos (MEX)
1st rd: def. Lyudmyla Kichenok (UKR) / Monica Niculescu (ROU) 64 60
2nd rd: lost to [7] Xu Yifan / Zhang Shuai (CHN) 64 63
sXXXssss
I.CLTK Prague Open


Prague, Czech Republic (ATP Challenger Tour)
Singles
Alejandro Tabilo (CHI)
1st rd: def [2] Yuichi Sugita (JPN) 75 40 retd
2nd rd: lost to Maxime Cressy (USA) 62 75
Singles qualifying
Brayden Schnur
1st rd: lost to [1/ALT] Jurij Rodionov (AUS) 61 57 64
Peter Polansky
1st rd: lost to Denis Istomin (UZB) 63 75
sXXXssss
Biella 5 Challenger Outdoor


Biella, Italy (ATP Tour Challenger)
Doubles
Adil Shamasdin / Luca Margaroli (SUI)
1st rd: def Hugo Dellien / Federico Zeballos (BOL) 46 64 [10-7]
QF: lost to [3] Sergio Martos Gornes (ESP) / Artem Sitak (NZL) 61 76 (4)
sXXXssss
LTP 100
Charleston, SC (ITF $100K women's event)
Doubles
Erin Routliffe (NZL) / Aldila Sutjiadi (INA)
1st rd: def. Tereza Mihalikova (CZE) / Ingrid Neel (USA) 61 63
QF: lost to [1] Caty McNally (USA) / Storm Sanders (AUS) 46 60 [10-7]
Singles qualifying
[5] Katherine Sebov
1st rd: def Jantje Tilbuerger (GER) 60 63
2nd rd: lost to [13] Aldila Sutjiadi (INA) 60 46 [10-6]
Erin Routliffe (NZL)
1st rd: lost to [14] Eri Hozumi (JPN) 63 63
sXXXssss
I.CLTK Prague Open
Prague, Czech Republic (ITF $25K)
Singles
Rebecca Marino
1st rd: lost to [3] Barbara Haas (AUT) 60 64
Doubles
Rebecca Marino / Cagla Buyukakcay (TUR)
1st rd: lost to Nikola Bartunkova / Denisa Hindova (CZE) 61 63
sXXXssss
W25 Salinas 1 Copa Telconet
Salinas, Ecuador (ITF $25K women's event)
Singles
Carol Zhao


1st rd: def [7] Ana Sofia Sanchez (MEX) 67 (4) 75 62
2nd rd: def. Paige Hourigan (NZL) 61 62
QF: def. Laura Pigossi (BRA) 63 64
SF: def. [1] Valeria Savinykh (RUS) 26 63 62
F: lost to Mai Hontama (JPN) 75 61
sXXXssss
In Memory of Jack Baron
Ramat Hasharon, Israel (ITF $15K men's event)
Singles
[Q] Christophe Clément
1st rd: lost to Simon Freund (NOR) 64 60
Singles qualifying
Stefan Simeunovic
1st rd: lost to [15] Roee Benya (ISR) 63 64
Jaden Weekes
1st rd: def [4] Jordan Hasson (ISR) 76 (6) 76 (2)
2nd rd: def. Dor Yakob Wertheimer (ISR) 64 61
Final rd: lost to [11] Toby Boyer (USA) 64 75
Christophe Clément
1st rd: def Ido Zonder (ISR) 61 63
2nd rd: def. [5] Keenan Mayo (USA) 63 63
Final rd: def. Raz Haviv (ISR) 76 67 [10-2]
sXXXssss
Varta Open


Oberpullendorf, Austria (ITF Junior Grade 2)
Boys' singles
Jayden Templeman
1st rd: vs. [4] Miguel Gomes (POR) 36 64 64
2nd rd: lost to Bor Artnak (SLO) 64 16 60
Boys' doubles
Jayden Templeman / Wissam Abderrahman (TUN)
1st rd: lost to Kalin Ivanovski (MKD) / Luka Mikrut (CRO) 76 (3) 57 [10-8]
About Post Author