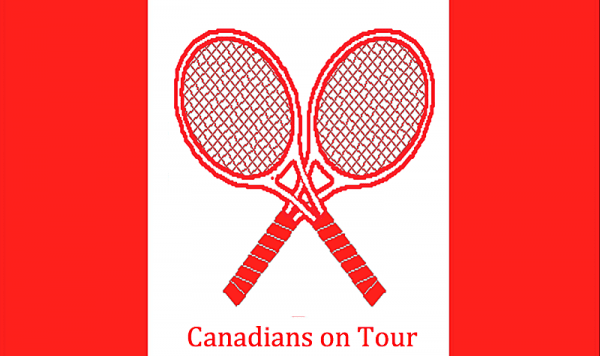 –
Félix Auger-Aliassime had a tough first-rounder in Lyon, even with the withdrawal of Lorenzo Sonego. One Lorenzo was replaced by another, Musetti.
Meanwhile, there also is action in Parma and Belgrade and Geneva, where Denis Shapovalov is the No. 2 seed.
Bianca Andreescu was to have played in Parma. But she withdrew again, as she did in Rome.
Leylah Fernandez and Gaby Dabrowski teamed up in doubles in Belgrade.
Open Parc ARA


Lyon, France (ATP 250)
Singles
[7] Félix Auger-Aliassime
1st rd: lost to Lorenzo Sonego (ITA) [ALT] Lorenzo Musetti (ITA) 76 (3) 36 75
Singles qualifying
Peter Polansky
1st rd: lost to Alessandro Gianessi (ITA) 63 64
sXXXssss
Gonet Geneva Open


Geneva, Switzerland (ATP 250)
Singles
[2] Denis Shapovalov


1st rd: Bye
2nd rd: def. [Q] Marco Cecchinato (ITA) 67 (4) 75 61
QF: def. Laslo Djere (SRB) 64 64
SF: def. Pablo Cuevas (URU) 64 75
F: lost to [3] Casper Ruud (NOR) 76 (6) 64
Singles qualifying
Alejandro Tabilo (CHI)
1st rd: def [3] Mikhail Kukushkin (KAZ) 63 61
Final rd: lost to Henri Laaksonen (SUI) 26 61 63
sXXXssss
Serbia Ladies Open




Belgrade, Serbia (WTA 250)
Singles
Leylah Fernandez
1st rd: def Polona Hercog (SLO) 75 61
2nd rd: lost to [LL] Viktoriya Tomova (BUL) 63 46 62
Doubles
Gabriela Dabrowski / Leylah Fernandez
1st rd: lost to [3] Xu Yifan / Zhang Shuai (CHN) 36 76 (5) [10-8]
sXXXssss
Emilia-Romagna Open




Parma, Italy (WTA 250)
Doubles
Erin Routliffe (NZL) / Quinn Gleason (USA)
1st rd: lost to Elixane Lechemia (FRA) / Ingrid Neel (USA) 62 36 [10-8]
Singles qualifying
Rebecca Marino
1st rd: def Anna Danilina (KAZ) 63 61
Final rd: lost to [6] Anna Karolina Schmiedlova (SVK) 61 64
sXXXssss
Oeiras Open 3
Oeiras, Portugal (ATP Challenger)
Singles qualifying
[4] Brayden Schnur
1st rd: def Mats Moraing (GER) 64 64
Final rd: lost to [8] Hugo Grenier (FRA) 46 64 76 (6)
sXXXssss
Legacy Pro Classic
Pelham, Alabama (ITF $25K women's event)
Singles
Katherine Sebov
1st rd: Bye
2nd rd: lost to Arianne Hartono (NED) 62 62
Doubles
Katherine Sebov / Ayaka Okono (JPN)
1st rd: lost to [1] Beatrice Gumulya / Jessy Rompies (INA) 64 62
sXXXssss
Sibenik Open 2021


Sibenik, Croatia (ITF $15K joint event)
Doubles
Raphaëlle Lacasse / Ana Filipo Santos (POR)
1st rd: lost to [4] Pia Lovric (CRO) / Lucie Wargnier (FRA) 63 62
Women's singles qualifying
Raphaelle Lacasse
1st rd: lost to Sabrina Rittberger (GER) 64 57 [10-4]
Marina Stakusic
1st rd: vs [14] Ana Gabric (GER) 63 61
Yochana Benchetrit
1st rd: lost to Anaelle Leclercq (FRA) 61 60
Men's singles qualifying
Matthias Uwe Kask
1st rd: lost to Leon Benedict (AUT) 46 62 [10-6]
sXXXssss
Pensacola M 25K
Pensacola, Fla. (ITF $25K men's event)
Singles qualifying
[7] Taha Baadi
1st rd: lost to John Bernard (USA) 57 62 [10-7]
Sid Donarski
1st rd: lost to [2] Patrick Kypson (USA) 62 60
sXXXssss
M15 Heraklion
Heraklion, Greece (ITF $15K joint event)
Singles
Kelsey Stevenson
1st rd: lost to [8] Felix Corwin (USA) 36 63 75
Doubles
Kelsey Stevenson / Vasilios Caripi (RSA)
1st rd: lost to [4] Petros Chrysochos (GRE) / Mark Whitehouse (GBR) 62 64
sXXXssss
Estonian Junior Open


Tallinn, Estonia (ITF Junior Grade 3)
Boys' singles
Jayden Templeman


1st rd: def Adam Cresina (CZE) 62 75
2nd rd: def. Albert Saar (SWE) 62 67 (3) 61
QF: def [5] Maxence Rivet 16 64 64
SF: def Nicolas Kobelt (SUI) 36 16 64
F: def. Isad Stroemberg (SWE) 62 62
Boys' singles
Jayden Templeman / Aman Sharma (USA)
1st rd: lost to Jan Hrazdil / Adam Kresina (CZE) 75 76 (3)
About Post Author