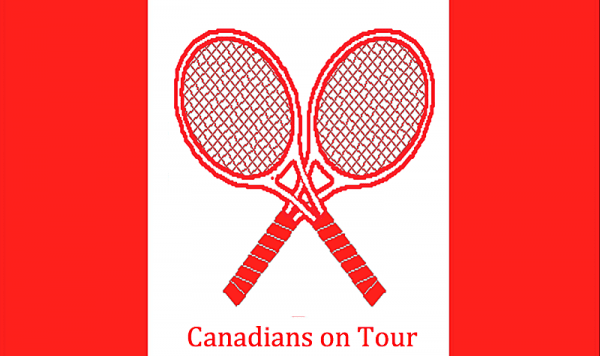 –
It's the last week before Roland Garros. And while there are some smaller prep tournaments going on, the focus shifts to the big event itself, where 128 men and 128 women are vying for spots in the main draw.
And Bianca Andreescu is back, in Strasbourg – just in time to get a few clay-court reps before the big event.
Roland Garros qualifying begins Monday.
Roland Garros


Paris France (Grand Slam)
Men's qualifying singles
Brayden Schnur
1st rd: lost to Illya Marchenko (UKR) 67 (5) 75 64
Steven Diez
1st rd: def [6] Yasutaka Uchiyama (JPN) [LL] Eliot Benchetrit (MAR) 63 61
2nd rd: lost to Joao Menezes (BRA) 63 60
Peter Polansky
1st rd: lost to [25] Nikola Milojevic (SRB) 76 (4) 16 62
Alejandro Tabilo (CHI)
1st rd: def Matthew Ebden (AUS) 46 63 64
2nd rd: def [27] Sumit Nagal (IND) 63 63
Final rd: lost t. [7] Carlos Alcaraz (ESP) 61 61
Women's qualifying singles
Rebecca Marino
1st rd: lost to [20] Claire Liu (USA) 46 62 60
Carol Zhao
1st rd: def Valeria Savinykh (RUS) 26 62 60
2nd rd: def [13] Viktoria Kuzmova (SVK) 75 62
Final rd: lost to Lara Arruabarrena (ESP) 64 62
sXXXssss
Internationaux de Strasbourg




Strasbourg, France (WTA 250)
Singles
Bianca Andreescu
1st rd: def [Q] Andrea Lazaro Garcia (ESP) 61 62
2nd rd: def. [Q] Maryna Zanievska (BEL) 61 64
QF: WITHDRAWAL
sXXXssss
Most Open 2021
Most, Czech Republic (ITF $25K men's event)
Singles
[8] Filip Peliwo
1st rd: def [Q] Sean Cuenin (FRA) 75 16 64
2nd rd: lost to Alex Rybakov (USA) 61 62
Doubles
Filip Peliwo / Théo Arribage (FRA)
1st rd: lost to Stepan Pecak / Jan Satral (CZE) 64 64
sXXXssss
Krka Open Otocec 2021
Otocec, Slovenia (ITF $25K women's event)
Singles qualifying
[10] Gabriela Dabrowski
1st rd: Bye
2nd rd: vs. Tina Cvetkovic (SLO) 62 63
Final rd: lost to [2] Camilla Rosatello (ITA) 60 75

sXXXssss
Sibenik Open 2021
Sibenik, Croatia (ITF $15K women's event)
Singles
Raphaelle Lacasse
1st rd: lost to [2] Tatiana Pieri (ITA) 60 61
Doubles
[3] Raphaelle Lacasse / Lucie Wargnier (FRA)
1st rd: lost to Katerina Mandelikova (CZE) / Ana Filipa Santos (POR) 75 62
Singles qualifying
Yochana Benchetrit
1st rd: lost to Martina Husarova (SVK) 63 64
sXXXssss
M15 Heraklion
Heraklion, Greece (ITF $15K joint event)
Singles
Kelsey Stevenson
1st rd: lost to [WC] Adam Jones (GBR) 62 46 63
Singles qualifying
Michel-Alexandre Fortin
1st rd: lost to [12] Pol Wattanakul (THA) 57 60 [10-7]
Doubles
Kelsey Stevenson / Vasilios Caripi (RSA)
1st rd: def Wishaya Trongcharoenchaikul / Pol Wattanakul (THA) 62 63
QF: lost to [1] Runhao Hua / Ze Zhang (CHN) 63 64
sXXXssss
15K Monastir


Monastir, Tunisia (ITF $15K joint event)
Singles qualifying
Luka Vukovic
1st rd: def Hans Peter Kaufmann (AUT) 61 63
2nd rd: lost to [8] Seita Watanabe (JPN) 46 64 [10-6]
sXXXssss
International TennisBase Hannover Open


Hannover, Germany (ITF Junior Grade 2)
Singles
Jayden Templeman
1st rd: def [WC] Georg Eduard Israelan (GER) 61 60
2nd rd: lost to [6] Alejandro Manzanera Pertusa (ESP) 63 61
Doubles
Jayden Templeman / Liam Gavrielides (GER)
1st rd: lost to [2] Philip Florig / Max Hans Rehburg (GER) 61 62