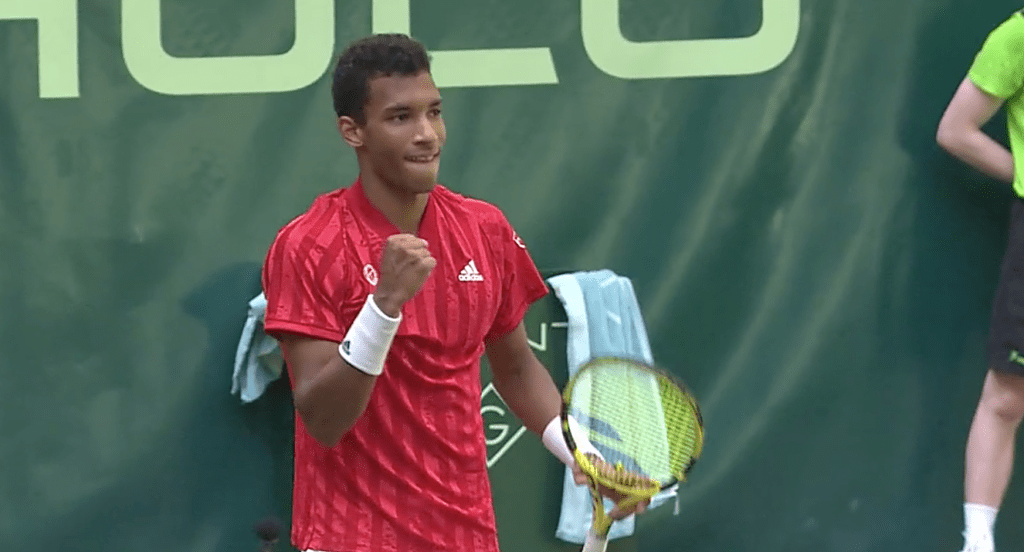 –
When Félix Auger-Aliassime a little boy, he was already dreaming of being a professional tennis player.
Even then, Roger Federer already was winning major titles. For the kid from Quebec City, the young lad with the longshot tennis dreams, he was an idol.
Auger-Aliassime never dreamed he'd get to actually play him – on grass, no less – at the very top level of the professional game.
First, the kid with the dream had to get to the top of the game. And even if that long shot came through, he thought that by then, Federer – exactly 19 years older to the day – would be long retired.
The fates conspired Wednesday in Halle, a tournament Federer has won 10 times in his career.
So there was some pathos to Auger-Aliassime's 4-6, 6-3, 6-2 victory, one that put him into the quarterfinals to face qualifier Marcos Giron.
For Federer, much regret, even anger at his attitude and at what he was unable to produce in the third set.
But for Auger-Aliassime, only joy.
And a sense that it's too far too early to celebrate because he has a tournament to try to win.
Too early for champagne
If it had been the final, Auger-Aliassime would have been ready to break out the champagne, he said.
But there's still work to do.
"I think when we got to the court, you know, when the match started, it was a pretty cool moment. But then as the match went on, I was just really zoned in and locked in to the moment and the match," Auger-Aliassime said on a Zoom conference after the victory.
"Like many of us, he was my idol growing up. So, first of all, it was a huge honour to to play him before he retired. And to beat him is something amazing. I'm gonna cherish that; it's a great moment for me and hopefully I can keep going like this in the tournament."
Auger-Aliassime had a few butterflies, briefly, before the start. He knows Federer; a few years ago, the Swiss star invited the then 18-year-old up-and-comer to train with him in Dubai during the off-season.
But they never got to even play a practice set. On the first day they played points, at 3-3 in the first set, Auger-Aliassime twisted his ankle on the court. And that was that.
Still, taking the court with him for the coin toss wasa moment.
"I think I was able to put the emotions aside, I executed what I can do well and once again, I served really well – probably the best in the last weeks. It served me well, especially at the end of the match, in the third set," Auger-Aliassime said.
"I was really excellent in that area. But everything what I wanted to do with my game, all my intentions, more or less worked well and I was able to put the ball wherever I wanted, too. When you play like that, it's a nice feeling."
A day I'm not about to forget 💥💪🏽😀 Thank you all for your support 🙏🏽 Let's keep it GOING 👊🏽
.
Une journée que je ne suis pas près d'oublier 💥💪🏽😀 Merci pour vos encouragements 🙏🏽 Ça CONTINUE 👊🏽 #trusttheprocess pic.twitter.com/LVrKjAduDW

— Félix AugerAliassime (@felixtennis) June 16, 2021
"Couldn't have played much better"
Auger-Aliassime was the one who had the opportunities in the first set. But it was Federer who converted on the only break point he earned.
"In the first set, I didn't think I could have played much better outside of just missing one forehand in one service game. And then he hit two amazing passing shots. And I was just like, 'Whoa, I understand, you know, how good he is and how good he was when he was No. 1 in the world," Auger-Aliassime said. "So it was tough. But on my part, I served really well, I was able to put in a lot of returns, mix it up – know, coming to the net, closing well."
He told himself to just keep pushing. And maybe Federer would start missing some first serves, throw in a few more errors.
It happened. Auger-Aliassime finally converted a break point in the second set, ran out the set, and broke immediately to start the third.
By 4-0 in the decider, it was clear Federer didn't have what he needed on the day.
"Even though I was up by two breaks, and I felt like things were going my way and he was missing little more, still I had to maintain my focus. Because against players like him and other top players, you never know how quickly things can can turn around," Auger-Aliassime said.
"I felt like his level dropped a bit too. He made mistakes he doesn't usually make. So the combination of the two allowed me to really keep my lead in the last two sets."
Playing the Fed vs. watching the Fed
In less than two months, Federer will be 40. And he's finding that his comeback from double knee surgery is a harder slog than his optimistic self imagined.
Still, Auger-Aliassime knew what his opponent was capable of. And he knew that playing him was a completely different experience than watching him, as a spectator.
"You feel the pressure that he puts on you. With his movement, with his shots, you know, when he serves and comes in behind the serve to volley. Whenever he comes into the net, you feel that pressure way more than when you're on the outside," he said. "You know, when you're facing him, things can change quickly. I mean, things are, are much more difficult than they look from the outside. But I was able to really deal with that well today and I think that's one of the reasons why I was able to get the win."
The break point Federer earned to close out the first set was the only break point he tasted the entire match.
Auger-Aliassime said later that it was a touchstone type of match. Not just because of the stature of the opponent but because he executed things so well, it's a match he'll be able to go back and rewatch, and see what his game looks like when everything is working and he's executing his game plan to near perfection.
Stats hugely in Auger-Aliassime's favour
Auger-Aliassime's average first serve outpaced Federer's by 25 km/hour. He won 88 per cent of his first-serve points; Federer won just 62 per cent of his own.
And the winners/unforced errors numbers were off the charts for the Canadian: 37 winners (including 15 aces), just 15 unforced.
Federer had 28 errors and 25 unforced – statistics more evocative of a clay-court match than one on grass, where things happen much more quickly.
Auger-Aliassime won 92 points in all; Federer just 68.
No wonder the 20-time Grand Slam winner was asking himself the hard questions after the match.
He came face to face, in a sense, with his own mortality against a player who was born on his birthday, Aug. 8, 19 years later.
The day Auger-Aliassime was born in Montreal, Federer celebrated his 19th birthday already in the top 40 in the ATP Tour rankings. He was probably commuting between the Canadian Open in Toronto and the next week's Tour event in Cincinnati as Auger-Aliassime's mom Marie Auger first realized the moment was nigh.
It's completely crazy, when you think about it.
But on Wednesday, Federer came up against the full-grown version of that baby. And came out second.