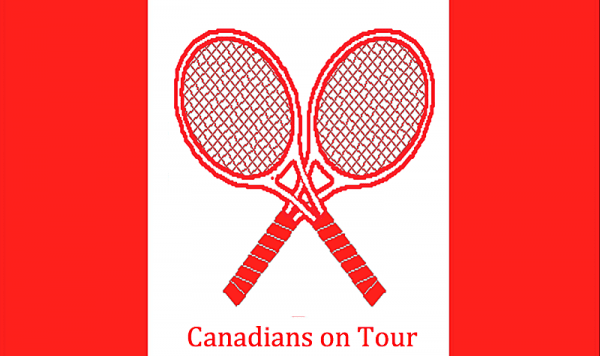 –
The Big "W" is finally here, with three men in the singles draw (no Raonic), and two in the women's singles draw.
Add to that some doubles.
And, around the planet that isn't the AELTC, the rest of the foot soldiers continue apace.
In Weston, Fla., after persistent rain all week, Liam Draxl got to the final, which was suspended on Sunday, suspended on Monday after two sets – and ultimately abandoned.
Both players will get finalist's points and prize money.
Wimbledon


London, England (Grand Slam)

Men's singles
[10] Denis Shapovalov
1st rd: def [PR] Philipp Kohlschreiber (GER) 63 46 63 57 64
2nd rd: def. Pablo Andujar (ESP) WALKOVER
3rd rd: def [WC] Andy Murray (GBR) 64 62 62
4th rd: vs. [8] Roberto Bautista Agut (ESP)
[16] Félix Auger-Aliassime
1st rd: def Thiago Monteiro (BRA) 63 63 63
2nd rd: def Mikael Ymer (SWE) 64 46 76 (4) 61
3rd rd: def Nick Kyrgios (AUS) 26 61 retd
4th rd: vs. [4] Alexander Zverev (GER)
Vasek Pospisil
1st rd: def Roberto Carballes Baena (ESP) 63 63 63
2nd rd: lost to Frances Tiafoe (USA) 64 64 64
Women's singles
[5] Bianca Andreescu
1st rd: vs Alizé Cornet (FRA) 62 61
Leylah Fernandez
1st rd: lost to Jelena Ostapenko (LAT) 61 62
Men's doubles
Vasek Pospisil / Nicholas Monroe (USA)
1st rd: lost to [7] Jamie Murray (GBR) / Bruno Soares (BRA) 61 67 (5) 61
Women's doubles
[9] Sharon Fichman / Giuliana Olmos (MEX)
1st rd: def Vivian Heisen (GER) / Kveta Peschke (GER) 61 62
2nd rd: def Marta Kostyuk (UKR) / Jelena Ostapenko (LAT) WALKOVER
3rd rd: vs. Aleksandra Krunic / Nina Stojanovic (SRB)
Leylah Fernandez / Anastasia Potapova (RUS)
1st rd: lost to Nadiia Kichenok (UKR) / Raluca Olaru (ROU) 26 63 86
Gabriela Dabrowski / Caroline Garcia (FRA)
1st rd: lost to [5] Shuko Aoyama / Ena Shibahara (JPN) 64 62
Mixed doubles
[2] Gabriela Dabrowski / Mate Pavic (CRO)
1st rd: Bye
2nd rd: def Matthew Ebden / Samantha Stosur (AUS) 75 76 (8)
3rd rd: vs. [13] Sander Gille (BEL) / Hayley Carter (USA)
Girls singles
[Q] Annabelle Xu
1st rd: vs Barbora Palicova (CZE)
[Q] Kayla Cross
1st rd: vs [8] Linda Fruhvirtova (CZE)
Girls' singles qualifying
[3] Annabelle Xu
1st rd: def [WC] Issey Purser (GBR) 60 63
Final rd: def. [12] Anastasiia Gureva (RUS) 75 63
[13] Kayla Cross
1st rd: def Kristina Paskauskas (GBR) 62 62
Final rd: def. Melisa Urcan (TUR) 75 63
sXXXssss
Porto Open




Porto, Portugal (ATP Tour Challenger)
Singles
Steven Diez
1st rd: def Maxime Janvier (FRA) 75 26 76 (5)
2nd rd: def. [2] Prajnesh Gunneswaran (IND) 63 16 64
QF: lost to Quentin Halys (FRA) 63 60
[ALT] Peter Polansky
1st rd: def [4] Alejandro Tabilo (CHI) 16 61 62
2nd rd: lost to [WC] Goncalo Oliveira (POR) 76 (3) 64
[4] Alejandro Tabilo (CHI)
1st rd: lost to [ALT] Peter Polansky (CAN) 16 61 62
Doubles
Peter Polansky / Alejandro Tabilo (CHI)
1st rd: lost to Nuno Borges / Francisco Cabral (POR) WALKOVER
sXXXssss
Midtown Weston Men's 15K
Weston, Fla. (ITF $15K men's event)
Singles
Benjamin Sigouin
1st rd: lost to Christian Langmo (USA) 46 63 60
[Q] Liam Draxl
1st rd: def [4] Thomaz Bellucci (BRA) 36 63 42 retd
2nd rd: def [Q] Jesse Witten (USA) 64 62
QF: def. [8] Strong Kirchheimer (USA) 63 57 31 retd
SF: def [6] Gonzalo Villanueva (ARG) 63 36 63
F: vs. [5] Stefan Kozlov (USA) 67 (5) 63 – Abandoned
[LL] Cleeve Harper
1st rd: lost to [3] Nicolas Mejia (COL) 63 64
Doubles
[4] Liam Draxl / Tom Jomby (FRA)
1st rd: vs Juan Alejandro Hernandez Serrano (MEX) / Benjamin Sigouin (CAN)
Juan Alejandro Hernandez Serrano (MEX) / Benjamin Sigouin (CAN)
1st rd: vs. [4] Liam Draxl / Tom Jomby (FRA)
Cleeve Harper / Noah Schachter (USA)
1st rd: vs. [1] Nicolas Mejia (COL) / Roberto Quiroz (ECU)
[2] Juan Carlos Aguilar / Boris Arias
1st rd: vs. Matt Kuhar / Mwendwa Mbithi (USA)
Singles qualifying
[10] Juan Carlos Aguilar
1st rd: lost to Murkel Alejandro Dellien Velasco (BOL) 26 64 [10-3]
[3] Liam Draxl
1st rd: def Boris Arias (BOL) 63 62
Final rd: def. [13] Noah Schachter (USA) WALKOVER
Cleeve Harper
1st rd: def [16] Lukas Greif (USA) 75 57 [10-6]
2nd rd: lost to [WC] Michael Zheng (USA) 63 63
sXXXssss
Wroclaw World Cup 2021
Wroclaw, Poland (ITF $25K joint event)
Women's singles
[10] Carol Zhao
Men's singles
Filip Peliwo
1st rd: lost to [Q] Thomas Jirousek (CZE) 61 62
Men's doubles
Filip Peliwo / Yann Wojcik (POL)
1st rd: lost to [2] Marco Bortolotti (ITA) / Cristian Rodriguez (COL) 64 64
sXXXssss
15K Monastir


Monastir, Tunisia (ITF $15K joint event)
Men's singles
Kelsey Stevenson
1st rd lost to Samuel Vincent Ruggeri (ITA) 64 62
Women's singles
Raphaelle Lacasse
1st rd def [WC] Emira Stafford (USA) 60 61
2nd rd: def [Q] Solymar Colling (USA) 64 64
QF: lost to Angelica Raggi (ITA) 64 41 retd
Men's doubles
[3] Kelsey Stevenson / Timur Kiyamov (RUS)
1st rd: def [WC] Noah Lopez (SUI) / Areg Stepanian (ARG) 64 36 [10-8]
QF: def Lee Duck-Hee / Son Ji-Hoon (KOR) 76 (7) 61
SF: def. [2] Mathias Franco Descotte (ARG) / Robert Strombachs (GER) 63 75
F: lost to [4] Hong Seong Chan / Nam Ji Sung (KOR) 62 64
Women's doubles
Raphaelle Lacasse / Angelica Raggi (ITA)
1st rd: def [1] Elizabeth Mandlik / Sofia Sewing (USA) 67 (5) 63 [10-3]
QF: vs. Emilie Lindh (GBR) / Valentina Ryser (SUI) 63 63
SF: lost to [4] Mariana Drazic (CRO) / Noa Liauw A Fong (NED) 63 76 (5)
sXXXssss
Prokulpje Open


Prokuplje, Serbia (ITF $15K event)
Singles
[Q] Mia Kupres
1st rd: def [1] Petia Arshinkova (BUL) 46 62 62
2nd rd: def. Viktoriia Dema (UKR) 61 60
QF: lost to [8] Carlota Martinez Cirez (ESP) 62 64
Singles qualifying
[12] Bianca Jolie Fernandez
1st rd vs Sara Gvozdenovic (SRB) 60 62
2nd rd: def. Nevena Kolarevic (SRB) 75 62
Final rd: lost to Mia Kupres (CAN) 26 61 [10-5]
Mia Kupres
1st rd vs Veronika Kulhava (CZE) 64 61
2nd rd: def [1] Timea Jaruskova (SVK) 63 61
Final rd: def. [12] Bianca Jolie Fernandez (CAN) 26 61 [10-5]
sXXXssss