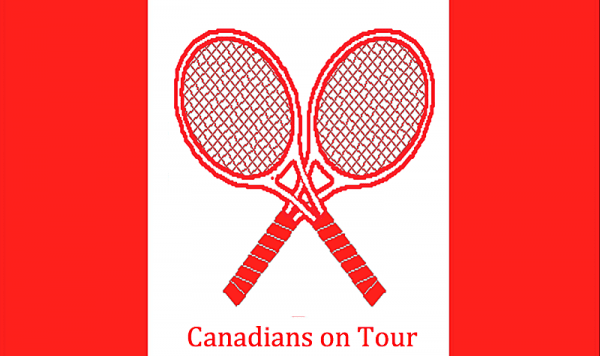 –
The original plans were for Denis Shapovalov to play Bastad, and for Félix Auger-Aliassime to play Hamburg.
Obviously, their runs deep into the second week of Wimbledon scuttled those plans.
But Vasek Pospisil stayed on grass and returns to North American to play Newport and if the singles didn't go well – he lost, then announced he had to skip the Olympics – he did reach the doubles final.
Pospisil's fellow member of the class of 1990, Rebecca Marino, won a $25,000 ITF tournament in Evansville, Indiana.
And Peter Polansky reached the singles semis and doubles final at a Challenger in Kazakhstan.
Good week overall.
Hall of Fame Open




Newport, Rhode Island (ATP 250)
Singles
[4] Vasek Pospisil
1st rd: Bye
2nd rd: lost to Peter Gojowczyk (GER) 63 63
[Q] Brayden Schnur
1st rd: lost to Jason Jung (TPE) 75 67(1) 76(4)
Doubles
Vasek Pospisil /Austin Krajicek (USA)
1st rd: def [1] Marcus Daniell (NZL) / Ben McLachlan (JPN) 75 63
QF: def Hunter Reese (USA) / Sem Verbeek (NED) 63 76 (12)
SF: def. Joao Sousa (POR) / Jordan Thompson (AUS) WALKOVER
F: lost to [WC] Jack Sock / William Blumberg (USA) 62 76 (3)
Singles qualifying
Brayden Schnur
1st rd: def [3] Lukas Lacko (SVK) 60 64
Final rd: vs. Ulises Blanch (USA) 62 76 (6)
sXXXssss
Hamburg European Open


Hamburg, Germany (ATP Tour 500)
Singles qualifying
Steven Diez
1st rd: def Oscar Otte (GER) 64 64
Final rd: lost to [2] Thiago Seyboth Wild (BRA) 63 75
sXXXssss
Ladies' Open Lausanne


Lausanne, Switzerland (WTA Tour 250)
Doubles
Erin Routliffe (NZL) / Kimberley Zimmerman (BEL)
1st rd: def [4] Katarzyna Piter (POL) / Arantxa Rus (NED) WALKOVER
QF: def Alexandra Panova (RUS) / Julia Wachaczyk (GER) 62 46 [10-6]
SF: lost to [WC] Simona Waltert / Susan Bandecchi (SUI) 76 (4) 63
sXXXssss
President's Cup


Nur-Sultan, Kazakhstan (ATP Challenger Tour)
Singles
[7] Peter Polansky
1st rd: def [WC] Grigoriy Lomakin (KAZ) 64 76 (4)
2nd rd: def. [Q] Andrey Kuznetsov (RUS) 64 63
QF: def [1] Roman Safiullin (RUS) 62 16 76 (4)
SF: lost to [4] Max Purcell (AUS) 75 36 76 (3)
Doubles
[1] Peter Polansky

/ Sergiy Stakhovsky (UKR)
1st rd: def [WC] Grigoriy Lomakin (KAZ) / Artem Dubrivnyy (RUS) 64 36 [10-6]
QF: def. Yunseong Chung (KOR) / Khumoyun Sultanov (KAZ) 62 63
SF: def Alessandro Bega (ITA) / Corentin Denolly (FRA) 36 64 [10-8]
F: lost to [4] Yu Hsiou Hsu (TPE) / Benjamin Lock (ZIM) 26 61 [10-7]
sXXXssss
The Women's Hospital Classic
Evansville, Indiana (ITF Women's $25K)
Singles
[4] Rebecca Marino
1st rd: def [Q] Victoria Hu (USA) 76 (0) 63
2nd rd: def [Q] Elvina Kalieva (USA) 76 (3) 76 (5)
QF: def [WC] Hina Inoue (USA) 62 61
SF: def. Ellie Douglas (USA) 64 61
F: def [1] Mayo Hibi (JPN) 63 36 60
[5] Carol Zhao
1st rd: def Sophie Chang (USA) 64 64
2nd rd: lost to Emilana Arango (COL) 64 06 62
Layne Sleeth
1st rd: lost to [8] Maria Mateas (USA) 63 62
Doubles
[2] Rebecca Marino / Hsu Chieh-Yu (TPE)
1st rd: lost to Lauren Proctor / Anna Ulyashchenko (USA) 67 (1) 76 (12) [10-8]
Layne Sleeth / Tamara Barad Itzhaki (ISR)
1st rd: lost to Rasheed McAdoo / Peyton Stearns (USA) 60 63
––––––––
15K Monastir


Monastir, Tunisia (ITF $15K joint event)
Singles
[6] Kelsey Stevenson
1st rd: lost to Tomas Farjat (ARG) 46 63 40 retd
Doubles
[3] Kelsey Stevenson / Lukas Krainer (AUT)
1st rd: def [WC] Aleksandr Lobanov / Evgeny Philippov (RUS) 62 63
QF: lost to Alexandr Binda (RUS) / Lorenzo Rottoli (ITA) 61 62
––––––––––
Doboj Open 2021


Doboj, Bosnia-Herzogovina (ITF $15K)
Doubles
Marko Stakusic / Petar Jovanovic (MNE)
1st rd: lost to [3] Felix Gill (GBR) / Oleksandr Ovcharenko (UKR) 61 62
Singles qualifying
Marko Stakusic
1st rd: def Jovan Sinadinovic (BIH) 61 62
2nd rd: def. Marko Maksimovic (BIH) 64 61
Final rd: lost to Vladan Tadic (BIH) 63 64
––––––––––
Circuito Internacional de Ténis de Idanha-A-Nova 1
Idanha-A-Nova, Portugal (ITF $25K)
Singles qualifying
Michel-Alexandre Fortin
1st rd: lost to Noah Berry (USA) 61 60
––––––––––
About Post Author