–
When you're already No. 1, there isn't really anywhere to go after winning your first Wimbledon but to … still be No. 1.
But the difference is this: With Naomi Osaka opting not to play Wimbledon, what had been approximately a 500-point lead in the rankings now is 2,300 points.
And Osaka has a US Open title to defend, while Barty's 2019 points are only those from the fourth round.
There is a whole lot of movement this week.
For the complete WTA Tour rankings picture, click here.
ON THE UPSWING
Aryna Sabalenka (BLR): No. 3 =======> No. 2 (A career high for the Belarussian, who reached her first major semifinal).
Sofia Kenin (USA): No. 6 =======> No. 4 (Not sure how that happened, but mostly it was about other players dropping. Kenin lost in the second round in 2019, and again in the second round – to Madison Brengle – this year).
Bianca Andreescu (CAN): No. 7 =======> No. 5 (The Canadian is back to No. 5 in the world, mostly because of what Elina Svitolina didn't do. It certainly wasn't what Andreescu did – she lost in the first round of singles to Alizé Cornet. Her summer – after the Olympics – is going to be a fascinating watch as she must defend her 2019 titles in Canada and at the US Open).
Karolina Pliskova (CZE): No. 13 =======> No. 7 (Pliskova, a finalist at Wimbledon, is back in the top 10 after a great fortnight in which she fell just short).
Garbiñe Muguruza (ESP): No. 12 =======> No. 10 (The two-time Grand Slam champion is back in the top 10).
Barbora Krejcikova (CZE): No. 17 =======> No. 13 (The Roland Garros champion continues her move up, after reaching the fourth round at Wimbledon. She's at a new career high – again).
Angelique Kerber (GER): No. 28 =======> No. 22 (The 33-year-old found a second wind in her career with a great effort at Wimbledon).
Paula Badosa (ESP): No. 33 =======> No. 29
Jelena Ostapenko (LAT): No. 34 =======> No. 30
Daria Kasatkina (RUS): No. 35 =======> No. 31
Nadia Podoroska (ARG): No. 39 =======> No. 36 (The Argentine hits another career high).
Sorana Cirstea (ROU): No. 45 =======> No. 37 (The 31-year-old, whose career high of No. 21 came eight years ago, is having a bit of a renaissance. She began the season at No. 71)
Shelby Rogers (USA): No. 46 =======> No. 40 (Rogers's third-round effort at Wimbledon, which included an upset of Maria Sakkari, moved her to a new career best).
Viktorija Golubic (SUI): No. 66 =======> No. 48 (An 11-9 victory over Victoria Kudermetova in the first round turned into a quarter-final run at Wimbledon – and a career high).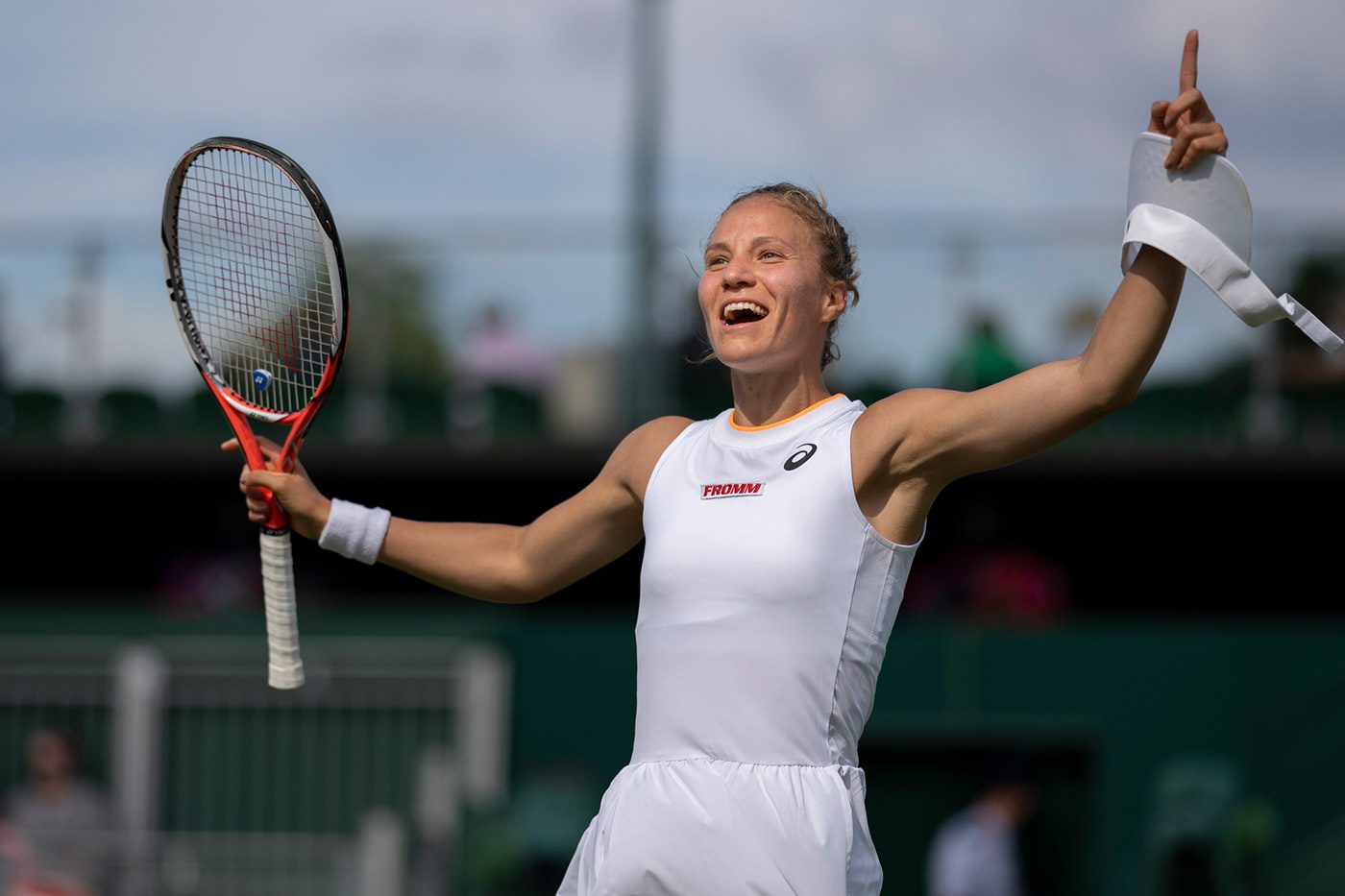 Ajla Tomljanovic (AUS): No. 75 =======> No. 51 (Her effort to get to the quarterfinals was the first 10 days of her Wimbledon; after that, she cheered on boyfriend Matteo Berrettini to the finals. Good week for that couple).
Liudmila Samsonova (RUS): No. 65 =======> No. 55 (the 22-year-old was outside the top 100 the week before Wimbledon, when she won in Berlin, and then made a run at Wimbledon).
Maria Camila Osorio Serrano (COL): No. 94 =======> No. 80 (Qualifying at Wimbledon for the first time and making the second round moves the 19-year-old up to another career high).
Aliaksandra Sasnovich (BLR): No. 100 =======> No. 86 (Had the rain not intervened when she was up 5-1 in the first set against Kerber, the whole tournament might have turned out differently for both).
Anhelina Kalinina (UKR): No. 125 =======> No. 95 (The 24-year-old lost in the final round of qualifying at Wimbledon. But it worked out well for her. She went to a $60K in Montpellier, France during the first week of the Championships – and won it. And then she went to a $100K in Contrexeville in the second week – and won that one as well. She's at a career high).
Andrea Petkovic (GER): No. 130 =======> No. 97 (Coming back from knee surgery, the 33-year-old is back in the top 100 with her own ranking, not her protected one. She made the final in Hamburg).
Nuriza Parrizas Diaz (ESP): No. 148 =======> No. 117 (The winner of the WTA 125K Nordea Open was outside the top 200 when she began the season. She's now at another career milestone, having a tremendous year at age 29 – you have to look that up on the ITF website).
Elena-Gabriela Ruse (ROU): No. 198 =======> No. 133 (The qualifier up and wins the Hamburg WTA tournament, and rises to a career high at age 23).
Emma Raducanu (GBR): No. 338 =======> No. 179 (The 18-year-old Brit's Wimbledon didn't end the way she wanted to. But she cut her ranking in half, and that's a game changer. Let's just hope the British tabloids, and the keener tennis media, give her room to breathe).
Quirine Lemoine (NED): No. 537 =======> No. 285 (The 29-year-old from the Netherlands must win the prize this week for biggest jump – 252 spots – after winning a $60K ITF event. She reached the final of a $15K in Jan. 2020 – and didn't play again until two weeks ago, when she didn't drop a set in winning a $15K. Then she won a 25K. And last week, she won a $60K. That's a 14-0 run since her return. All of those events were at home in the Netherlands – just underscoring the importance of having small tournaments in your own country to give you playing opportunities. Lemoine's career high of No. 137 came four years ago).
ON THE DOWNSWING
Simona Halep (ROU): No. 3 =======> No. 9 (Halep, whose calf issue cost her both Roland Garros and Wimbledon, drops six spots).
Petra Kvitova (CZE): No. 10 =======> No. 12 (Kvitova is in action on the hard courts in Prague this week).
Serena Williams (USA): No. 8 =======> No. 16 (The queen's Wimbledon lasted just six games. And as a result, she tumbles to her lowest ranking since the end of the 2018 season).
Coco Gauff (USA): No. 23 =======> No. 25
Alison Riske (USA): No. 29 =======> No. 35
Johanna Konta (GBR): No. 31 =======> No. 38 (Konta's Wimbledon never got started, as she was deemed a close contact when her coach tested positive and was out before it began).
Dayana Yastremska (UKR): No. 38 =======> NO. 44 (Yastremska, who was exonerated from her doping suspension, loses her points from Wimbledon, but made up some by making the semifinals in Hamburg in her first tournament back).
Shuai Zhang (CHN): No. 37 =======> No. 60 (A quarterfinalist at Wimbledon in 2019 after a great run that included wins over Caroline Garcia, Caroline Wozniacki and Daya Yastremska, Zhang – not far from being seeded – got a tough draw and went down to Karolina Muchova in the first round. On the plus side, she made the mixed doubles semis with John Peers. The No. 17 seeds, they lost a tight one, 7-5 in the third set, to eventual champs Krawczyk and Skupski).
Polona Hercog (SLO): No. 77 =======> No. 88
Barbora Strycova (CZE): No. 67 =======> No. 168 (The 35-year-old Czech, who is expecting her first child, is still on the charts but falling).
Carla Suárez Navarro (ESP): No. 138 =======> No. 204 (Suárez Navarro is headed to the Olympics. And as she wraps up her career after coming back from Hodgkin's, the ranking is pretty irrelevant).
Monica Puig (PUR): No. 216 =======> No. 265 (Puig is recovering from shoulder surgery and elbow issues, and won't be back in 2021 – if ever. Those are tough ones to overcome. The toughest part right now is that the 2016 Rio Olympic gold medallist cannot be in Tokyo).
The Canadians
Doubles rankings

Road to Shenzhen (or … somewhere?)