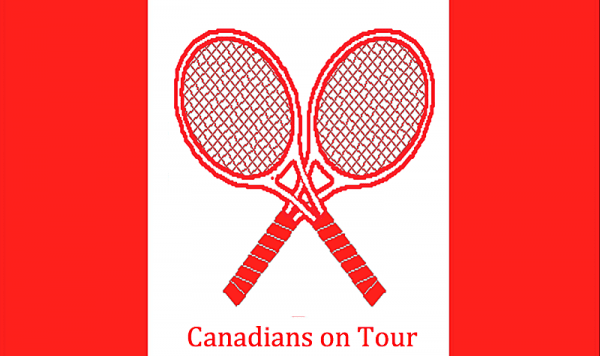 –
It's Olympics time, as the event begins on Friday with a reduced crop of Canadians.
Félix Auger-Aliassime, Leylah Fernandez, Gabriela Dabrowski and Sharon Fichman were there, but exited fairly quickly.
Denis Shapovalov, Bianca Andreescu, Milos Raonic and Vasek Pospisil took a pass.
Meanwhile, Caledon, Ont.'s Erin Routliffe, who now represents New Zealand (out of necessity, more than anything), won her first career WTA Tour doubles title in Palermo.
(Here is next week's lineup)
Olympic Tennis Event




Tokyo, Japan
Men's singles
Félix Auger-Aliassime
1st rd: lost to [ALT] Max Purcell (AUS) 64 76 (2)
Women's singles
Leylah Annie Fernandez
1st rd: def Dayana Yastremska (KAZ) 63 36 60
2nd rd: lost to [8] Barbora Krejcikova (CZE) 62 64
Women's doubles
[7] Gabriela Dabrowski / Sharon Fichman
1st rd: lost to Luisa Stefani / Laura Pigossi (BRA) 76 (3) 64
sXXXssss
Swiss Open


Gstaad, Switzerland (ATP Tour 250)
Singles
[1] Denis Shapovalov
1st rd: Bye
2nd rd: lost to [Q] Vit Kopriva (CZE) 26 63 62
Singles qualifying
[4] Steven Diez
1st rd: def [WC] Damien Wenger (SUI) 62 64
Final rd: lost to Zizou Bergs (BEL) 76 (5) 64
sXXXssss
Palermo Ladies Open


Palermo, Italy (WTA Tour 250)
Doubles
[4] Erin Routliffe (NZL)
/ Kimberley Zimmerman (BEL)
1st rd: def Marina Bassols Ribera (ESP) / Despina Papamichail (GER) 64 63
QF: def. Elena-Gabriela Ruse (ROU) / Olga Danilovic (SRB) 57 64 [10-5]
SF: def Alexandra Panova (RUS) / Julia Wachaczyk (GER) 62 64
F: def. Natela Dzamamidze / Kamilla Rakhimova (RUS) 76 (5) 46 [10-4]
sXXXssss
President's Cup 2


Nur-Sultan, Kazakhstan (ATP Challenger Tour)
Singles
[5] Peter Polansky
1st rd: def [Q] Artem Dubrivnyy (RUS) 75 76 (5)
2nd rd: def. Malek Jaziri (TUN) 36 75 76 (4)
QF: lost toAndrey Kuznetsov (RUS) 62 36 62
Doubles
[1] Peter Polansky / Sergiy Stakhovsky (UKR)
1st rd: Bye
QF: def. [WC] Timur Khabibulin / Beibit Zhukayev (KAZ) 64 62
SF: vs. Oleksii Krutykh (UKR) / Grigoriy Lomakin (KAZ) 63 67 (7) [10-7]
sXXXssss
Atlantic Tire Championship


Cary, NC (ATP Challenger Tour)
Singles
Brayden Schnur
1st rd: def [4] Bjorn Fratangelo (USA) 76 (5) 36 63
2nd rd: lost to [WC] Govind Nanda (USA) 36 75 75
[Q] Alexis Galarneau
1st rd: def [PR] James Ward (GBR) 76 (1) 60
2nd rd: lost to [8] Ramkumar Ramanathan (IND) 76 (4) 46 64
Doubles
[3] Brayden Schnur / Mitchell Kruger (USA)
1st rd: Bye
QF: lost to Lukas Lacko (SVK) / Ramkumar Ramanathan (IND) WALKOVER
Singles qualifying
Benjamin Sigouin
1st rd: lost to [3] Genaro Alberto Olivieri (ARG) 64 61
Liam Draxl
1st rd: lost to [8] Ryan Harrison (USA) 63 67 (3) 76 (3)
[4/ALT] Alexis Galarneau
1st rd: def Connor Farren (USA) 67 (3) 63 61
Final rd: def. [5] Aidan McHugh (GBR) 64 62
––––
Sudstroum Open


Luxembourg (ITF $15K Futures)
Singles
[2] Filip Peliwo
1st rd: lost to Patrick Kypson (USA) 57 63 62
Doubles
[2] Filip Peliwo / Nicholas David Ionel (ROU)
1st rd: Bye
QF: def Marcel Hornung (GER) / Ashot Mkrtchyan (ARM) 62 60
SF: lost to [3] Matthew Romios (AUS) / Mick Veldheer (NED) 62 63
–––––––––
Edwardsville Futures
Edwardsville, IL (ITF $15K Futures)
Doubles
Nicaise Muamba / Jordan Parker (USA)
1st rd: lost to [1] Igor Marcondes (BRA) / Evan Zhu (USA) 64 64
Singles qualifying
[11] Nicaise Muamba
1st rd: lost to Preston Brown (USA) 63 63
––––––––
15K Monastir


Monastir, Tunisia (ITF $15K Futures)
Singles qualifying
Victor Krustev
1st rd: lost to [14] Austin Ansari (USA) 46 12 retd
––––––––––
V Torneo Internacional de Tennis Femenino "Ciudad de Bon Benito"


Don Benito, Spain (ITF $15K Futures)
Singles
Bianca Jolie Fernandez
1st rd: def [6] Sofia Milatova (SRB) 61 20 retd
2nd rd: lost to Nahia Berecoechea (FRA) 64 64
Doubles
Bianca Jolie Fernandez / Nahia Berecoechea (FRA)
1st rd: def Maria Benito / Lidia Moreno Arias (ESP) 62 63
QF lost to [1] Lucie Cortez Llorca / Olga Parres Azcoitia (ESP) 62 61
––––––
Amarante Ladies Open


Amarante, Portugal (ITF $15K)
Doubles
Rita Collyer / Maria Martinez Vaquero (ESP)
1st rd: def Maria Aldea Wesselly (ROU) / Naroa Aranzabal (ESP) 60 75
QF: def [2] Elizabet Hamaliy (UKR) / Almudena Sanz-Llaneza Fernandez (ESP) 62 75
SF: lost to [3] Océane Babel / Lucie Nguyen Tan (FRA) 67 (2) 62 [10-6]
Singles qualifying
Rita Collyer
1st rd: Bye
2nd rd: def [9] Mariana Galvao Borges (BRA) 60 61
Final rd: lost to Lisa Zaar (DEN) 60 61
––––––––––
Circuito Internacional de Ténis de Idanha-A-Nova II
Idanha-A-Nova, Portugal (ITF $25K)
Singles qualifying
Michel-Alexandre Fortin
1st rd: vs [1] Diego Fernandez Flores (CHI) 61 60
––––––––––