–
This is what we like to call one of the "opportunity weeks" on the ATP Tour calendar.
Even in non-Olympic years, most of the top players take a break after Wimbledon. Also – even if they didn't – they don't want to get back on clay again, only to have to switch again to hard courts a few weeks later.
And unlike the rank and file, they have that luxury.
So it's an opportunity for the mid-range players to get some chunks of points if they make a good run in Hamburg or Umag or Bastad or Gstaad.
This year, even some of the players who might normally fall into that category were headed straight to Tokyo for the Olympics. So their hearts and minds, in some cases, were in two places.
No. 13 Pablo Carreño Busta, the best player not named Tsitsipas to take part in the "second" clay-court season, was the biggest beneficiary.
He won Hamburg, a 500-level event, and moved up two spots.
For the complete, updated ATP Tour rankings picture, click here.
ON THE UPSWING
Pablo Carreno Busta (ESP): No. 13 =========> No. 11 (The 29-year-old Spaniard won his first 500-level tournament and moves up two).
Casper Ruud (NOR): No. 16 =========> No. 14 (The 22-year-old from Norway won in (relatively) nearby Bastad, which is closer to Denmark than it is most of the rest of Sweden. It's his second title of the season, after Geneva in May, and returns him to his career high).
Cameron Norrie (GBR): No. 32 =========> No. 30 (Norrie, who is passing up Tokyo, moves up two spots to a career despite not even having played last week. That's how well his year is going).
Filip Krajinovic (SRB): No. 44 =========> No. 34 (The Serb leaps 10 spots after making the final in Hamburg).
Laslo Djere (SRB): No. 57 =========> No. 52 (A Hamburg semifinalist)
Federico Coria (ARG): No. 77 =========> No. 62 (A finalist in Bastad – his first career ATP Tour-level final, the Argentine moves to a career high. Along the way he posted fine wins over Cristian Garin and Marco Cecchinato).
Jordan Thompson (AUS): No. 71 =========> No. 63 (the mustachioed Aussie makes the semis in Newport and gets his won-loss record for 2021 over .500).
Kevin Anderson (RSA): No. 113 =========> No. 74 (The tall South African hadn't won a tournament in … awhile. But he got back on that track with a victory on the grass at Newport Sunday, over young American Jenson Brooksby in the final).
Arthur Rinderknech (FRA): No. 105 =========> No. 100 (As he turns 26 this week, the Frenchman breaks into the top 100 for the first time after going from the qualies to the quarters in Bastad).
Tallon Griekspoor (NED): No. 115 =========> No. 105 (Griekspoor has tried to qualify for a lot of Grand Slams the last few years – 11 – and succeeded just twice. He's getting close to where he won't have to worry about that any more, after winning a Challenger at home in Amersfoort against another Dutchman who's doing well this year, Botic Van de Zandschulp.)
Jenson Brooksby (USA): No. 152 =========> No. 126 (Another new career high for the 20-year-old, who is having a quick and surprising rise and showed off grass skills in reaching the Newport final).
Zdenek Kolar (CZE): No. 222 =========> No. 179 (Kolar won the Challenger in Romania last week, bumping him up to a new career best).
Max Purcell (AUS): No. 234 =========> No. 190 (Already an Olympian in doubles and currently one off his career high at No. 39, Purcell could find himself next in to play singles in Tokyo with the next withdrawal. He's at another career high at age 23, after winning the Challenger in Kazakhstan).
Ivo Karlovic (CRO): No. 210 =========> No. 200 (Winning a round in Newport got the 42-year-old back into the top 200. In Los Cabos this week on a wild card, he says he's going to hang 'em up at the US Open).
Jack Sock (USA): No. 231 =========> No. 207 (Sock is back – in the winner's circle in doubles with William Blumberg in Newport this week, and on the way back in singles as well).
Jay Clarke (GBR): No. 243 =========> No. 214 (The Brit reaches the Kazakhstan final)
Peter Polansky (CAN): No. 254 =========> No. 241 (It's been a minute since the 33-year-old Canadian's ranking actually went UP. But a semifinal in singles and a final doubles at a Challenger in Kazakhstan is sure to pick up his spirits).
ON THE DOWNSWING
Roberto Bautista Agut (ESP): No. 14 =========> No. 16
John Isner (USA): No. 34 =========> No. 39
Nikoloz Basilashvili (GEO): No. 29 =========> No. 42 (The Georgian just squeezes into the Cincinnati main draw after this drop. But he has time to do some things in an effort to get seeded at the US Open). The winner of Hamburg in 2019, those points finally fall off; he lost in the quarterfinals last week after a bye and a walkover).
Jeremy Chardy (FRA): No. 60 =========> No. 68 (The Frenchman drops, but the best revenge is that he's in Tokyo).
Salvatore Caruso (ITA): No. 96 =========> No. 113
Juan Ignacio Londero (ARG): No. 121 =========> No. 140 (The Argentine drops his points from making the final in Bastad in 2019).
Martin Klizan (SVK): No. 203 =========> No. 232 (At 32, the Slovakian lefty has called it a day. But his name is still on the computer, so it's a slow slide).
Mischa Zverev (GER): No. 285 =========> No. 304 (He's had a fair few wild cards as the "brother of Sascha". But the ranking is outside the top 300 for the first time since Aug. 2015. He worked his way all the way to the top 25 that time. At 33, can he do it again? Hard to fathom. But never count out a tennis player).
Rudolf Molleker (GER): No. 314 =========> No. 374 (At 17, Molleker was a top 10 junior who had big success on clay. Especially at home in Germany… At 20, he's finding it as hard as many other young players of whom much is expected. He received wild cards into his last four tournaments – all in Germany, with two ATPs on grass and two Challengers on clay. And he lost in the first round all four times).
Canadian Rankings
The Road to Turin

The Road to Milan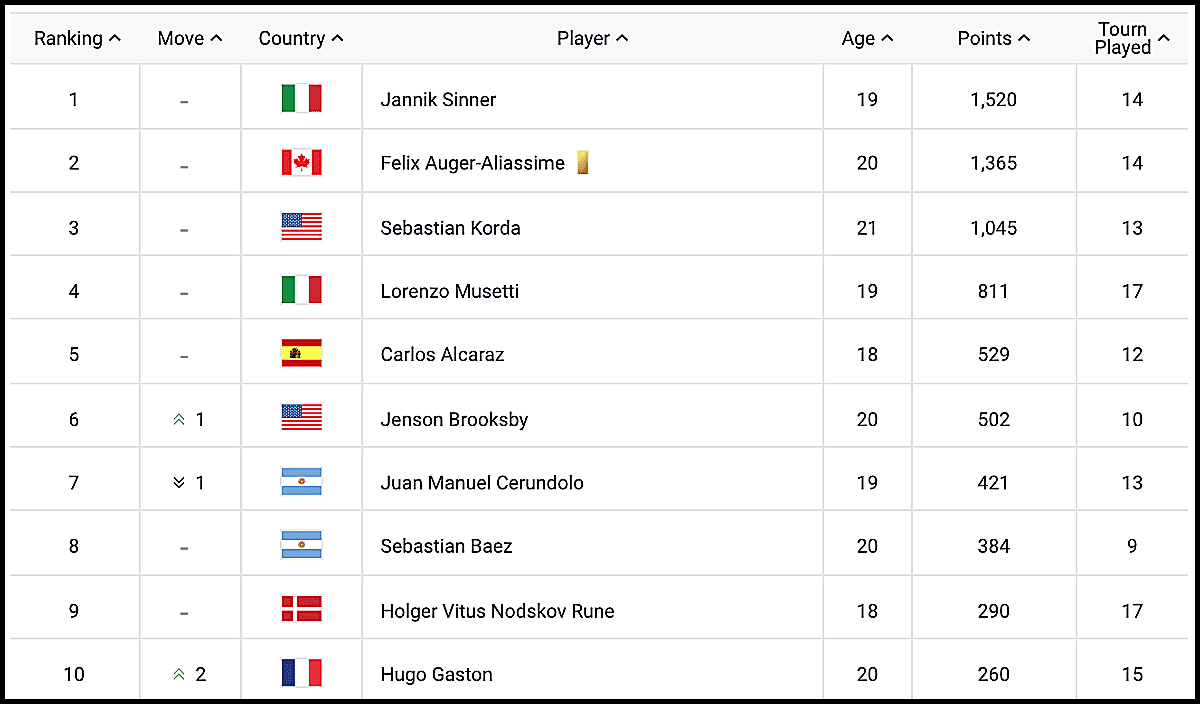 About Post Author