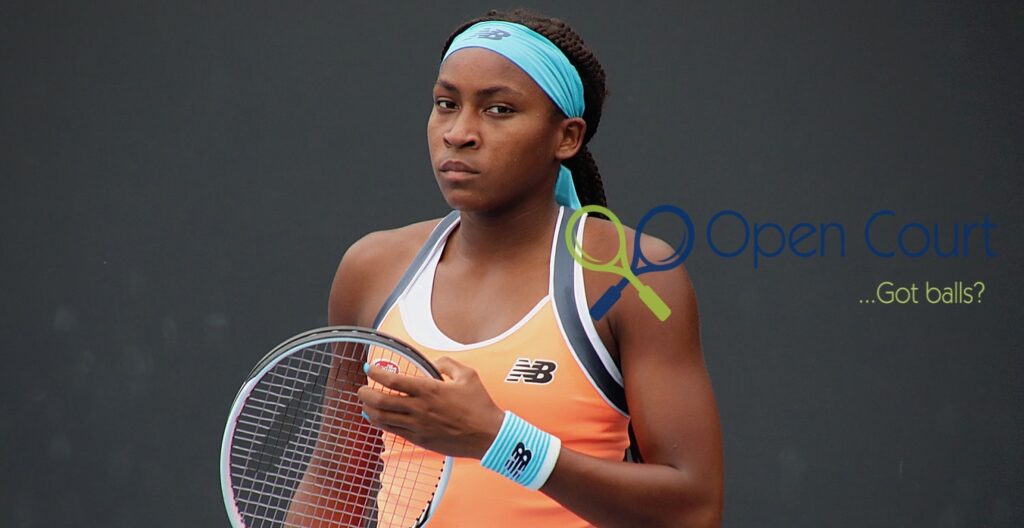 –
It is too soon to draw any definitive conclusions.
But all of a sudden this week, there has been a rush of announcements about players testing positive for the coronavirus.
And, assuming a standard incubation period, it appears that at least some of them must have been contracted during Wimbledon.
If not inside the "minimized risk environment", then upon exiting the bubble and getting out into a part of the world where restrictions are being lifted, despite a resurgence of coronavirus cases.
Worse, the ability to contact trace players who have all travelled off to parts far and wide after being eliminated from the tournament would seem an impossible task.
Gauff the latest to miss the Olympics
On Sunday evening, London/Europe time, came big news from rising young American Coco Gauff.
Gauff announced on social media that she had tested positive for COVID-19.
And, as a result, she will miss the Olympics.
It's unclear whether Gauff's positive test came out of the two that are required of athletes headed to Tokyo. Or, worst-case for her, that she tested positive upon arrival.
Per her Instagram, as of July 8, she was headed home to Florida after being eliminated from the women's doubles at Wimbledon the day before.
But Gauff is just one of many positives that have come to light.
Aussie de Minaur also out
Earlier this week, top Aussie Alex de Minaur announced that he, too, will miss the Olympics because of a positive test.
De Minaur, whose mum told the Melbourne Herald Sun that he had had one shot of the Pfizer vaccine (but was not fully vaccinated), was in Spain.
He was preparing to head to Tokyo.
De Minaur dubs partner Reid positive in Newport
De Minaur's Wimbledon doubles partner Matt Reid tested positive upon arrival in Newport for the grass-court event there.
The veteran Aussie turned 31 Saturday, in isolation.
Dan Evans also out of Tokyo
On Wednesday, Great Britain's Dan Evans announced that he, too, would have to miss the Olympics because of a positive test.
And former Brit Aljaz Bedene, now back representing his native Slovenia, also tested positive upon arrival from Wimbledon to the clay-court tournament in Hamburg that took place this past week.
Bedene reportedly is on his way to Umag, Croatia for this week's tournament, though. And he is in the draw.
Add to that, Brit Johanna Konta had to be withdrawn from Wimbledon as a close contact when her coach tested positive.
And then, on Tuesday, she announced that she had subsequently also contracted the virus. And as a result of missing 2 1/2 weeks of training would also have to take a pass on Tokyo.
July 13, 2021
Wimbledon connection? Seems so
Konta's isolation because of her close contact status – only to come down with the coronavirus herself – points out the importance of that type of vicarious precaution.
It's hard from here to know where Konta's coach may have contracted it; the two were in Nottingham the week of June 6-13, where Konta went all the way to the title.
But logic dictates that many of the others may well have caught it in the "protected environment" set up for the players at Wimbledon.
We've also heard that the coach of a top-60 male player also contracted the virus during Wimbledon. But until/unless we're able to confirm that, we won't name him.
As well, a longtime tennis photographer also contracted the virus. And he, as well, has to miss the Olympics.
None of this is good.
For one thing, everyone who may have come into contact with those players have all flown off to parts unknown. They've been in airports. They've been out and about with the loosened restrictions. They may have seen their families and friends.
This was the issue the entire time. Different rules for different ppl. Walk to the match court THRU a sea of thousands of people wearing no masks. Or go grab towel in a corner on court 4 with fans in your face. I'm all for rules. But fair ones. Just doesn't make sense sometimes https://t.co/JLTsKX76QZ

— marc lucero (@marclucero) July 10, 2021
And with the large crowds at Wimbledon nudging right to the sides of the courts and the very front rows, there was plenty of proximity to many others (even if they were outside).
Not to mention, the cases mentioned above are only the ones that have come to public light.
Recent numbers from the WTA indicate that somewhere between 29 and 31 per cent of their playing group are fully vaccinated.
You'd think it would be similar on the ATP side.
That is also … not good.
There were 51,870 new COVID cases in the U.K. on Friday, the biggest single-day total since January.
So many of them are amongst younger, unvaccinated people.
And the country is planning to lift all restrictions on Monday.
Let's hope this is the end of it on the tennis side, and that everyone will be just fine.
About Post Author