–
It seems Barbora Krejcikova can do it all.
French Open champion, Manic Monday participant at Wimbledon (losing to the eventual champion) and last week, the winner of a hard-court tournament at home in the Czech Republic.
And next – off to Tokyo on Monday to experience her first Olympics.
It's pretty good to be 'Bora right now.
ON THE UPSWING
Garbiñe Muguruza (ESP): No. 10 =======> No. 9 (The Spaniard slips ahead of Simona Halep).
Barbora Krejcikova (CZE): No. 13 =======> No. 11 (Another title, and another career high for the 25-year-old, who is just TWO points behind Halep for a spot in the top 10).
Yulia Putintseva (KAZ): No. 42 =======> No. 35 (The 26-year-old dynamo wins in Budapest last week, is playing again this week – and then plans to head to the Olympics).
Tamara Zidansek (SLO): No. 50 =======> No. 37 (The 23-year-old Roland Garros semifinalist climbs to yet another career high with her title in Lausanne. It's the first of her career. Less than four months ago, she was at No. 97).
Danielle Collins (USA): No. 49 =======> No. 44 (The American and No. 2 seed retired in her semifinal match in Budapest, but still climbs five spots).
Tereza Martincova (CZE): No. 78 =======> No. 67 (Countrywoman Krejcikova was too good in the Prague final. But the 26-year-old reaches her first Tour-level final – in her hometown, no less – and a new career high.
Anhelina Kalinina (UKR): No. 95 =======> No. 80 (At 24, the Ukrainian reaches the Budapest final and climbs to a new career best. Hopefully they can put a face to her name on the WTA website. Call us!)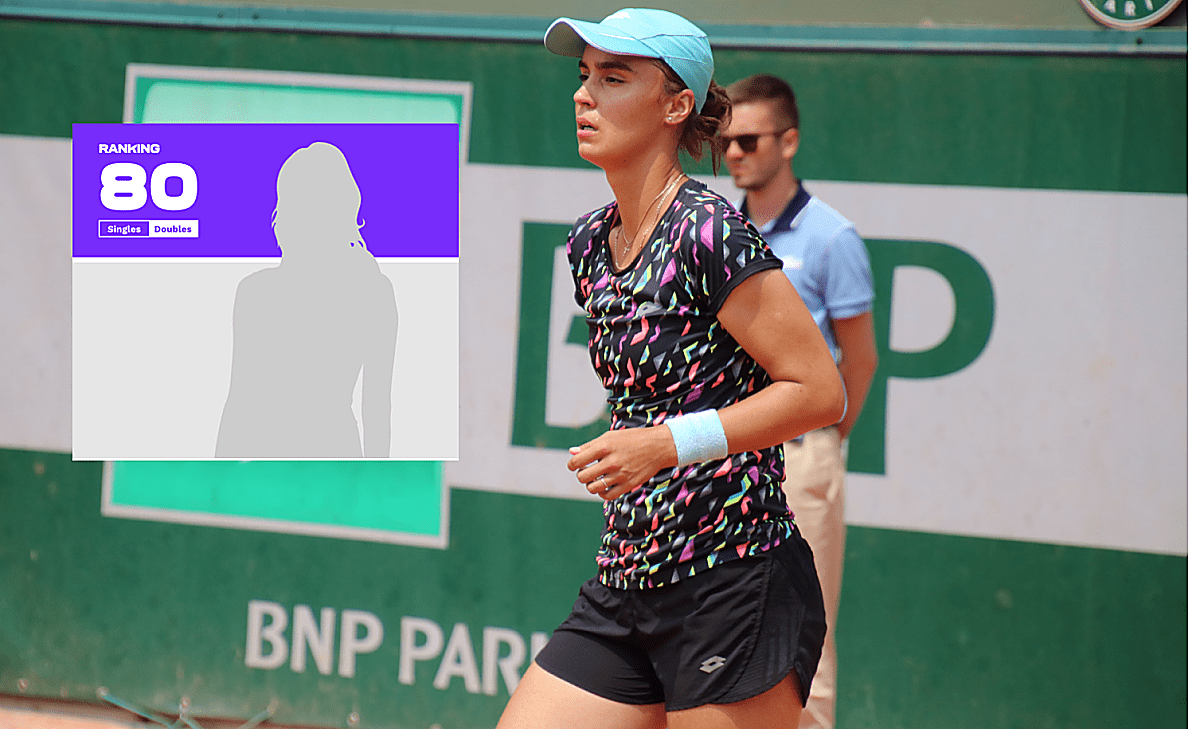 Clara Burel (FRA): No. 125 =======> No. 98 (As did her compatriot on the men's side, Arthur Rinderknech, the 20-year-old jumps into the top 100 for the first time with her impressive run to the Lausanne final. She beat higher-ranked compatriots Fiona Ferro and Caroline Garcia on the way to her new career high).
Greet Minnen (BEL): No. 122 =======> No. 109 (The 23-year-old climbs 13 spots with her semifinal in Prague. She's just six off the career high she reached back in March 2020 – just before tennis went dark).
Xinyu Wang (CHN): No. 147 =======> No. 131 (In the battle of the young Wangs, Xinyu moves ahead of Xiyu (at No. 138) this week – perhaps for the first time).
Dalma Galfi (HUN): No. 176 =======> No. 151 (If they could play the tour in Hungary all year, Galfi and her homegirls would probably have much better rankings as a bunch of them did well in Budapest this week. Galfi's career high is No. 136, reached four years ago).
Maryna Zanevska (BEL): No. 193 =======> No. 165
Mariam Bolkvadze (GEO): No. 195 =======> No. 173 (Bolkvadze won the $60K in Kazakhstan last week)
Lucia Bronzetti (ITA): No. 241 =======> No. 190 (The 22-year-old from Italy jumps into the top 200 for the first time, after winning a qualifying match and then getting to the quarters in Lausanne).
Ellen Perez (AUS): No. 213 =======> No. 199 (The Aussie, who is headed to Tokyo to play Olympic doubles, gets back into the top 200 with a finals effort at an ITF in Portugal).
Rebecca Masarova (ESP): No. 306 =======> No. 232 (The 21-year-old, who defeated a very young Amanda Anisimova in the 2016 Roland Garros junior final and changed her nationality to Spain from Switzerland, won an ITF in Spain last week and is 35-7 on the season at that level).
Lulu Sun (SUI): No. 524 =======> No. 377 (The 20-year-old from Switzerland wins a $60K ITF in Portugal and leaps 147 spots in the rankings).
ON THE DOWNSWING
Simona Halep (ROU): No. 9 =======> No. 10 (Halep drops 215 points from a week ago, and one spot in the rankings. It's as low as she's been since … Feb. 2014. That's a remarkable streak of consistency).
Fiona Ferro (FRA): No. 52 =======> No. 64 (Ferro is Tokyo found. But she drops because she defended her title in Lausanne from 2019 with a quarterfinal effort. She's also the defending champion in Palermo, which was played in early August last year as tennis returned, but next week in 2021. She remains the top Frenchwoman though).
Alizé Cornet (FRA): No. 59 =======> No. 66 (Cornet lost in the final of Lausanne in 2019 to her friend Ferro – with whom she will play doubles at the Olympics. She didn't play this year).
Patricia Maria Tig (ROU): No. 65 =======> No. 74
Irina-Camelia Begu (ROU): No. 71 =======> No. 81
Kristyna Pliskova (CZE): No. 101 =======> No. 125 (Pliskova made the quarterfinals in Bucharest in 2019, but lost in the first round of Lausanne this year. Times are getting tough for Wimbledon finalist Karolina's lefty twin. She is looking at Slam qualifying in the near future).
Eugenie Bouchard (CAN): No. 118 =======> No. 129 (It's unlikely we'll see the Canadian former No. 5 again in 2021, after shoulder surgery some seven weeks ago. And she has her points from Istanbul and Roland Garros in the fall still to drop. At least when she does return, she'll have a workable protected ranking even if it won't get her into Grand Slam main draws).
Tamara Korpatsch (GER): No. 137 =======> No. 162
Samantha Stosur (AUS): No. 165 =======> No. 186 (She has used a protected ranking just inside the top 100. But this is the real thing).
Martina di Giuseppe (ITA): No. 212 =======> No. 296 (the 30-year-old went from the qualifying to the semis in Bucharest in 2019. This year, she qualified in Budapest but lost to Danielle Collins in the first round of the main draw. That's a tough drop).
Canadian Rankings
The Road to Shenzhen (maybe?)
About Post Author