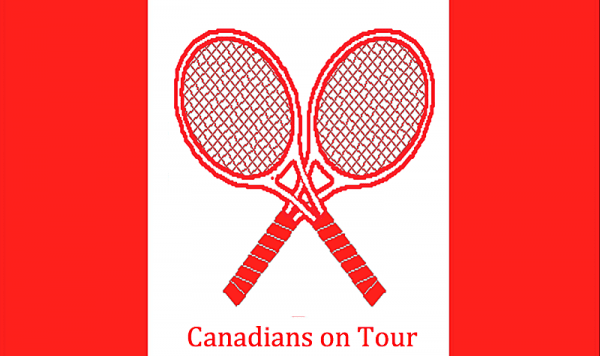 –
Good stuff from the Canadians around the lower levels, as 19-year-old Liam Draxl and partner Stefan Kozlov won the doubles at the Lexington Challenger.
Also in Lexington, Alejandro Tabilo (who now represents Chile), reached the singles final.
And the doubles final at the WTA 125K tournament in Charleston was an all-Canadian affair. Rebecca Marino and partner En-Shuo Liang eked out a close one against Kiwi/Canadian Erin Routliffe and her partner Aldila Sutjiadi.
Olympic Tennis Event


Tokyo, Japan
Men's singles
Félix Auger-Aliassime
1st rd: lost to Andy Murray (GBR) [ALT] Max Purcell (AUS) 64 76 (2)
Women's singles
Leylah Annie Fernandez
1st rd: def Dayana Yastremska (KAZ) 63 36 60
2nd rd: lost to [8] Barbora Krejcikova (CZE) 62 64
Mixed Doubles
Félix Auger-Aliassime / Gabriela Dabrowski
1st rd: lost to [2] Stefanos Tsitsipas / Maria Sakkari (GRE) 63 64
––––––––––––
Truist Atlanta Open




Atlanta, Georgia (ATP Tour 250)
Singles
[1/WC] Milos Raonic
1st rd: Bye
2nd rd: lost to [SE] Brandon Nakashima (USA) 57 63 76 (4)
————
LTP Women's Open


Charleston, S.C. (WTA 125K)
Singles
[PR] Rebecca Marino
1st rd: def Catherine Harrison (USA) 64 64
2nd rd: lost to [2] Lauren Davis (USA) 64 62
[PR] Carol Zhao
1st rd: lost to [4] Varvara Lepchenko (USA) 61 75
Doubles
[1] Erin Routliffe (NZL) / Aldila Sutjiadi (INA)

1st rd: Bye


QF: def. Na-Lae Han (KOR) / Peangtarn Plipuech (THA) 61 64
SF: def. [3] Quinn Gleason / Jamie Loeb (USA) 64 62
F: lost to Rebecca Marino (CAN) / En-Shuo Liang (TPE) 57 75 [10-7]
Rebecca Marino / En-Shuo Liang (TPE)

1st rd: Bye
QF: def. [4] Catherine Harrison / Maria Sanchez (USA) 46 75 [10-8]
SF: def. [2] Kateryna Bondarenko (UKR) / Tatjana Maria (GER) 75 75
F: def. [1] Erin Routliffe (NZL) / Aldila Sutjiadi (INA) 57 75 [10-7]
sXXXssss
Lexington Challenger


Lexington, KY (ATP Challenger Tour)
Singles
[WC] Liam Draxl
1st rd: lost to [1] Jenson Brooksby (USA) 63 63
Peter Polansky
1st rd: def [4] Prajnesh Gunneswaran (IND) 63 64
2nd rd: lost to Ramkumar Ramanathan (IND) 64 64
[6] Alejandro Tabilo (CHI)
1st rd: def [WC] Stefan Dostanic (USA) 62 60
2nd rd: def [Q] Stefan Kozlov (USA) 62 62
QF: def. Ramkumar Ramanathan (IND) 76 (4) 64
SF: def Thanasi Kokkinakis (AUS) 76 (3) 67 (3) 63
F: lost to Jason Kubler (AUS) 75 67 (2) 75
Brayden Schnur
1st rd: lost to [ALT] Sasikumar Mukind (IND) 63 64
Doubles
Peter Polansky / Brayden Schnur
1st rd: def [1] Fabien Reboul / Sadio Doumbia (FRA) 26 76 (2) [10-6]
QF: lost to [WC] Liam Draxl (CAN) / Stefan Kozlov (USA) 64 36 [10-7]
[WC] Liam Draxl / Stefan Kozlov (USA)
1st rd: def Emilio Gomez (ECU) / Alejandro Tabilo (CHI) 61 75
QF: def Peter Polansky / Brayden Schnur (CAN) 64 36 [10-7]
SF: def. Nicolas Mejia (COL) / Roberto Quiroz (ECU) 64 63
F: def [WC] Alex Rybakov / Reese Stalder (USA) 62 67 (5) [10-7]
Alexis Galarneau / Aleksandar Kovacevic (USA) (Galarneau – heat illness)
Alejandro Tabilo (CHI) / Emilio Gomez (ECU)
1st rd: lost to [WC] Liam Draxl (CAN) / Stefan Kozlov (USA) 61 75
Singles qualifying
[WC] Gabriel Diallo
1st rd: lost to [1] Darian King (BAR) 62 36 63
Alexis Galarneau
1st rd: def [3] Kaichi Uchida (JPN) 60 16 60
Final rd: lost to Genaro Alberto Olivieri (ARG) 62 67 (6) 40 retd
sXXXssss
Neitzel Family Open
Champaign, IL (ITF $25K Futures)
Singles
[Q] Joshua Peck
1st rd: def [7] Michail Pervolarakis (GRE) 63 16 76 (5)
2nd rd: def. [WC} Siphosothando Montsi (RSA) 63 67 (5) 64
QF: lost to Naoki Nakagawa (JPN) 63 61
Doubles
Justin Boulais / Cannon Kingsley (USA)
1st rd: def Alfredo Perez / Errol Smith (USA) 63 75
QF: vs. lost to Nicholas Bybel (USA) / Kiranpal Pannu (AUS) WALKOVER
Nicaise Muamba / Joshua Peck
1st rd: def Abraham Asaba (GHA) / Sekou Bangoura (USA) 62 63
QF: lost to [2] Chung Yunseong (KOR) / Rio Noguchi (JPN) 76 (4) 63
Singles qualifying
[10] Justin Boulais
1st rd: lost to Alexander Bernard (USA) 75 62
[11] Joshua Peck
1st rd: def [WC] Julian Allen Childers (USA) 61 60
Final rd: def Bruno Kuzuhara (USA) 75 75
Nicaise Muamba
1st rd: lost to [3] Kento Takeuchi (JPN) 63 64
Christian Lakoseljac
1st rd: lost to [9] Cannon Kingsley (USA) 62 62
–––––––––––
Egypt ITF World Tennis Tour


Cairo, Egypt (ITF $15K Futures)
Singles
Marina Stakusic
1st rd: def [WC] Yara Alhogbani (SA) 61 61
2nd rd: lost to [1] Sandra Samir (EGY) 46 75 60
–––––––––
Novi Sad I
Novi Sad, Serbia (ITF $15K)
Singles qualifying
[WC] Marko Stakusic
1st rd: lost to Nikolas Lahky (SVK) 63 75
[ALT] Luka Vukovic
1st rd: lost to [9] Koray Kirci (TUR) 63 64
–––––––––
Magic Hotel Tours


Monastir, Tunisia (ITF $15K)
Singles qualifying
Emiliano Jorquera
1st rd: lost to [13] Matthew Dellavedova (AUS) 60 60
Masood Eisa-Beygi (CAN)
1st rd: lost to [3] Michael Zhu (USA) 60 61
––––––––––
Internacionais de Tenis de Castelo Branco 2021
Castelo Branco, Portugal (ITF $15K)
Singles qualifying
Michel-Alexandre Fortin
1st rd: vs [5] Hillel Rousseau (HAI) 60 60
––––––––––
About Post Author