–
After accomplishing one of the most challenging things in tennis – winning Roland Garros and Wimbledon back to back – there was no doubt Novak Djokovic arrived in Tokyo running on fumes.
But despite his stated uncertainty after winning Wimbledon, there was little doubt he would miss it.
Not only is he a proud Serb, but he had an opportunity to make a rare bit of tennis history.
If Djokovic could pull off singles gold – and he was the prohibitive favorite – and then go to New York later in the summer and win the US Open, he would have the Golden Slam on his resumé forevermore.
Only Steffi Graf on the women's side has been able to do that in the history of the game.
The weather conditions and tough scheduling in Tokyo certainly sapped what was left of his energy. The mixed doubles with Nina Stojanovic took a little more. And his nerves might have kicked in a little as well at just the wrong time.
Djokovic stumbles in the semis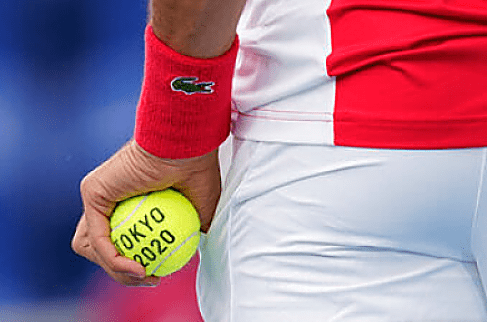 Djokovic led Alexander Zverev 6-1 and had a break in the second set in the semifinal when it all went sideways.
It was as if all the life had been sucked out of him, all of a sudden. Certainly he was feeling it physically; perhaps he hoped he could just cruise to the finish.
But Zverev went on a tear. And when he came back to earth, the German had won eight straight games and left Djokovic in the dust. The golden dream was over.
No mixed, no medal at all – again
Djokovic had little left for the bronze-medal match. It wasn't what he had come for, which likely made it even harder to get up for.
And he had even less for the mixed doubles bronze-medal match.
So Djokovic withdrew, citing a number of barking body parts and saying he had been surviving on pain meds and adrenaline. There was no adrenaline left.
So many Olympic disappointments
What a star-crossed event the Olympics have been for Djokovic, who has had his heart broken more than once.
In London in 2012, he was beaten for the bronze by Juan Martin del Potro.
In Rio in 2016, he entered the court for his first-round match against … you guessed it, del Potro .. as if he were Pelé or Ronaldo.
It was the outpouring of love and support that the Serb craves and deserves, but too often doesn't get. It doesn't happen nearly as often as it should, given all he's accomplished.
But that day in Rio, it was as though he was in a dream. There likely was nothing he wanted more in his life than to make those people happy.
So the loss to Del Potro was even that much more devastating. I've never seen him so crushed; it was one of those days when even when you're there as a neutral observer, your heart goes out to someone who wants something so much he almost tries TOO hard, and it doesn't happen.
Rough ride in the media for Djokovic
The Tokyo Olympics weren't at that level.
But it was clear that Djokovic was the big man on campus in the lead-up, with athletes from all the world pestering him for selfies and a bit of his time. That, at least, had to feel rewarding.
Unfortunately, he also ended up being the subject of a lot of trash talk. Much of it was both unfair and inaccurate.
The Serb's remarks about pressure – in which he was clearly discussing his own quest for tennis history and NOT American gymnast Simone Biles – were misinterpreted and taken out of context in irresponsible fashion.
In many cases, that criticism came from people (and media) who don't pay much attention to tennis outside the Olympics. But it also came from those who long ago made their minds up about him.
As if any human being can only be either all good or all bad.
News flash: we are all many things. Even tennis stars.
Djokovic is neither the irredeemable bad guy some make him out to be. Nor is he the icon of perfection his more ardent fans try to convince others he is.
Djokovic Olympic experience runs the gamut
Djokovic was trashed again for pulling out of the mixed doubles. But it was a move Stojanovic probably understood – at least intellectually. She, more than anyone, had a closeup view of his empty tank.
Besides, he's the world No. 1, one of the best ever – and an icon in Stojanovic's homeland.
She's the No. 92 player on the WTA Tour. It was already a bucket-list moment even to play with him, as Olympic teammates. Without him, and his ranking, she wouldn't even have been in the mixed at all. She would have been on her way home after losing in the first round of the women's singles.
Still, there would definitely have been rewards from the Serbian government for bringing home a medal. And it would have been the biggest match she may ever have in her career. So you hope that Djokovic properly took care of her.
It was not a nice thing for him to do. Clearly he felt there was no other option. But even if she had an issue with it – what was she going to do about it?
Still, she couldn't have been more publicly elegant about it.
So you just move on.
Racquet tosses a bad look – always
The Serb didn't help himself – as has so often been the case in his career – by firing a racquet into the (mostly) empty stands during the match against Zverev. He also shattered another.
There are sanctions for that, which hopefully will be properly assessed. He shouldn't do it. He knows he shouldn't do it – no one needs to point that out to him. But if that's the takeaway about Djokovic from the Olympics for some, so be it.
Ultimately, none of those public displays were likely to make Djokovic feel better. Nor did they fire him up; the fire was out. They were just a little more collateral damage as a dream turned into a bad dream inside of a week.
If there was a certain untidiness to it all, it's hard not to have at least a little sympathy – whatever one's allegiances – for a man who gave it all he had.
Will he give himself one last chance at Olympic gold in 2024 in Paris?
He'll be 37 then. At this point, he says he's ready to give it a go, to try to reverse his star-crossed history.
(Screenshots from 7 Australia and RDS Info)
About Post Author