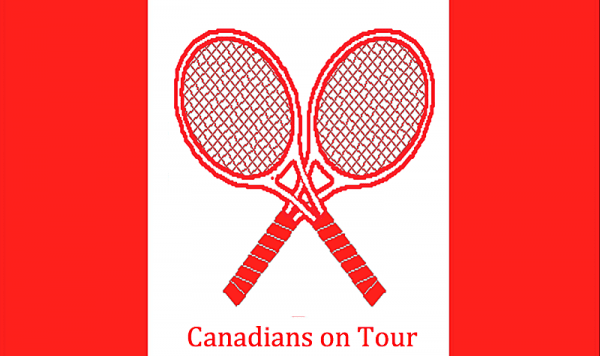 –
With the new Chicago WTA tournament taking on the WTA license that belongs to Tennis Canada and the late, lamented Quebec City tournmanent, they were able to get two Canadians ranked too low for the US Open qualifying into the main draw as wild cards.
Of course, that's not a good thing, as it means they're basically out of the 250.
That meant that Rebecca Marino is the only Canadian in the women's qualifying (and she made it through!).
And with late withdrawals, both Peter Polansky and Brayden Schnur were able to squeeze into the men's qualies.
And … Can-American Carson Branstinen is back, after struggling with injuries since before the pandemic.
Branstine's last match came almost exactly two years ago – at the $100K ITF in Vancouver. She lost in the first round to Heather Watson.
This week, she's back on the ITF Circuit, but at the opposite extreme at the $15K clay tourney in Monastir, Tunisia. Where all strong stomachs go to die.
Somehow, Branstine is still No. 791 in the WTA rankings. So she should take advantage of it. Meanwhile, she spent a year at USC and a year at UVA – and never played a match. Still a fresh(wo)man, she'll be at Texas A&M and will turn 21 on Sept. 9.
US Open


Flushing Meadows, NY (Grand Slam)
Men's singles qualifying
Peter Polansky
1st rd: lost to [7] Damir Dzumhur (BIH) 46 76 (4) 60
Brayden Schnur
1st rd: lost to Prajnesh Gunneswaran (IND) 64 76 (50
Steven Diez
1st rd: lost to Mitchell Krueger (USA) 63 61
Alejandro Tabilo (CHI)
1st rd: vs. [WC] Eliot Spizzirri (USA) 57 76 (0) 63
Singles qualifying
Rebecca Marino
1st rd: def Panna Udvardy (HUN) 63 62
2nd rd: def. [19] Ysaline Bonaventure (BEL) 62 46 64
Final rd: def. [6] Greet Minnen (BEL) 63 36 62
sXXXssss______
WTA Chicago Women's Open


Chicago, IL (WTA 250)
Singles
[WC] Françoise Abanda
1st rd: def Danka Kovinic (MNE) 64 62
2nd rd: lost to [7] Kristina Mladenovic (FRA) 63 62
[WC] Katherine Sebov
1st rd: lost to [8] Marta Kostyuk (UKR) 60 63
Doubles
Erin Routliffe (NZL) / Aldila Sutjiadi (INA)
1st rd: lost to [4] Lyudmila Kichenok (UKR) / Makoto Ninomiya (JPN) 64 36 [11-9]
sXXXssss
Talex Open 2021


Poznan, Poland (ITF $25K Futures)
Singles
[3] Filip Peliwo
1st rd: lost to Pawel Clas (POL) 75 60
sXXXssss
Magic Hotel Tours


Monastir, Tunisia (ITF $15K Futures)
Women's singles
Carston Branstine
1st rd: lost to [2] Moyuka Uchijima (JPN) 60 61
Men's Singles qualifying
Tom Dynka
1st rd: lost to [14] Chanchai Sookton-Eng (THA) 62 63
sXXXssss
Bad Waltersdorf Open 2021


Bad Waltersdorf, Austria (ITF $15K Futures)
Doubles
Joshua Peck / Eric Vanshelboim (UKR)
1st rd: def [ALT] Stefanos Sakellaridis (GRE) / Fletcher Scott (USA) 63 61
QF: vs. Marco Miceli / Lorenzo Rotoli (ITA) 75 63
SF: lost to [4] Admir Kalender (CRO) / Lukas Krainer (AUT) 26 75 [10-7]
Singles qualifying
[5] Joshua Peck
1st rd: def Stefanos Sakellaridis (GRE) 16 63 [11-9]
2nd rd: def. [WC] Janis Graski (AUT) 60 61
Final rd: lost [12] Fausto Tabacco (ITA) 60 61
sXXXssss
Tournoi International de la province de Liège


Huy, Belgium (ITF $15K Futures)
Singles qualifying
Niels Peter Van Noord
1st rd: def [WC] Idriss Haddouch (BEL) 16 64 [10-8]
2nd rd: def [11] Leonardo Catani (ITA) 64 57 [10-6]
Final rd: lost to [3] Maik Steiner (GER) 61 61
Sebastian Zapata
1st rd: lost to Lautaro Agustin Farabella (ARG) 61 61
s
––––––––––––––––––––
About Post Author