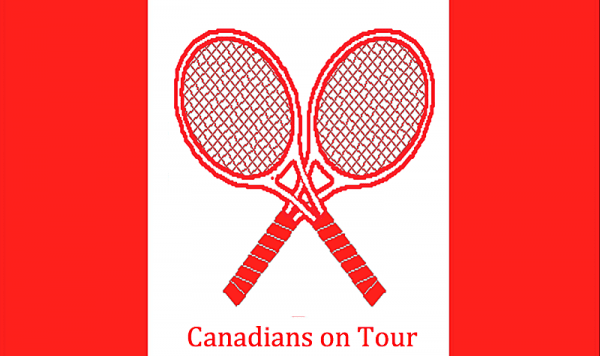 –
After a bit of a quiet week, the Tours return with a WTA 500 in Ostrava, Czech Republic.
Notably, that event stepped up a year ago when there were literally no other tournaments on the calendar.
There is also a 125K in Columbus, Ohio, where Rebecca Marino is getting back into action. As is Vasek Pospisil in Metz.
Brayden Schnur qualified in Metz, while Alexis Galarneau got in as a lucky loser in Columbus.
On the men's side, after a Davis Cup week, the ATP Tour returns in Metz, France and at a new event in Nur-Sultan, Kazakhstan.
Moselle Open


Metz, France (ATP 250)
Singles
Vasek Pospisil
1st rd: def. [WC] Grégoire Barrere (FRA) 63 64
2nd rd: lost to [WC] Andy Murray (GBR) 63 63
[Q] Brayden Schnur
1st rd: lost to [WC] Lucas Pouille (FRA) 36 64 64
Doubles
Vasek Pospisil / Nicolas Mahut (FRA)
1st rd: lost to [3] Oliver Marach / Philipp Oswald (AUT) 64 63
Singles qualifying
[ALT] Brayden Schnur
1st rd: def Roberto Marcora (ITA) 36 64 62
Final rd: def [WC] Harold Mayot (FRA) 64 61
sXXXssss______
J & T Banka Ostrava Open
Ostrava, Czech Republic (WTA 500)
Doubles
[3] Erin Routliffe (NZL)

/ Kaitlyn Christian (USA)


1st rd: vs Ekaterina Alexandrova (RUS) / Stefanie Voëgele (SUI) lALT] Rutuja Bhosale (IND) / Emily Webley-Smith (GBR) 63 64
QF: def. Vivian Heisen (GER) / Renata Voracova (CZE) 63 62
SF: def. [1] Magda Linette (POL) / Bernarda Pera (USA) WALKOVER
F: vs. [2] Sania Mirza (IND) / Zhang Shuai (CHN) 63 62
sXXXssss______
Columbus WTA 125
Columbus, OH (WTA 125)
Singles
[4] Rebecca Marino
1st rd: lost to Harriet Dart (GBR) 75 64
Doubles
[4] Rebecca Marino / En-Shuo Liang (TPE)
1st rd: Bye
QF: def. [WC] Elsa Jacquemot (FRA) / Eleana Yu (USA) 60 64
SF: lost to Zheng Saisai / Wang Xiyu (CHN) 26 62 [10-8]
sXXXssss______
Tennis Ohio Championships


Columbus, OH (ATP Challenger)
Singles
Peter Polansky
1st rd: lost to Jason Kubler (AUS) 76 (6) 64
[LL] Alexis Galarneau
1st rd: lost to [1] Tennys Sandgren (USA) 63 62
Doubles
Peter Polansky / Stefan Kozlov (USA)
1st rd: def. Gijs Brouwer (NED) / Reese Stalder (USA) 75 46 [10-7]
QF: def. JiSung Nam / MinKyu Song (KOR) 63 67 (6) [10-6]
SF: def. [1] Robert Galloway / Alex Lawson (USA) 75 36 [10-2]
F: def. [WC] James Trotter (JPN) / Andrew Lutschaunig (USA) 75 76 (5)
Alexis Galarneau / Aleksandar Kovacevic (USA)
1st rd: def. [WC] Cannon Kingsley / Jake Van Emburgh (USA) 61 63
QF: lost to [1] Robert Galloway / Alex Lawson (USA) 64 64
[WC] Justin Boulais / Robert Cash (USA)
1st rd: lost to [WC] Andrew Lutschaunig (USA) / James Trotter (JPN) WALKOVER
Singles qualifying
[2] Alexis Galarneau
1st rd: def [WC] James Trotter (JPN) 67 (4) 75 63
Final rd: lost to [6] Yunseong Chung (KOR) 64 64
[WC] Justin Boulais
1st rd: lost to [6] Yunseong Chung (KOR) 76 (5) 63
sXXXssss______
Braga Open
Braga, Portugal (ATP Tour Challenger)
Singles
[8] Steven Diez
1st rd: lost to [Q] Nikolas Sanchez Izquierdo (ESP) 21 retd
Doubles
Steven Diez / Javier Barranco Cosano (ESP)
sXXXssss
Jozi Open


Johannesburg, South Africa (ITF 25K)
Singles
[3] Filip Peliwo
1st rd: lost to Sebastian Prechtel (GER) 63 64
Kelsey Stevenson
1st rd: def [WC] Dylan Salton (RSA) 46 62 61
2nd rd: lost to [2] Benjamin Lock (ZIM) 61 64
Doubles
Filip Peliwo / Kelsey Stevenson
1st rd: def Sebastian Prechtel (GER) / Peter Goldsteiner (AUT) 64 63
QF: lost to [4] Markos Kalovelonis / Michael Pervolarakis (GRE) 36 63 [10-6]
sXXXssss
Fort Worth W25


Fort Worth TX (ITF Women's 25K)
Singles qualifying
[9] Layne Sleeth
1st rd: lost to Alexa Graham (USA) 36 61 [10-1]
Louise Kwong
1st rd: lost to [11] Anna Hertel (POL) 63 63
sXXXssss
World Tennis Tour Cancun 2021


Cancun, Mexico (ITF 15K)
Singles
Marina Stakusic
1st rd: vs Christina Rosca (USA) 46 63 62
Singles qualifying
Melissa Holmberg
1st rd: lost to [11] Sarah Pang (SGP) 60 60
sXXXssss
Legacy Bank NWA Tennis Series


Fayetteville, AK (ITF Men's 15K)
Singles
Liam Draxl
1st rd: def Alexander Brown (USA) 63 63
2nd rd: lost to [4] Toby Kodat (USA) 63 33 retd
Doubles
Liam Draxl / Noah Schachter (USA)
1st rd: lost to [2] Abraham Asaba (GBA) / Sekou Bangoura (USA) 36 63 [11-9]
[4] Juan Carlos Aguilar / Sander Jong (NED)
1st rd: lost to Alexander Reco / Nicolas Rousset (FRA) 61 36 [11-9]
Singles qualifying
[5] Juan Carlos Aguilar
1st rd: lost to Blu Baker (GBR) 64 64
sXXXssss
Internacional Masculino de Tennis Melilla Sport Capital
Melilla, Spain (ITF 15K)
Singles qualifying
Emiliano Jorquera
1st rd: lost to [5] Aaron Cohen (ISR) 64 63
sXXXssss