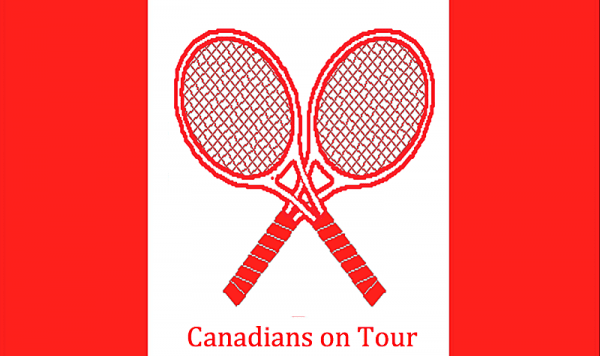 –
There are a ton of players out there across the globe representing Canada this week.
Leylah Fernandez is not playing the Chicago tournament. But Bianca Andreescu is there. And Rebecca Marino is in the qualifying.
Meanwhile, in San Diego, Félix Auger-Aliassime and Denis Shapovalov are the No. 3 and No. 4 seeds in a new 250 tournament that is likely to boast perfect weather.
Vasek Pospisil remains in Europe; he's playing the Sofia Open in Bulgaria.
And SO many more.
San Diego Open


San Diego, Calif. (ATP 250)
Singles
[3] Félix Auger-Aliassime
[4] Denis Shapovalov
1st rd: Bye
2nd rd: def Taylor Fritz (USA) 76 (7) 62
QF: lost to Cameron Norrie (GBR) 63 61
sXXXssss______
Chicago Fall Tennis Classic
Chicago, Ill. (WTA 500)
Singles
[8] Bianca Andreescu
1st rd: Bye
2nd rd: lost to Shelby Rogers (USA) 64 75
Doubles
[7] Sharon Fichman / Giuliana Olmos (MEX)
1st rd: lost to Kveta Peschke (CZE) / Andrea Petkovic (GER) 64 64
Erin Routliffe (NZL) / Kaitlyn Christian (USA)
1st rd: lost to Nadiia Kichenok (UKR) / Raluca Olaru (ROU) 64 75
Singles qualifying
[9] Rebecca Marino
1st rd: def Catherine Harrison (USA) 36 63 62
Final rd: lost to [5] Kirsten Flipkens (BEL) 64 67 (2) 64
sXXXssss______
Sofia Open


Sofia, Bulgaria (ATP 250)
Singles
Vasek Pospisil
1st rd: lost to [Q] Egor Gerasimov (BLR) 57 76 (8) 63
Singles qualifying
[WC] Alexander Donski (BUL)
1st rd: def. [8] Jurij Rodionov (AUT) 26 61 76 (4)
Final rd: lost to [3] Andreas Seppi (ITA) 63 62
sXXXssss______
16e Open d'Orléans


Orléans, France (ATP Challenger)
Singles
Alejandro Tabilo (CHI)
1st rd: def Roberto Marcora (ITA) 61 63
2nd rd: lost to [5] Jiri Vesely (CZE) 63 61
[Q] Brayden Schnur
1st rd: lost to Ricardas Berankis (LTU) 67 (0) 64 62
Doubles
Alejandro Tabilo (CHI) / Fernando Verdasco (ESP)
1st rd: lost to [3] Nathaniel Lammons (USA) / David Pel (NED) 64 64
Singles qualifying
[3] Brayden Schnur
1st rd: def [WC] Giovanni Mpetshi Perricard (FRA) 64 62
Final rd: def [7] Andrey Kuznetsov (RUS) 26 76 (5) 64
sXXXssss______
Berkeley Tennis Club Women's $60,000 Challenge
Berkeley, Calif. (ITF $60K)
Singles
Katherine Sebov
1st rd: lost to Usue Arconada (USA) 76 (7) 64
Doubles
Katherine Sebov / Risa Ushijima (JPN)
1st rd: lost to Kyoka Okamura (JPN) / Katie Volynets (USA) WALKOVER
Singles qualifying
[3] Brayden Schnur
1st rd: def [WC] Giovanni Mpetshi Perricard (FRA) 64 62
Final rd: def [7] Andrey Kuznetsov (RUS) 26 76 (5) 64
sXXXssss______
Tuks International


Pretoria, South Africa (ITF 25K)
Singles
[4] Filip Peliwo



1st rd: def Alexander Edley (RSA)

61 61
2nd rd: def. [Q] Sahar Simon (ISR) 62 62
QF: def. [8] Jeremy Beale (AUS) 75 62
SF: def [2] Michail Pervolarakis (GRE) 61 retd
F: lost to [3] Rio Noguchi (JPN) 63 75

Kelsey Stevenson
1st rd: lost to [5] Mateus Alves (BRA) 63 57 75
Doubles
[4] Filip Peliwo / Kelsey Stevenson
1st rd: def Peter Goldsteiner (AUT) / Sebastian Prechtel (GER) 76 (4) 63
QF: def. Takuto Niki / Makoto Ochi (JPN) 63 26 [12-10]
SF: lost to [1] Jeremy Beale (AUS) / Benjamin Lock (ZIM) 63 26 [13-11]
sXXXssss
Egypt ITF World Tennis Tour


Cairo, Egypt (ITF 15K)
Singles
[6] Carson Branstine
1st rd: def Alexandra Iordache (ROU) 63 63
2nd rd: def. Nino Natsvilishvili (GEO) 64 60
QF: lost to [3] Anastasia Zolotareva (RUS) 64 64
sXXXssss
World Tennis Tour Cancun 2021


Cancun, Mexico (ITF 15K)
Women's singles
Stacey Fung
1st rd: def [Q] Gabriela Rivera (GUA) 62 62
2nd rd: lost to [8] Fernando Brito (CHI) 62 61
Louise Kwong
1st rd: def [WC] Breana Stampfli (TRI) 61 67 (1) 61
2nd rd: lost to Darja Semenistaja (LAT) 61 61
Men's singles
[Q] Stefano Liokossis
1st rd: lost to Jessee Armando Flores Knowles (CRC) 64 62
Women's singles qualifying
Melissa Holmberg
1st rd: lost to Qavia Lopez (USA) 60 60
[3] Noelly Longi Nsimba
1st rd: Bye
Final rd: lost to Lexington Reed (USA) 62 64
Men's singles qualifying
Stefano Liokossis
1st rd: def Patricio Embrey (CHI) 16 60 [10-6]
2nd rd: def. [9] Julian Cundom (ARG) 61 60
Final rd: def Oscar O'Hoisin (IRL) 64 43 retd
sXXXssss
West Texas Tennis Pro Open


Lubbock, TX (ITF Men's/Womens 15K)
Singles
Layne Sleeth
1st rd: def [Q] Alicia Herrero Linana (ESP) 26 63 61
2nd rd: def. Laetitia Pulchartova (CZE) 76 (5) 61
QF: lost to [3] Mananchaya Sawangkaew (THA) 57 61 retd
Doubles
Layne Sleeth / Stefania Rogozinska Dzik (POL)
1st rd: def [1] Michaela Bayerlova / Laetitia Pulchartova (CZE) 63 76 (9)
QF: def. Kailey Evans (USA) / Cristina Elena Tiglea (ROU) 46 61 [10-4]
SF: lost to [3] Carmel Corley / Ivana Corley (USA) 63 63
sXXXssss
Magic Hotel Tours
Monastir, Tunisia (ITF 15K)
Women's singles qualifying
Nikemi Akinbiyi
1st rd: def Snehal Mane (IND) 64 57 [10-7]
Final rd: lost to [11] Carola Cavelli (ITA) 67 63 [10-4]
Men's singles qualifying
Masood Eisa-Beygi
1st rd: lost to Mattias Southcombe (GBR) 62 63
sXXXssss
About Post Author