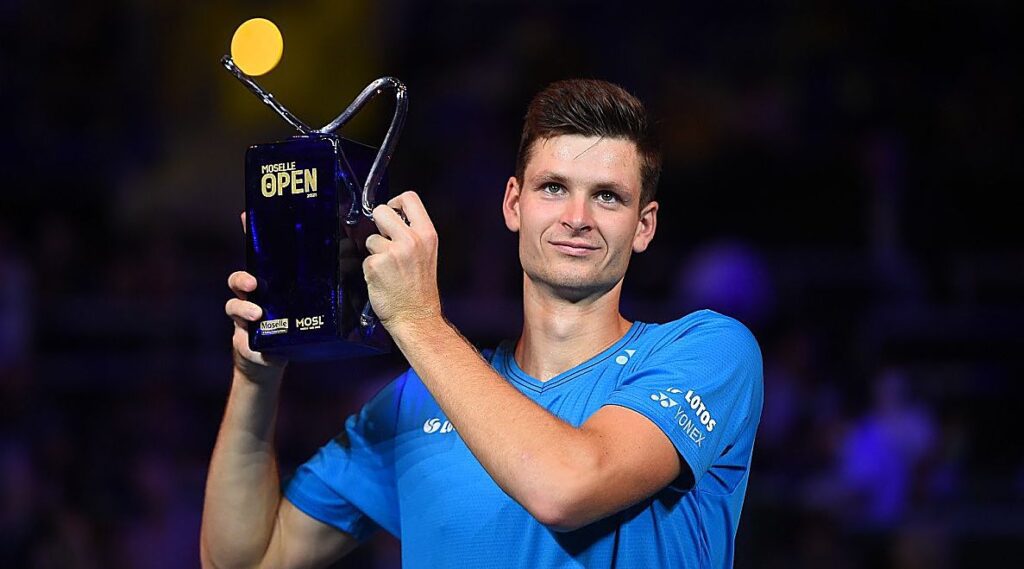 –
Most of the top 15 were occupied at the Laver Cup (even though few, if any, would have played a 250 this week anyway).
But there were still well-populated tournaments in Metz, France and Nur-Sultan, Kazakhstan, as well as five Challenger tournaments.
So there were plenty of opportunities for everyone else to earn some ranking points.
Notably: Hubert Hurkacz (who, at No. 13, didn't even make the cut for the Laver Cup), went to Metz instead.
And he took the double.
For the full rankings picture, click here.
ON THE UPSWING
Hubert Hurkacz (POL): No. 13 ========> No. 12 (With his title in Metz, his third of the year and fourth overall, the 24-year-old moves up a spot and drops Denis Shapovalov down a spot. Hurkacz didn't drop a set in beating Lucas Pouille, Andy Murray, qualifier Peter Gojowczyk and Pablo Carreño Busta in the final. He won the doubles, too, with unheralded countryman Jan Zielinski (No. 769 in singles, No. 119 in doubles coming into the week) That effort bumped him up nine spots and into the top 50 in doubles, at No. 47.
Nikoloz Basilashvili (GEO): No. 36 ========> No. 34 (The Georgian moves up a bit after reaching the Metz quarterfinal. Notably, in the second round, he overcame a bagel in the first set to edge out Alejandro Davidovich Fokina in a third-set tiebreak, before losing to Gaël Monfils).
Ilya Ivashka (BLR): No. 52 ========> No. 45 (The late-blooming 27-year-old breaks into the top 50 at No. 45, after reaching the semis of the Nur-Sultan tournament on the heels of his hot summer. Ivashka did well on the grass. He made the third round at the Olympics. He won the 48-draw at Winston-Salem the week before the US Open. And he took Matteo Berrettinito five sets before bowing in the third round in New York. It's taken a lot of work; Ivashka was at No. 110 to start the season).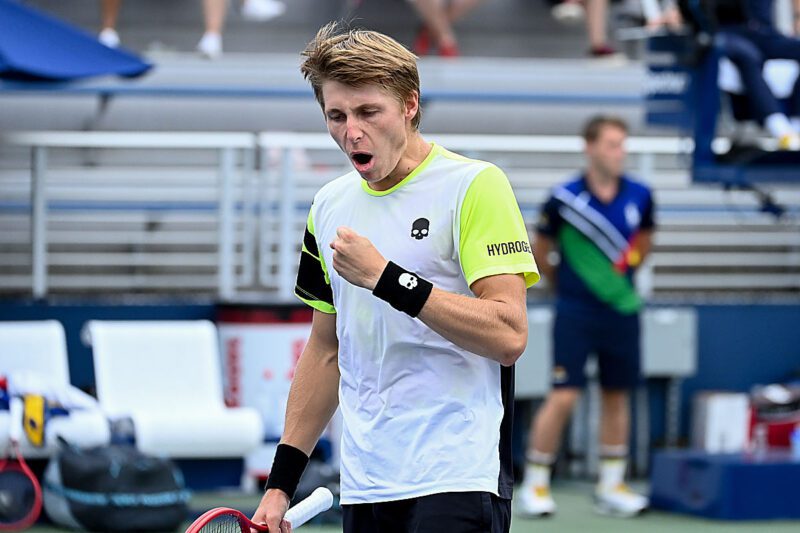 Benoit Paire (FRA): No. 53 ========> No. 49 (On the comeup! Paire is still playing everything he can get to. And so, he hit Kazakhstan this past week instead of the higher-level event at home in France – only to lose in the first round to Egor Gerasimov. And yet, he jumped four spots. Good deal. It was his 26th event of the season).
James Duckworth (AUS): No. 65 ========> No. 56 (At 29, Duckworth hits a career high, moving up nine spots after reaching his first career ATP-level final in Nur-Sultan. He didn't win, but still a duck broken).
Soonwoo Kwon (KOR): No. 82 ========> No. 57 (The 23-year-old from Korea rose to a career high with his first career title in Kazakhstan. It was his first final, too).
Peter Gojowczyk (GER): No. 101 ========> No. 87 (Not sure what this 32-year-old veteran is doing differently. But he's become a pretty tough out. After peaking at No. 39 just before Wimbledon three years ago, he was down at No. 141 just a few weeks ago, and out of the top 100 for the better part of two years. Suddenly, he's gone 11-2 with a run from the qualifying to the fourth round in New York (that included three five-setters including the last one, where he led Carlos Alcaraz two sets to one before fading. Last week in Metz, he qualified – playing the same player, Antoine Hoang, that he beat in three sets in the final round of qualifying in the first round of the main draw. He won in three sets again. He also defeated Karen Khachanov befure ultimately falling to Hurkacz in the semis).
Holger Vitus Nodskov Rune (DEN): No. 133 ========> No. 124 (The 18-year-old hits another career high as he goes from the qualifying to the quarters in Metz. He beat Philipp Kohlschreiber in the qualies in three sets. And he also beat No. 24 Lorenzo Sonego in three sets before falling to No. 16 Pablo Carreno Busta, also in three tough sets. It was his 25th tournament of the season, all levels combined. That is … a lot for a growing 18-year-old. But not as many as Benoit Paire).
Liam Broady (GBR): No. 139 ========> No. 126 (The 27-year-old Brit broke the duck as he won a Challenger in Biel, Switzerland last week. It was his eighth final. The only downside was that he got into the qualifying at the San Diego ATP event this weekend. But Biel is … a little far from San Diego, even if he could have teleported himself. The effort puts him at a career high, too).
Today was a good day. First Challenger title after 7 years and 8 finals. Thank you to everybody in my team and to my family and friends for helping me break the duck 😂 pic.twitter.com/fqihKteCoU

— Liam Broady (@Liambroady) September 26, 2021
Thiago Agustin Tirante (ARG): No. 255 ========> No. 204 (The 20-year-old Argentine, who has stepped off the red clay this year only when it absolutely couldn't be helped, won the Challenger in Ambato, Ecuador last week to jump to a career high with a nice rise).
Stefan Kozlov (USA): No. 301 ========> No. 251 (Still only 23, and much hyped as a junior, the American won the Challenger in Columbus, Ohio last week to make a nice jump. He also won the doubles with Canadian Peter Polansky, after they had reached the final the previous week. Kozlov has had a ton of health issues, including a bout with mononucleosis. He was down as low as No. 550 almost exactly two years ago, and now is as high as he's been in the rankings in three years. His career high of No. 115 game in Feb. 2017).
ON THE DOWNSWING
Alex de Minaur (AUS): No. 21 ========> No. 26 (The Aussie dropped his opener in Metz – the fifth time in his six tournaments since Eastbourne that he lost his first match. Since de MInaur was defending a 250 title in Zhuhai, China from 2019, his ranking takes a hit).
Adrian Mannarino (FRA): No. 43 ========> No. 54 (Mannarino didn't play last week, and therefore was unable to defend the 150 points he earned in Zhuhai in 2019, for getting to the final there).
John Millman (AUS): No. 48 ========> No. 55 (You have to seriously feel for the Aussies right now. It's difficult and expensive to even get home. So they continue their eight-month-long vagabond existence on the tennis tour, playing constantly. Although not as much as Benoit Paire. Millman was beaten by compatriot James Duckworth in the Nur-Sultan quarterfinals. As his 250 points from winning the Nur-Sultan tournament last fall when it took place at the end of October, that's a drop. He has an even bigger load to defend in two weeks, when his trip to the finals of the 500 in Tokyo – 320 points – from the qualifying drops off).
Mikael Ymer (SWE): No. 75 ========> No. 85 (The Swede lost in the second round in Metz. But two years ago, he won the top-level Challenger in Orléans, which is being played this week. But those points drop).
Andreas Seppi (ITA): No. 87 ========> No. 95
Egor Gerasimov (BLR): No. 97 ========> No. 112
Fernando Verdasco (ESP): No. 134 ========> No. 145 (The 37-year-old is still playing, even though he lost in the qualifying at the US Open this year. He lost in straight sets to Miomir Kecmanovic in Nur-Sultan last week. And he's playing the Orléans Challenger in France this week – where he faces old friend Feliciano Lopez in the first round, and plays doubles with Canadian Brayden Schnur. Lopez, at No. 108, turned 40 last week).
Jo-Wilfried Tsonga (FRA): No. 153 ========> No. 167 (There's a whole generation of great players sort of fading away this year. And Tsonga, 36, is among that group).
Canadian Content
Road to Turin
Road to Milan