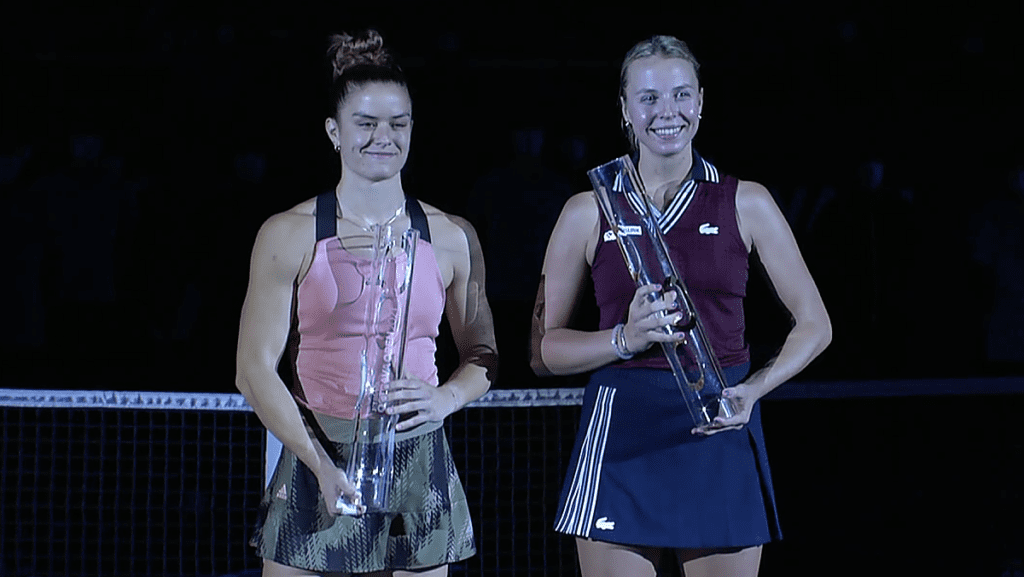 –
Most of the top 10 were off this week. Some – including Naomi Osaka, Sofia Kenin and Ashleigh Barty – arent' even on court at the moment.
But Iga Swiatek did play the 500 in Ostrava. And it paid off in spades for her.
The 20-year-old from Poland is now the No. 4 player in the world. Even though she didn't win the tournament.
Others who made hay last week include Maria Sakkari and Ostrava champion Anett Kontaveit.
And then there is this:
And this – when the age and ranking match. Which a lot of players would probably be happy with. But this is Serena.
As well, Canadian/Kiwi Erin Routliffe, by reaching the Ostrava final with Kaitlyn Christian, climbs another 12 spots to career high of No. 55 in doubles.
They're in Chicago this week for another 500 event.
For the complete updated WTA Tour rankings for Monday, click here.
ON THE UPSWING
Iga Swiatek (POL): No. 6 =======> No. 4 (Swiatek lost to Maria Sakkari in the Ostrava semifinals. But she moves up two spots and now is in the top four in the world).
Maria Sakkari (GRE): No. 12 =======> No. 10 (Welcome to the top 10, Maria Sakkari, after the 26-year-old fell one win short of winning in Ostrava. Had she won, she would have bumped Garbiñe Muguruza down and ended up No. 9 for the week – and well in reach of the top six with Indian Wells coming up).
Anett Kontaveit (EST): No. 30 =======> No. 23 (Her third career WTA Tour title in her 10th final gives Kontaveit a nice bump in the rankings).
Jil Teichmann (SUI): No. 42 =======> No. 38 (The Swiss lefty hits a career high after making the quarterfinals in Ostrava. Notably, she has one of the still-rare female coaches on Tour, in former player Arantxa Parra Santonja).
Tereza Martincova (CZE): No. 61 =======> No. 53 (The 26-year-old hits a career high after turning a wild card into a quarterfinal in Ostrava. She has played a ton this year – 23 tournaments. But it has paid off, as she began the season ranked No. 121 and having to qualify (unsuccessfully) for the Australian Open).
Nuria Parrizas Diaz (ESP): No. 86 =======> No. 73 (The Spaniard turned 30 in July. And even though she's hit another career high with her title at the Columbis 125K last week, the WTA site still hasn't updated any of her information. But her story is off the charts. She's 53-15 this season at various levels. And after earning about $180,000 during a decade, is approaching the $250,000 mark for 2021. Parrizas Dias began the season ranked No. 226, after ending her 2020 season shortly before Christmas. A few weeks later, she was playing a $60K before losing in the first round of the Australian Open qualifying in Dubai. She won three $25K after that. After losing in the final round of qualifying in Paris, she went back and played another $25K. And won that one, too. Great Cinderella story).
Clara Burel (FRA): No. 91 =======> No. 79 (The 20-year-old from France reached the final of an $80K ITF in Wiesbaden, Germany last week, helping her rise to another career high during a terrific breakout season).
Anastasia Potapova (RUS): No. 92 =======> No. 80 (Potapova, still just 20, has had a tough year with a sub-.500 record. But she did well in qualifying and winning a round in Ostrava, where she took Petra Kvitova to three sets before bowing out).
Xinyu Wang (CHN): No. 129 =======> No. 119 (The 20-year-old from China reaches a career high after reaching the final of the Columbus 125K).
Coco Vandeweghe (USA): No. 153 =======> No. 143 (The 29-year-old is starting to round back into form after a long injury layoff, but still has a ways to go).
Anna Bondar (HUN): No. 179 =======> No. 146 (At 24, Bondar hits a career high after winning the $80K ITF in Wiesbaden, Germany).
Aneta Kladivova (CZE): No. 1082 =======> No. 643 (Leaping 439 spots in the rankings, no matter how far down you were, in one week is definitely an accomplishement worth saluting. Kladivova, 21, went from the qualifying to the final at a $25K ITF in the Czech Republic, and helped her fortunes considerably even though the game cheque won't be that impressive).
ON THE DOWNSWING
Elina Svitolina (UKR): No. 4 =======> No. 6 (Svitolina opted out of Ostrava this week. And with the points from her win in the Strasbourg tournament just before last fall's edition of Roland Garros falling off, she drops two spots).
Petra Martic (CRO): No. 41 =======> No. 45 (Martic made the quarterfinals of the Wuhan Open in 2019, and those points are finally off the record. She has lost nearly 500 points in the last couple of weeks, from tournaments two years ago).
Alison Riske (USA): No. 32 =======> No. 50 (You can see now why Riske was one of the rare Americans to. hit the European circuit after the US Open. She had a lot of points to defend. She did fairly well, making the final in Portoroz and winning a round in Ostrava. That was 235 points earned. But it wasn't enough to mitigate the 585 points earned for her finals run in Wuhan in 2019).
Sloane Stephens (USA): No. 54 =======> No. 63 (Stephens is another player who is seeing the rankings "thaw" have an effect on her ranking. She made the third round in Wuhan in 2019).
Dayana Yastremska (UKR): No. 53 =======> No. 72 (Yastremska, who has gone through a doping suspension that was later cleared this year, made the quarterfinals in Wujan in 2019. She has 2019 points to defend basically every week in October, so she'll be motivated to put up some results).
Qiang Wang (CHN): No. 71 =======> No. 81 (Has anyone seen Wang lately? As with many of the Chinese players, the combination of the Olympics and the Chinese national championships has made a hash of her season. Since losing to Coco Gauff in the second round of Roland Garros, the only event Wang has played was the Olympics, where she lost in the second round to Garbiñe Muguruza. No Wimbledon. No U.S. swing, No US Open. She's still not back this week).
Alison Van Uytvanck (BEL): No. 55 =======> No. 89 (Tough blow to the Belgian's ranking, as she drops her points from winning the now-defunct Tashkent Open in 2019. She's in Kazakhstan this week, as the No. 2 seed).
Svetlana Kuznetsova (RUS): No. 89 =======> No. 100 (Where is Sveta? Will we ever see her again?)
Kristyna Pliskova (CZE): No. 114 =======> No. 129
The Canadians
Road to Guadalajara
About Post Author