–
A couple of new events held last week were a great opportunity for players to get playing opportunities ahead of Indian Wells – and, especially, try to make up for some of the points from the 2019 Asian swing that are finally falling off.
Ashleigh Barty, who has returned to Australia and won't play Indian Wells (anything else, including the Tour finals, is up in the air) drops 650 points from her Beijing final in 2019. But she still leads No. 2 Aryna Sabalenka by more than 2,000 points.
Sabalenka, who tested positive for COVID on arrival in the desert, will not be able to play Indian Wells and make up more ground.
Bianca Andreescu also drops points from Beijing, where she lost in the quarterfinals to Osaka (feels like a gazillion years ago, doesn't it?) And she didn't make them up, after an opening loss in Chicago.
The Canadian has a number of players right behind her in the rankings – including Emma Raducanu, who moves up a spot to No. 21 and is just five points behind.
For the full, updated WTA Tour rankings picture, click here.
ON THE UPSWING
Garbiñe Muguruza (ESP): No. 9 =======> No. 6 (The Spaniard's triumph in Chicago, helped by a pair of walkovers, moves her up to No. 6, and just 130 points out of the top five. It's her first "500" level title. And this is the first season she has won more than one title).
Maria Sakkari (GRE): No. 10 =======> No. 9 (Sakkari did not play, but even though she dropped 125 points, she still moves up to another career high).
Belinda Bencic (SUI): No. 12 =======> No. 10 (Bencic's quarterfinal in Chicago gets her back into the top 10. But storm clouds with a knee injury).
Ons Jabeur (TUN): No. 16 =======> No. 14 (Jabeur couldn't get the title in Chicago. But her trip to the final earns her a career high).
Marketa Vondrousova (CZE): No. 41 =======> No. 37 (GI illness forced the Czech lefty to default her semi in Chicago, but she still moves up four spots).
Yulia Putintseva (KAZ): No. 47 =======> No. 43 (Putintseva reached the final in her home tournament in Nur-Sultan last week).
Clara Tauson (DEN): No. 52 =======> No. 49 (The 18-year-old didn't play last week, but moves into the top 50 for the first time in her career).
Alison Van Uytvanck (BEL): No. 89 =======> No. 55 (The 250 points Van Uytvanck got for winning in Kazakhstan meant a huge jump in the rankings – 34 spots).
Kaia Kanepi (EST): No. 66 =======> No. 60 (Kanepi played a … $25K in Texas two weeks ago and won it. So even though she lost in the first round in Chicago, she still moved up six).
Jaqueline Cristian (ROU): No. 126 =======> No. 111 (The 23-year-old Romanian hits a career high after making the Nur-Sultan semis).
Mihaela Buzarnescu (ROU): No. 148 =======> No. 125 (A win at the ITF in Le Neubourg means a nice bump).
Mai Hontama (JPN): No. 200 =======> No. 161 (The surprise in Chicago went from the qualifying to the quarters, moving to a new career best and getting herself on the radar).
Emma Navarro (USA): No. 317 =======> No. 282 (The young American made the quarters at a $25K in Forth Worth, and qualified and reached the quarters at the bigger ITF in Berkeley, Calif. last week. A solid two weeks' work, and a new career high).
ON THE DOWNSWING
Naomi Osaka (JPN): No. 7 =======> No. 12 (It's actually impressive that Osaka remained in the top 10 as long as she did, considering how little she has played over the last two years. But the 1,000 points from her title at the China Open in Beijing two years drop off, and so does she).
Simona Halep (ROU): No. 15 =======> No. 17
Zheng Saisai (CHN): No. 75 =======> No. 89 (Zheng loses third-round points from 2019 Beijing).
Polona Hercog (SLO): No. 101 =======> No. 123 (The veteran from Slovenia sees her ranking take a hit as she drops third-round points from 2019 Beijing. She's going to have to hustle some if she doesn't want to find herself in the AO qualifying in January).
Christina Mchale (USA): No. 118 =======> No. 129
Eugenie Bouchard (CAN): No. 169 =======> No. 173 (Still on the rehab track after shoulder surgery, the Canadian's return date is unknown. She has points dropping from her third-round effort at Roland Garros last fall dropping next week, which could drop her outside the top 230).
Venus Williams (USA): No. 152 =======> No. 178 (At 41, Venus isn't playing for the ranking any more. Still, numbers don't lie).
Yafan Wang (CHN): No. 187 =======> No. 231 (Wang drops second-round points from 2019 Beijing).
Canadian Content
Road to Guadalajara
With a number of question marks – Barty, Osaka – it's wide open.
Doubles road to Guadalajara
Two Canadians are just out of the running at the moment. But with Gabriela Dabrowski's partner Luisa Stefani badly injuring her knee at the US Open, they're out of the running.
Meanwhile, Sharon Fichman returned to action in Chicago as she deals with a shoulder issue. But it didn't go that well. There is still time, though.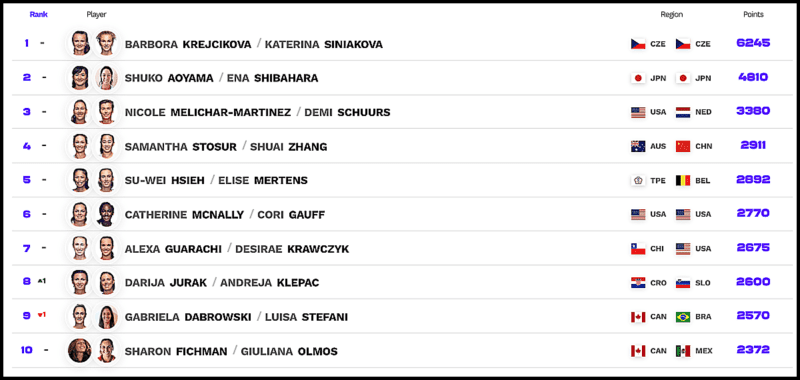 About Post Author